The interior spaces of this contemporary Egyptian home with scenic views were designed by Yasmina Makram, who provided the resident family with a sense of escape from the city.
It took an entire year to see this project come to life- from the design phase to the last decorative details. Yasmina Makram, who leads her eponymous studio, immediately knew she could reflect her philosophy through this home: authenticity and harmony were achieved by gathering inspiration from history, heritage and the natural context, complemented by an approach based on the homeowners' lifestyle. Combining all these elements resulted in this 'scenic suburban haven," as Makram describes it.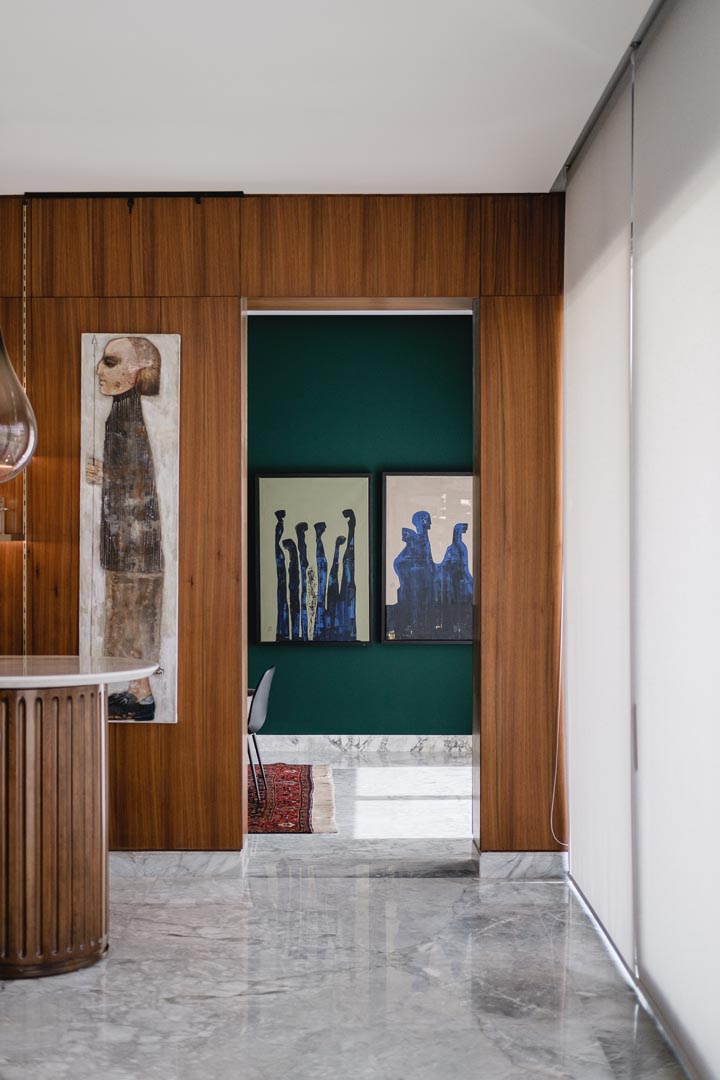 Located in West Cairo, in a residential compound that offers peaceful golf views, the 646 square-metre, four ensuite bedroom house (with study/guest bedroom) has a ground floor and an upper level comprising private and public spaces. With a sauna room and a changing area servicing the pool, the basement leads to the outdoor part of the home where a large pergola protects a seating area with a dining space, bar, pool, fire pit and sunken nook.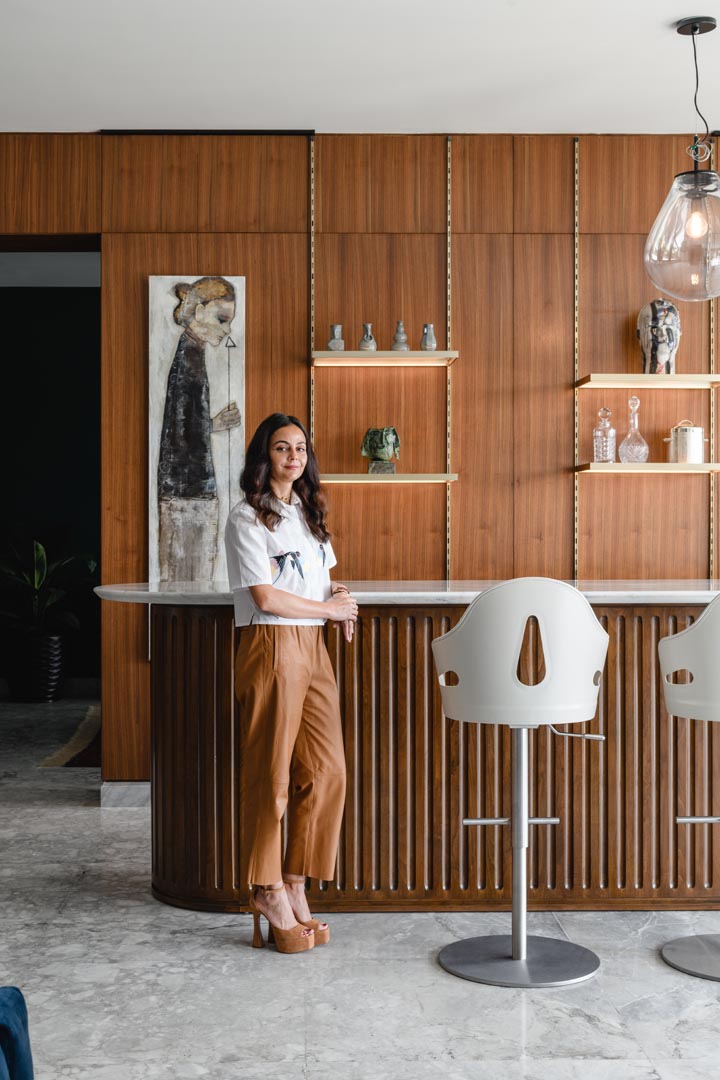 "This house was conceptualised to give an out-of-the city escape feeling with the integration of an indoor-outdoor experience through having an open space layout, big windows for unobstructed views and natural light," explains Makram. Designing a home for entertainment that could fit anywhere in the world yet remain relevant to the project's setting was also part of the brief.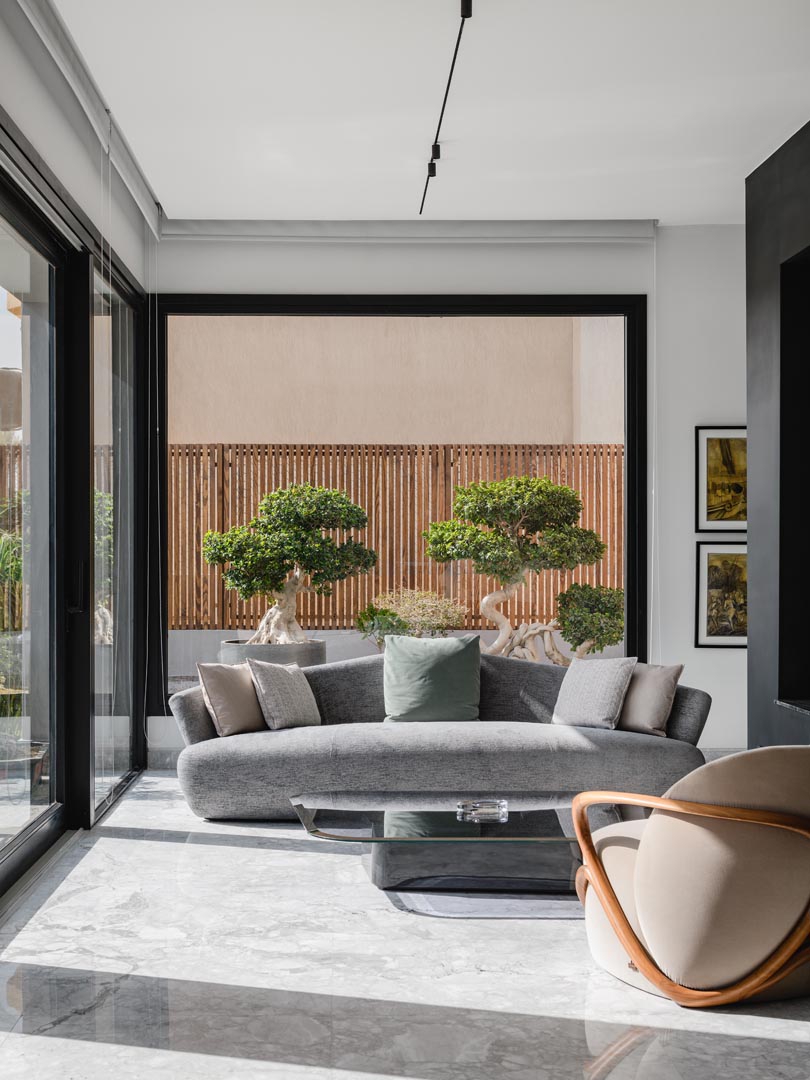 "We as a studio love contemporary modern design and we wanted to bring more of our heritage into it by making it more relevant to our culture, which we did by using curated Egyptian and Middle Eastern art pieces," says Makram.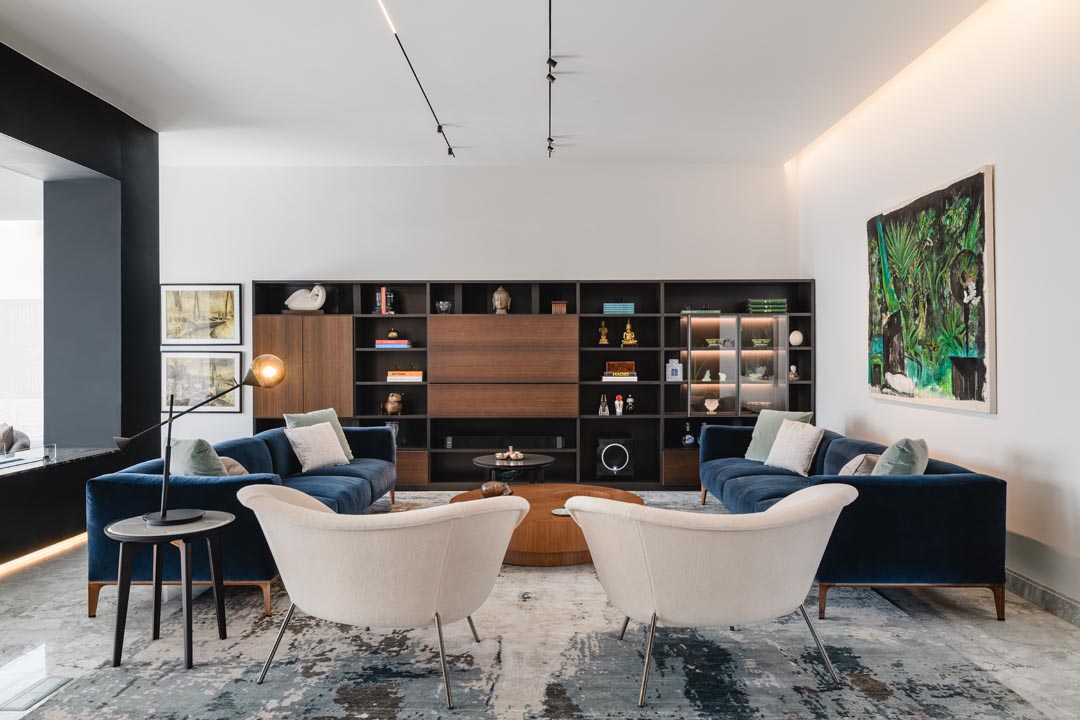 Some of the biggest challenges consisted of creating the floating staircase, as well as blurring the lines between inside and outside. "We were very much inspired by the property's great location, overlooking the golf course," notes the interior designer. "We wanted the home to reflect an appreciation for the surrounding panorama."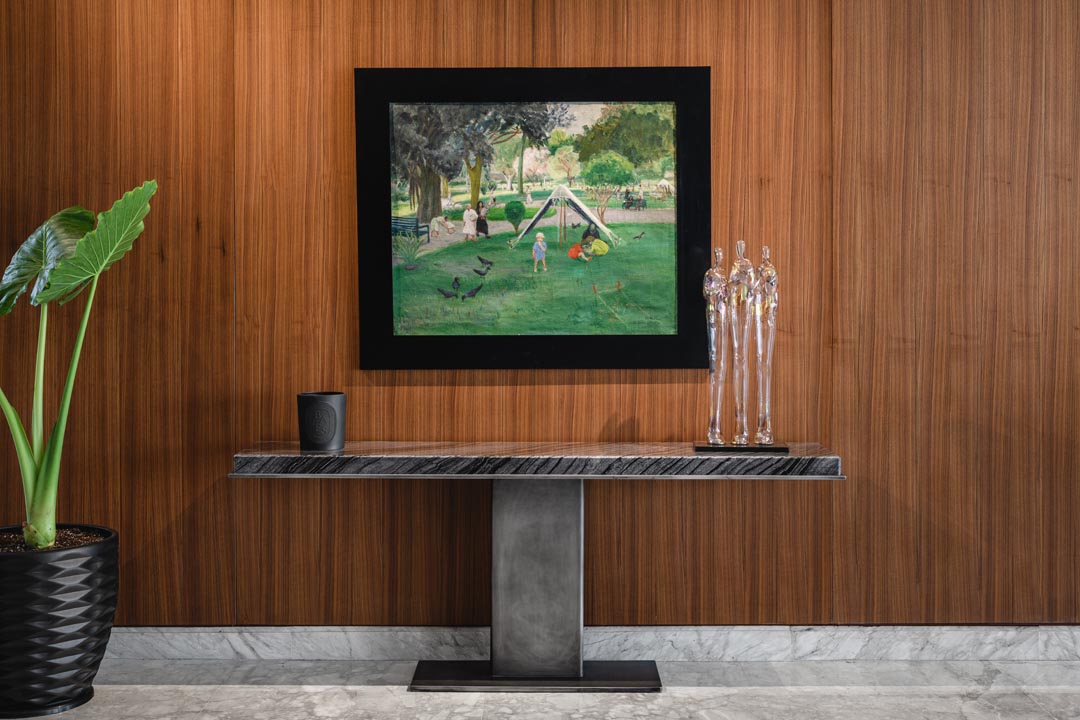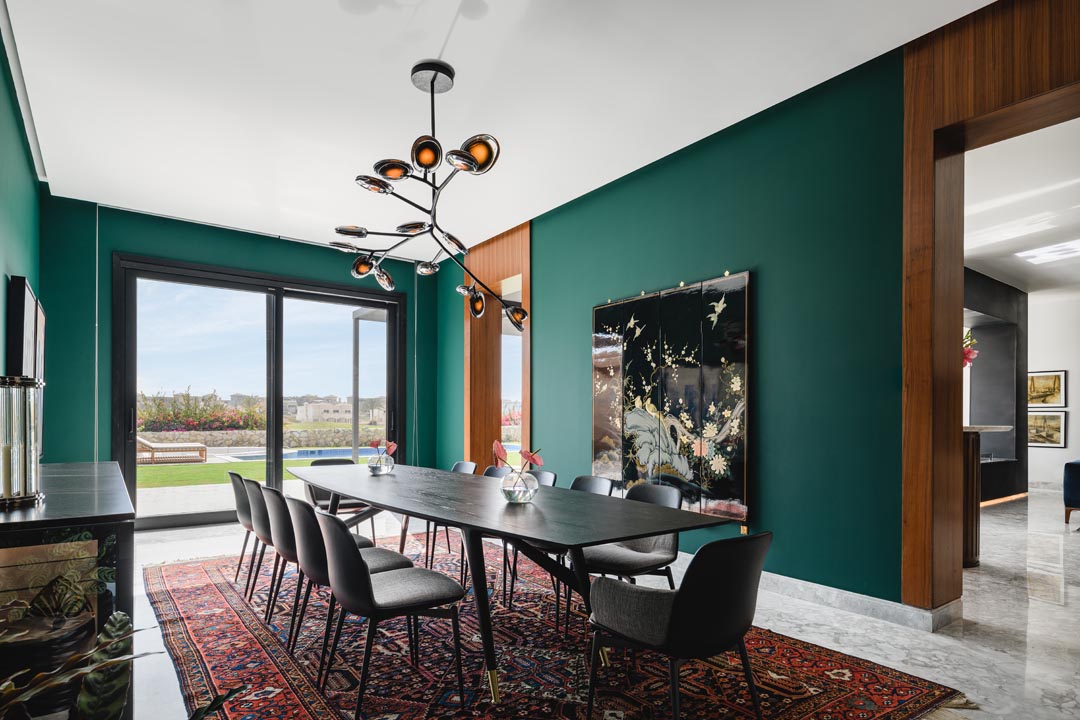 A palette of mostly white, black, deep green and night blue shades is used throughout, while pops of colour bring in further tones from nature.
The materials too, were selected in the same spirit. "We liked the idea of… a masculine space that is not particularly soft, yet still has direct references to greenery and the delicateness it provides to the space," says Makram.
The bar and the panelling across the bar wall feature walnut wood; Paris Grey marble prevails for the main interior flooring and staircase, visually translating balance, contrast and brightness; while grey travertine adds some rawness to the outdoor flooring and al fresco bar. Envisioned as a key element in the villa and placed between the two reception areas, the fireplace in sleek black metal and Nero Marquina marble blends the concepts of comfort and luxury. For a sense of movement, openness and fluidity, Makram installed glass sliding doors in the dining area.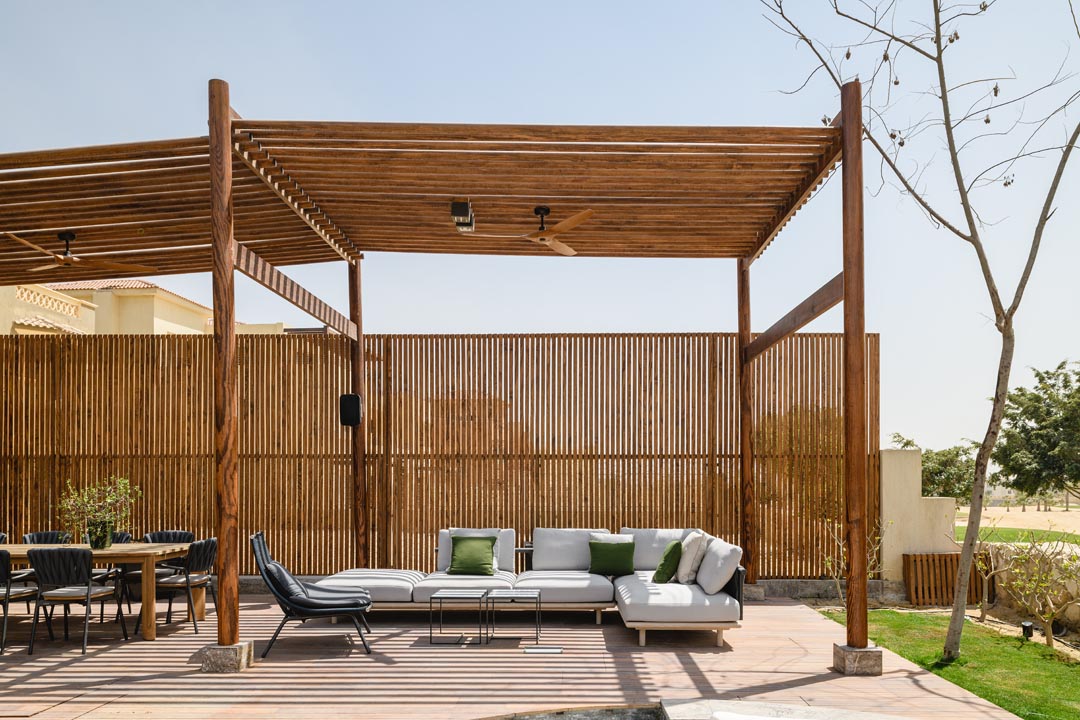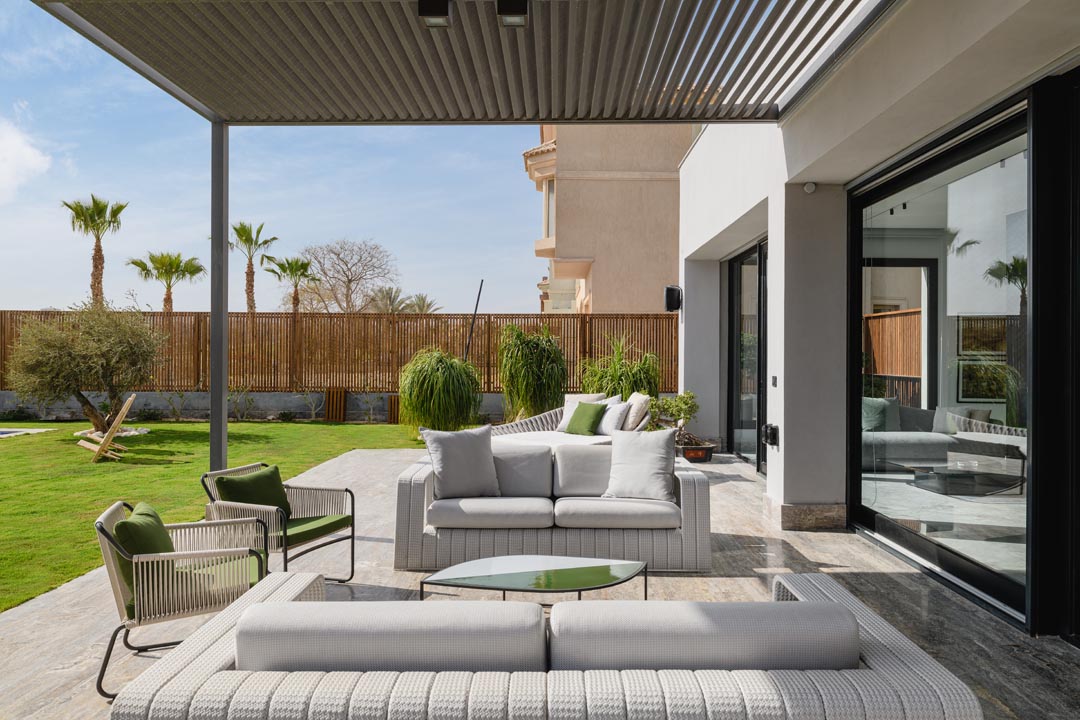 "The objective was to make sure the villa's interior would exude the cosiness of an urban apartment," the interior designer says. "We wanted an interpretation of luxurious practicality. It was important for the home to look and feel distinguished, yet remain homely and very practical, as a city home should be."
Photography by Nour El Refai