"I have witnessed and lived through a lengthy civil war, a foreign invasion, assassination attempts, numerous brief wars, a revolution, the economic downfall of my country and a global pandemic; but on August 4, at 6:08 pm, I experienced the most traumatic moment of my life," says architect and designer Rabih Geha, founder of Beirut-based Rabih Geha Architects.
Like many others, Geha was at home during the time of the explosion due to renewed lockdown measures following a surge in COVID-19 cases in the country. Lebanon was already suffering from a financial crisis, food shortages and heightened rates of unemployment. Then at 6:08pm, two massive explosions at the Port of Beirut tore through the sky, causing gigantic clouds of white and orange smoke. The aftermath saw an apocalyptic devastation of the city, causing the death of over 200 people, leaving 6,000 injured and 300,000 homeless. The blast was caused by approximately 2,750 tonnes of ammonium nitrate, a chemical compound commonly used as an agricultural fertiliser, which had been stored in a port warehouse over the past six years.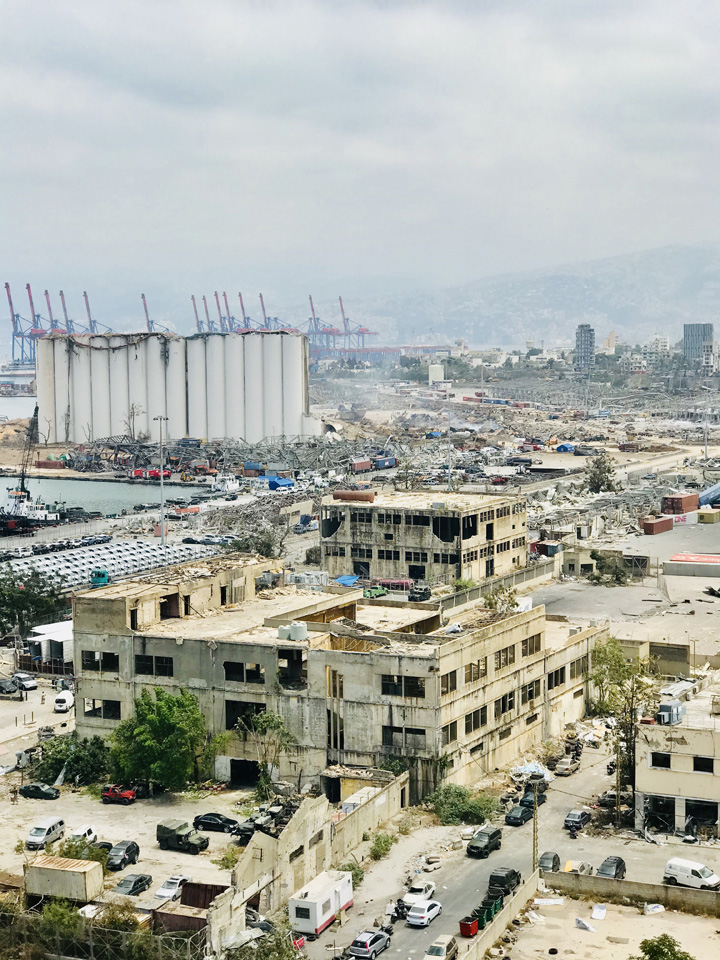 The blast has taken a toll on the city's architectural heritage, damaging at least 8,000 buildings located in the historic neighbourhoods of Beirut including Gemmayzeh and Mar Mikhael, where the heart of the creative sector beats. 640 are historic buildings, and according to UNESCO, about 60 of them are at risk of collapse. Among the damaged structures are museums, heritage buildings, art galleries and religious sites. Many of the offices, showrooms and boutiques of the city's designers, architects, and creatives were also destroyed. But the creative sector vows to rebuild.
Days following the horrific blast, a number of designers and design brands took to social media to express their desire to remain in the city and reconstruct what was destroyed. Designer Nada Debs, whose boutique and studio is completely damaged, has stenciled a slogan inside the boutique that reads: "Our space was destroyed, but we are not".
View this post on Instagram
"I believe that if each one of us were to support our own communities, building one step at a time, one day at a time, in no time we would have gotten back on our feet again, and this time in a more thoughtful way," says Debs. She explains that due to the current situation and the financial instability in the country, attention needs to be given to all products that are 'Made in Lebanon' in order to support the creative sector.
Architect Bernard Khoury, whose work often cites realities surrounding political conflict, agrees that rebuilding must be done more mindfully than in the past, and supporting Lebanese know-how is one of the vital ways in which the creative community can get back on its feet.
"We should revive and reconnect with local artisans and take this opportunity to celebrate their know-how. This is not just a pragmatic and economical posture. It is a form of resistance; it is also a political act," he says.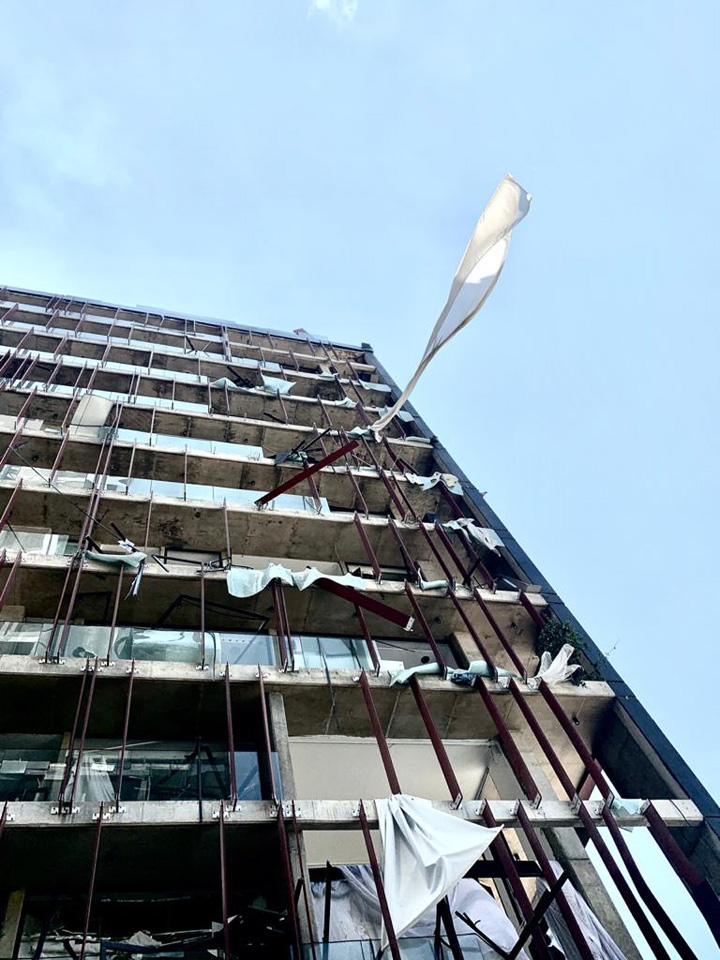 A number of initiatives have been launched to help revive the city's built environment, rebuild people's homes and resurrect the city's creative economy. One such initiative is Bebw'shebbek that aims to fix as many doors and windows before the arrival of winter to ensure people are safe and warm in their homes. Led by Marianna Wehbeh and Nancy Gabriel, it has already mobilised about 100 young volunteers who are deployed to different areas of the city to assess and survey damages.
"We are going to have to keep asking for donations and materials because at some point we are also going to run out because now there is no more port. We import almost 80% of everything that we consume," says Wehbe. Bebw'shebbek is currently working with Impact Lebanon, a Beirut-based NGO, to source funds for the project.
Another initiative, Rebuilding Gemmayze, is led by young architect and urban planner Hucen Sleiman, that aims to rebuild 80 buildings on Gemmayze street and preserve the area's cultural heritage.
View this post on Instagram
However, initial plans have stalled due to an unexpected challenge, according to Hecen, who explains that there is a fear that developers will try buy these heritage buildings and demolish them in order to build new structures, erasing layers of Beirut's history and culture. The initiative is now working on spreading awareness and having conversations with homeowners in order to convince them to save their homes.
"The areas near the port are expensive and there are no urban planning regulations that prohibit the demolition of buildings, even if they are heritage buildings so all of these homes are basically sitting on gold mines and can be replaced by 20 storey towers. Investors will start using this disastrous situation to create opportunities for themselves to make money," Hucen predicts, adding that the historic neighbourhoods need to be preserved by any means possible.
View this post on Instagram
Architect Carl Gerges expresses similar sentiments, insisting on the importance of preserving and rebuilding areas like Gemmayze and Mar Mikhael to avoid them transforming into "ghost cities" like other parts of Beirut.
"I just hope that our Beirut won't become another ghost city like Solidaire or Downtown. I hope people won't sell their properties and leave, and that developers won't destroy our heritage — or what's left of it — to build soulless buildings. Everything can be saved," he says.
Despite the tough set of challenges, the spirit of positivity and hope among the design community is strong and so is the desire to return Beirut to a renewed sense of glory.
"We will rise again," Geha says. "We will save our heritage and rebuild what was destroyed. It will take years and the road is long, but we as architects and designers have an active role in the reconstruction of our city."