The limited-edition Aston Martin V12 Speedster was launched on 4 March. The new model has been created by 'Q by Aston Martin', the brand's bespoke customisation service, and just 88 examples will be produced.
Aston Martin says the V12 Speedster is "a living show car, underlining the company's commitment to deliver customers a stunning driver's car. It uses the engineering ingenuity and advanced materials evident throughout the entire Aston Martin range."
The V12 Speedster draws inspiration from Aston Martin's rich racing history and aeronautical design. The car shown at the virtual launch was finished in a conceptual F/A-18 livery.
The car has a unique chassis and a bespoke body constructed almost entirely from carbon fibre. Miles Nurnberger, Director of Design, Aston Martin Lagonda, said: "With the V12 Speedster we go back a step and look into our past for inspiration. There's clear lineage from the 1959 Le Mans-winning DBR1 to our Centenary celebratory CC100 Speedster Concept in 2013. It's also inspired by fighter jets as much as it is by our history, and it has been created to deliver an incredibly visceral experience. With the V12 Speedster we are amplifying all the emotional strings that we can to the absolute maximum."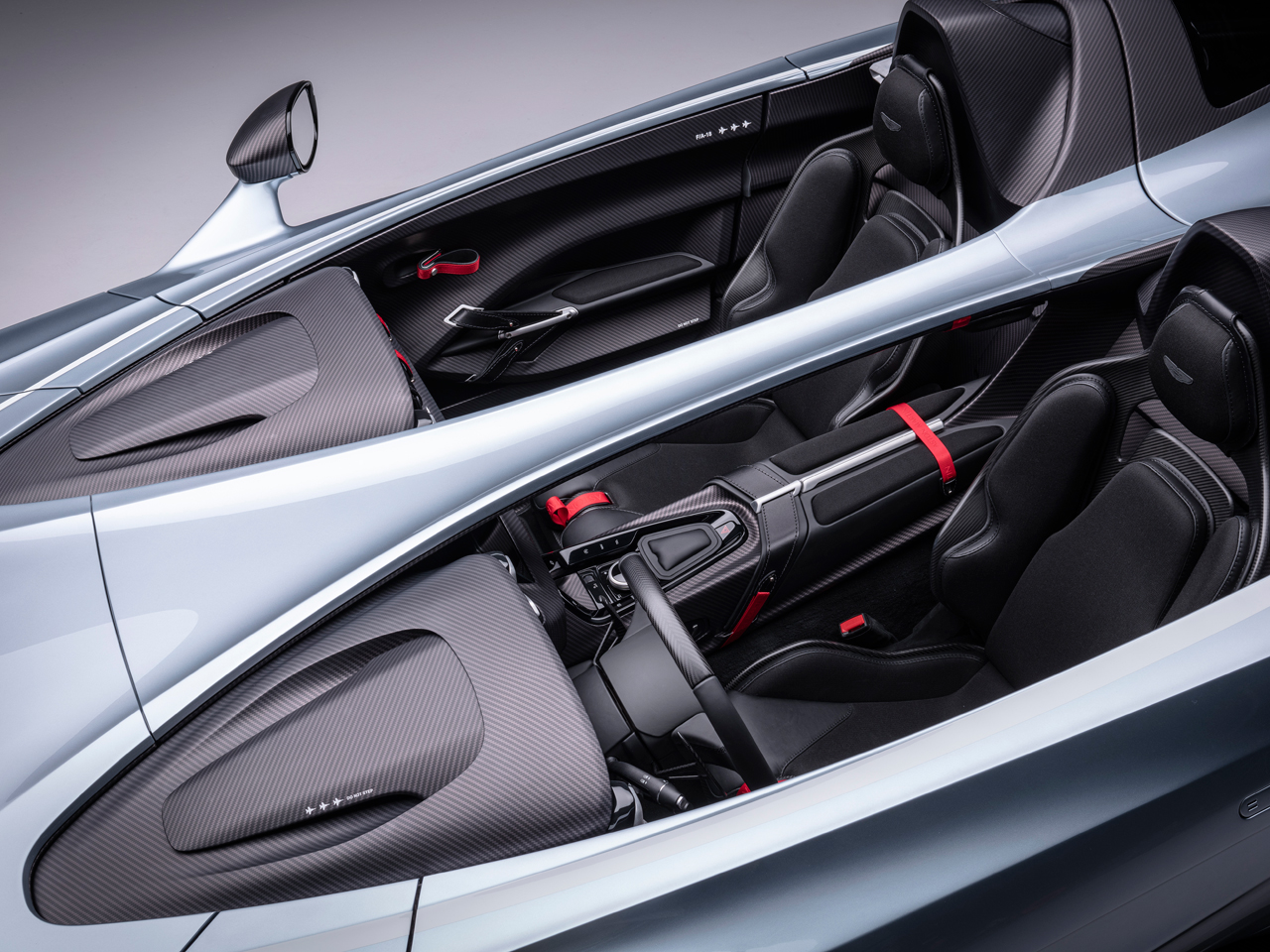 Nurnberger added: "No roof or screen, a big engine, low, with broad shoulders and exaggerated and emotional styling with twin humps and the spine separating the driver and passenger. The light, low, rear-end contrasts with the bold, enlarged grille, unique headlights and bonnet nostril at the front. The bonnet nostril we haven't done in a very long time, but we've brought them back. It's a neat trick visually to allow us to win some space for the V12. It creates this iconic looking vent."
The interior of the V12 Speedster uses a mix of traditional and modern materials, including carbon fibre, traditional hand-crafted Saddle Leather and 3D printed rubber. In front of the passenger is a removable leather bag in place of a traditional glove box, while there's additional storage space under the rear bumps for luggage.
Orders are now being taken for the V12 Speedster, with deliveries expected to begin in the first quarter of 2021.