Unique solar-powered carbon fibre 'Energy-Trees' that follow the sun like sunflowers do and a dew-harvesting 'Water Tree' are highlights of the Sustainability Pavilion at the Expo 2020 site.
The state-of-the-art pavilion, designed by Grimshaw Architects with input from NASA scientists and revered European academic research institutes, features the very latest sustainable building concepts. Equipped with over 1000 photovoltaic panels, the pavilion has been designed to LEED Platinum building standards, regarded as the highest available accreditation for sustainable architecture.
Grimshaw Architects and its partners have created a pioneering structure and exhibition that will set the sustainable practice benchmark for decades to come.
The Sustainability Pavilion has been conceived to be part of the Expo Legacy collection of structures that will keep the Expo 2020 memory alive for decades to come. According to Andrew Whalley, Chairman, Partner at Grimshaw: "The actual construction has been very efficient. The building is now complete, and we are finessing various elements. Commissioning will start soon, and the exhibition is starting to go in."
"We hope that the whole experience will make visitors reflect and pause for thought. We need to change the way that we do things and to be truly sustainable; we must change our habits." – Andrew Whalley
The permanent structure will be transformed into a Children and Science Centre post-Expo, when it will be self-sustaining and will generate 100 per cent of its energy and water supply.
"Designing a sustainable net-zero building in the challenging desert climate was interesting – but if you can do it here, then you can do it anywhere," says Whalley. "It was always intended to be a permanent building – to foster innovation and research – and so we designed it [first] with the legacy in mind, and then re-designed it to be a six-month-long Expo pavilion centre."
The pavilion also features innovative landscaping to enrich the experience. "We hope this will demonstrate that you can create an exciting lush and varied landscape in the desert. Working in collaboration with Dubai-based Desert ink, we have used a lot of plants that haven't been used in public landscaping before.
The entire 25,000 square metres of grounds will feature innovative irrigation techniques, including a greywater recycling system and local plants, to reduce water use by 75%.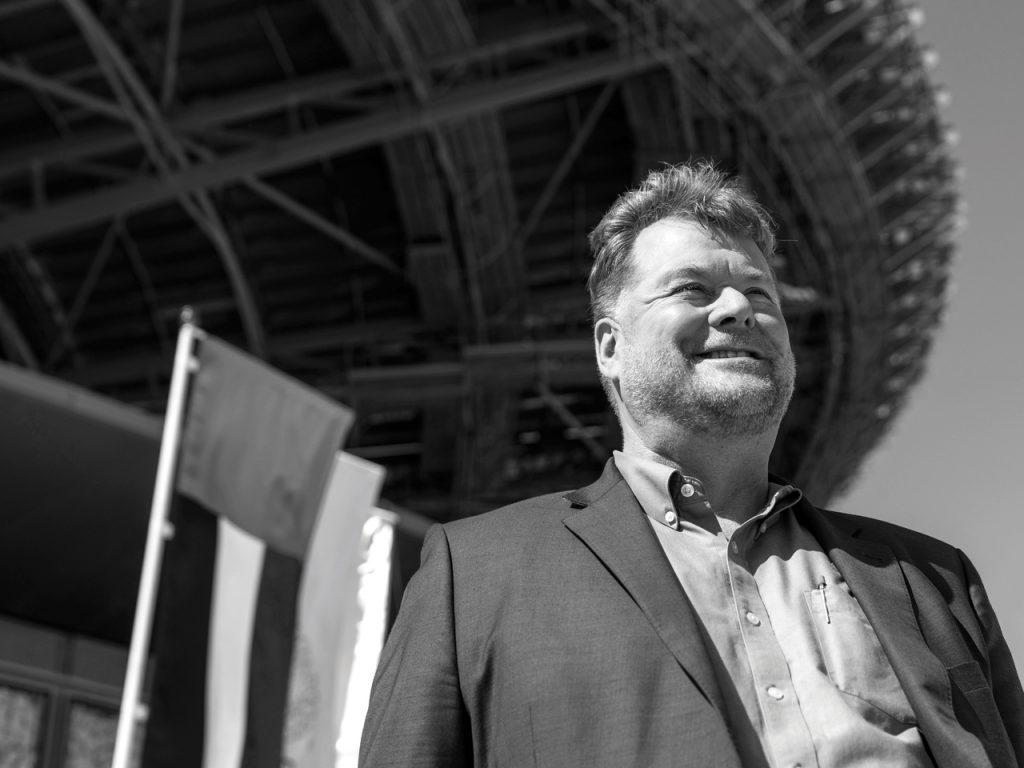 Some 10 tonnes of reclaimed wood will cover the auditorium walls, while rocks excavated from the desert site during construction form the wall elements.
The exhibitions – with content created in collaboration with US company Thinc Design and the UK's Eden Project – will be displayed over 6300 square metres. The pavilion will host 4400 people per hour, with each visit taking about 45 minutes.
"We have split the circular exhibition into two semi-circular parts so that everybody gets to see similar yet different experiences, allowing twice as many people through it," he explains.
"It's quite a departure from the traditional closed box-type pavilion, as people can walk up on to the roof and look inside from outside, and therefore enjoy part of the internal experience without entering.
"We sank the building, so all the exhibition space is underground, beneath the landscaped roof that provides natural shading and insulating.
"The specially designed sun-powered 'Water Tree' uses metal-organic frameworks that capture moisture from the air like a sponge.
"There's a hidden gem in the centre of the building: when you step into it you look down and see a pool of water – water that the building is harvesting through its Water Tree system. You will see the sky reflected through the central funnel, connecting the sky and the water."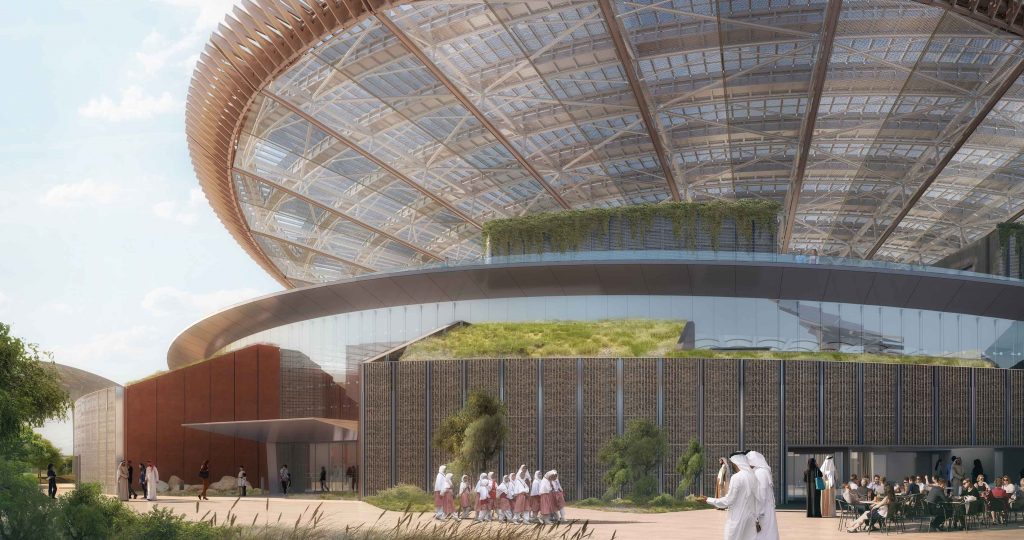 The building will also use solar energy to sterilise water and remove micro-bio-contaminants.
"In many ways, this is a new generation of the Eden Project; about the environment and how we live in the future, rather than just plants," he says.
"An immersive theatre is how I'd describe it. You need to immerse people in the landscape and nature, and to entertain them and catch their imagination, to draw their attention to the need to be more sustainable."
"The UN has categorically said that all new buildings should be net-zero by 2030; we [Grimshaw Architects] have committed to do that. In December 2019, we stated that all our global operations would be net-zero from this year [2020]. That's the way to encourage clients to join in this journey.
"This pavilion will be a path leader, demonstrating what can be done for the UAE.
"Much of the technology was built just 20 minutes away. The whole 130-metre-wide canopy roof, inspired by the Ghaf tree, was fabricated at a nearby steelworks. Around that, we have E-Trees influenced by the waxy-leaved Blood Dragon trees seen in Oman, that grow in arid conditions and follow the movement of the sun. Our E-Trees will do the same to ensure that the area enjoys the maximum shading throughout the day.
"We had to make the E-Trees very light and so collaborated with Premier Composite Technologies ( PCT) to make them from carbon fibre.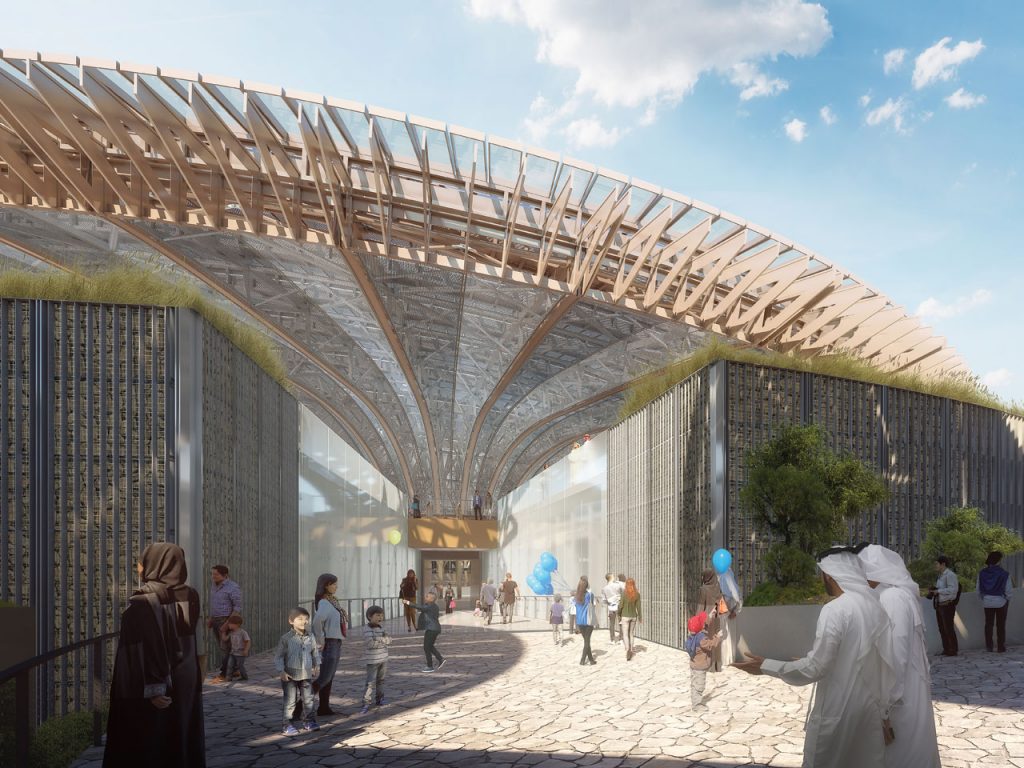 "We hope that the whole experience will make visitors reflect and pause for thought. We need to change the way that we do things and to be truly sustainable; we must change our habits."
Grimshaw Architects has worked on a number of Expo-related structures over the years. "Our first Expo pavilion was in Seville 1992. It was actually one of the first buildings that used photovoltaics to generate energy – we had to borrow them from BP."
Whalley's award-winning projects include the International Terminal at Waterloo, the Eden Project in Cornwall, the redevelopment of London Paddington station (all in the UK) and the Experimental Media and Performing Arts Center in Troy, New York.
Going forward, the firm has a number of exciting projects on its drawing boards.
"We have a couple of large master plans in the infancy stage, a lot in transport and railways projects such as: the Euston Station Redevelopment project in the UK; the new light rail system in Auckland, New Zealand; Heathrow, new JFK and Newark airports; and a master plan for Washington, D.C.," says Whalley.
"Interestingly, a lot of money is going into infrastructure; a lot of public transit systems – all of which are geared towards a more sustainable world."
Recently, Grimshaw completed a major bus shelter project in New York and the new Frost Museum of Science in Miami.