Nestled in the heart of Riyadh, the Ministry of Tourism's headquarters stands as a testament to the convergence of innovative design and cultural preservation. Meticulously curated by AAID and executed by SBCM (Saudi Building & Construction Management), this architectural beauty not only reimagines office space but also encapsulates Saudi Arabia's transformative Vision 2030. The rebranding of the Ministry harmonises with the nation's aspirations, and the interior design effortlessly reflects this synergy. Within the walls of this remarkable edifice, a dynamic and inclusive workspace awaits, accommodating both employees and visitors alike. The Ministry of Tourism HQ not only serves as a beacon of modernity but also as a living embodiment of Saudi Arabia's rich heritage.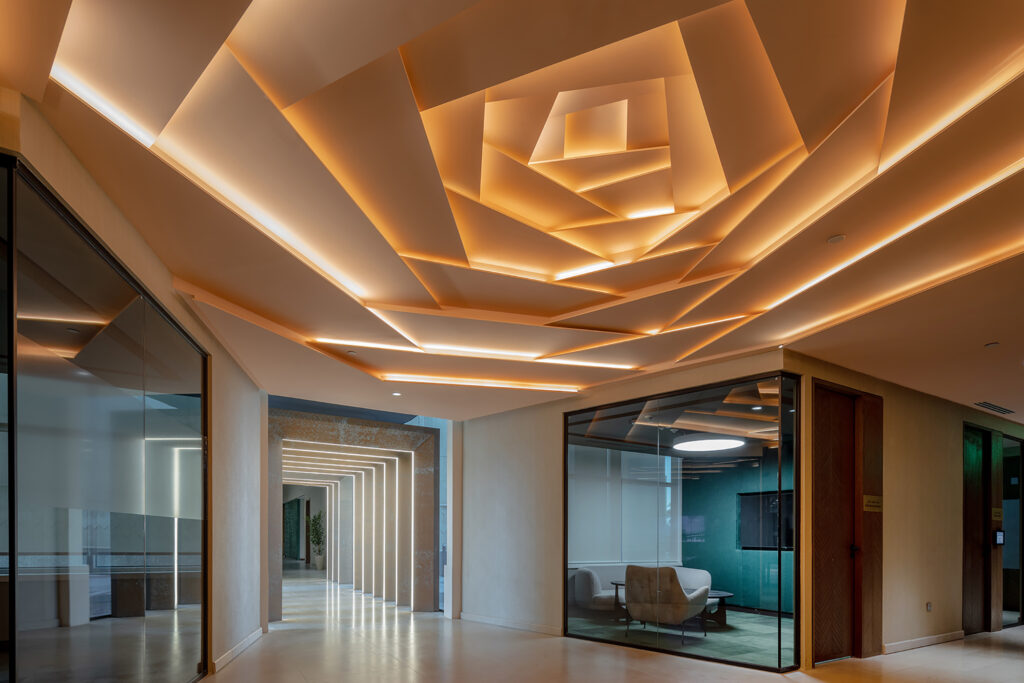 Comprising interconnected buildings spanning 17,000 square metres in total, the Ministry of Tourism Office in Riyadh, located within the diplomatic quarter, orchestrates a symphony of design, function and purpose. It hosts the Minister's office, Department Head offices, staff workspaces, IT infrastructure, data centres and a hub for business intelligence, as well as state-of-the-art meeting rooms. Transformed to align with Saudi Arabia's Vision 2030, the Ministry's headquarters underwent a comprehensive renovation, breathing new life into three distinct buildings: A, B and C.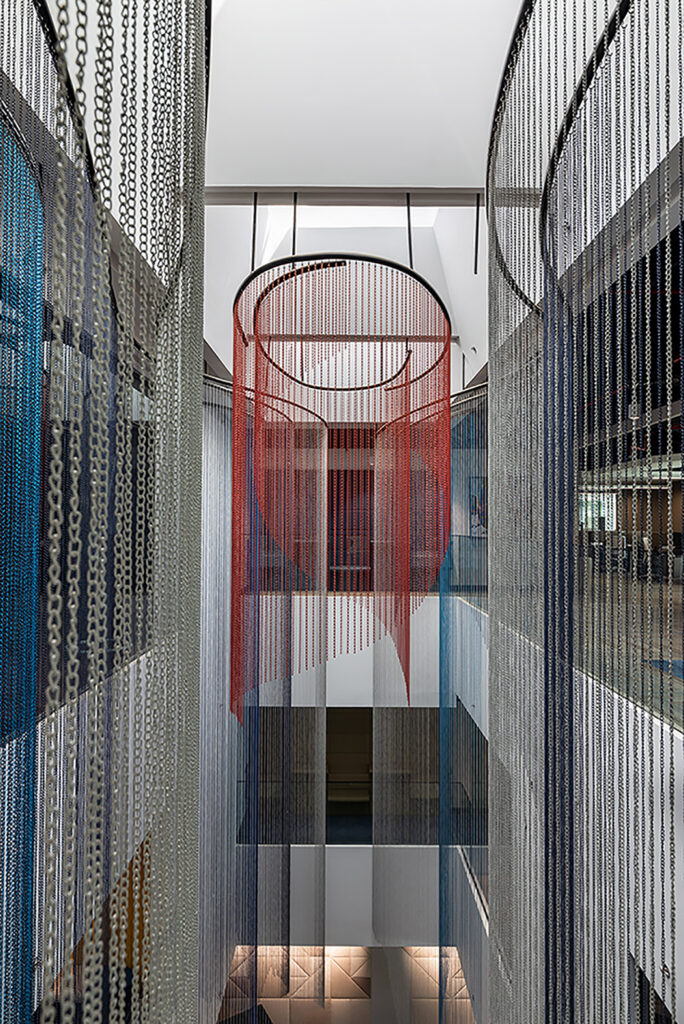 Design Inspiration
Rooted in the theme of 'Wanderlust', the Ministry of Tourism's design narrative captures the essence of discovery, showcasing the allure of the destination while honouring the country's traditions and values. Guided by the allure of Saudi Arabia's 13 regions, each with its own distinctive characteristics, the AAID design team embarked on an imaginative journey. This exploration led to the integration of cultural, historical and geographical elements, forming a tapestry of form, function and aesthetics. The visual language embraced textures, colours and patterns that mirror the nation's diverse landscapes, heritage and resources.
"The goal was to promote movement of the MOT team throughout the space and discover the heritage and attributes that the Kingdom celebrates while providing a sense of pride, belonging and celebration of the country's diverse heritage," noted Stuart Allen, Managing Director and Founder of AAID. "The task was to create a multifunctional space that provides the Ministry with modern workplace strategies. This led to influencing new behaviours for the employees around how to work efficiently in a more collaborative and inspiring environment that mirrors the Kingdom's diverse sceneries and vision of growth."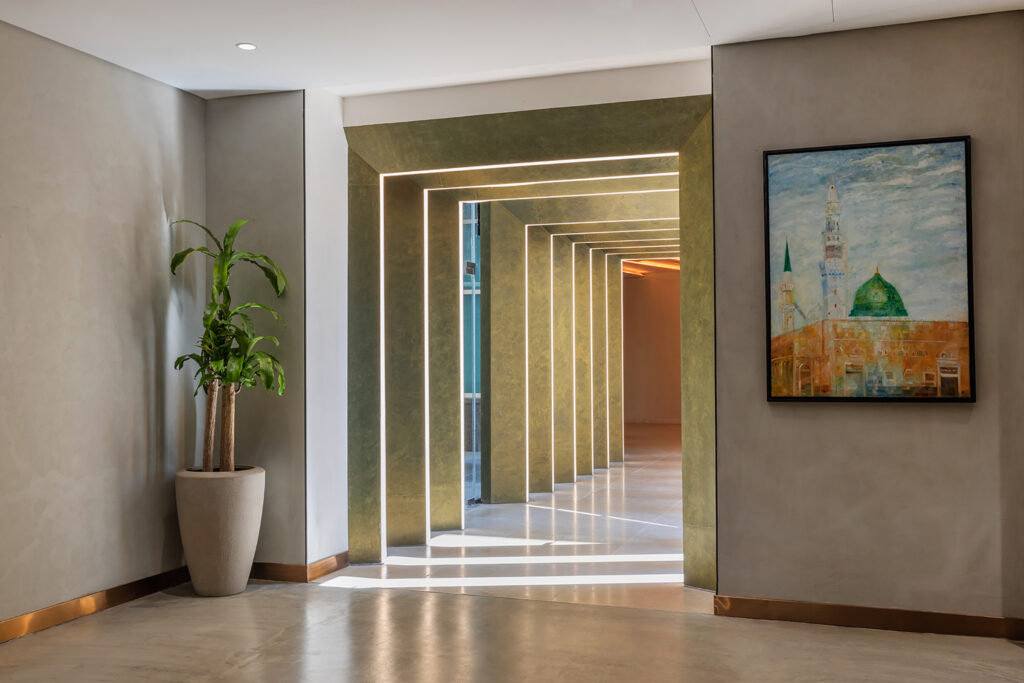 Materials Used
AAID employed a palette of over 400 finishes across the three interconnected buildings, which span three floors. A celebration of Saudi Arabia's heritage was channelled through materials like locally sourced Saudi limestone, sumptuous textured fabrics and carpets and inviting timber veneers. The design choreography incorporated striking elements like linked metal curtains in shades reminiscent of the Red Sea's depths, bespoke timber screens paying homage to Jeddah's historical Al-Balad region, and parametric geometries inspired by the intricate Sadu weaving culture.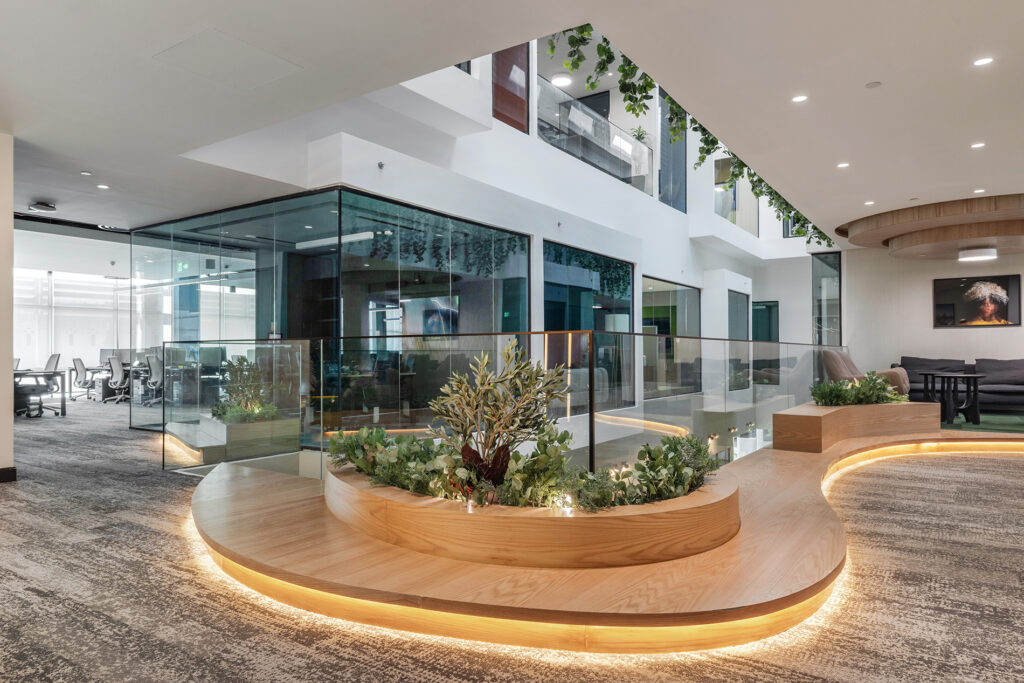 Key Design Elements
The Ministry of Tourism's architectural narrative unfolds through the interconnected buildings' distinctive features. Two atria in each building, connecting three floors, serve as luminous conduits for natural light. Every floor is dedicated to celebrating a specific region from the thirteen that make up Saudi Arabia, united by a common atrium feature. The highlights of each building include:
• Building A: Atrium adorned with triple-height metal curtains evoking the vibrant blues and corals of the Red Sea, connecting Makkah, Tabuk and Madinah. 
• Building B: A tribute to the locations of Jazan and Al Baha, the building features meeting rooms and offices adorned with biophilic elements reminiscent of Jazan's stepped Faifa mountains and Al Baha's lush greenery. 
• Building C: In this ode to Asir, Najran and Ha'il, an intricate metalwork Janbiya dagger encases the three-storey staircase. Off-cuts form a cascading curtain, celebrating Asir's jacaranda blossoms, while interconnecting passages beckon users to journey through regions.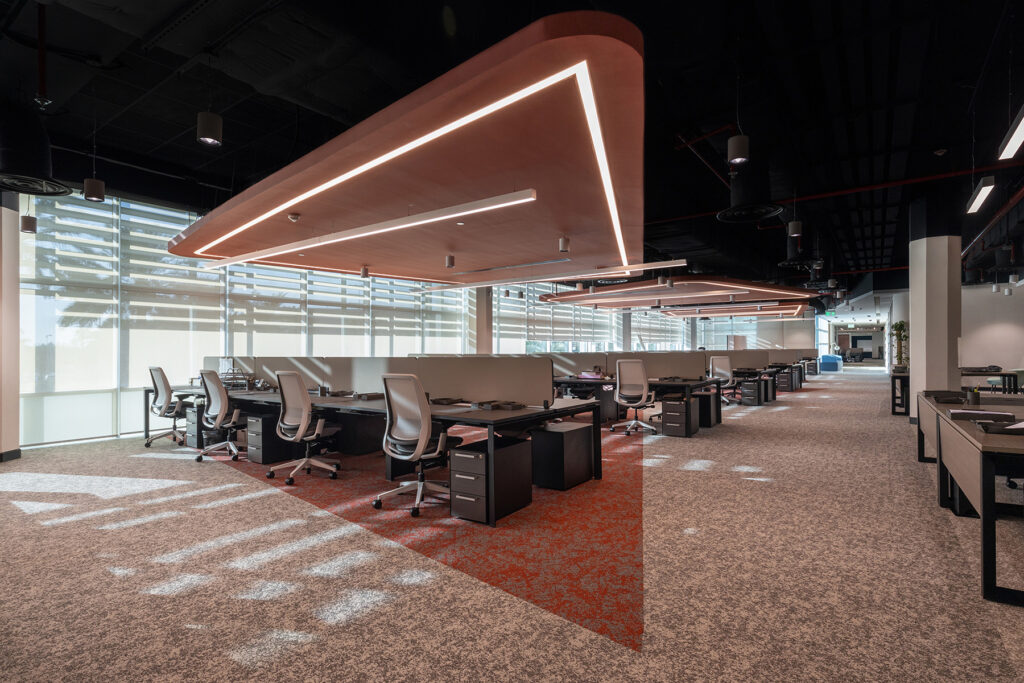 Sustainability
Conscious of environmental responsibility, sustainability threads through every part of the Ministry of Tourism project. Locally sourced materials take precedence, with locally quarried stone flooring testament to the commitment to supporting the local ecosystem. The furniture selection echoes this ethos, with most pieces sourced from local manufacturers, fostering regional craftsmanship and minimising carbon footprint. The Ministry of Tourism HQ, designed by AAID, skilfully weaves Saudi Arabia's heritage with its progressive Vision 2030. This architectural showcases the nation's aspirations through design that is both visionary and rooted in tradition. The interior design by AAID transcends office space, creating an immersive experience where every corner tells a story, beckoning employees and visitors alike to embark on a journey through Saudi Arabia's diverse regions and vibrant history.