Relax and savour every moment. This year, outdoor lifestyle trends take their inspiration from top resorts and hotels, blending clean lines with warm, inviting textures. Furnishings are alive with colour and form, while accessories bring comfort to soothe the modern soul.
Design is in the details
Outdoor accessories are taking their cue from the cosy, luxurious materials and patterns typically reserved for interiors. The bold red hue and gentle curved details of Driade's Carmina coffee table by Ludovica+Roberto Palomba, and the brilliant, comforting turquoise upholstery of B&B Italia's Erica sofa by Antonio Citterio illustrate how dramatic colours can make a profound impact, alongside the clean lines found in contemporary outdoor living.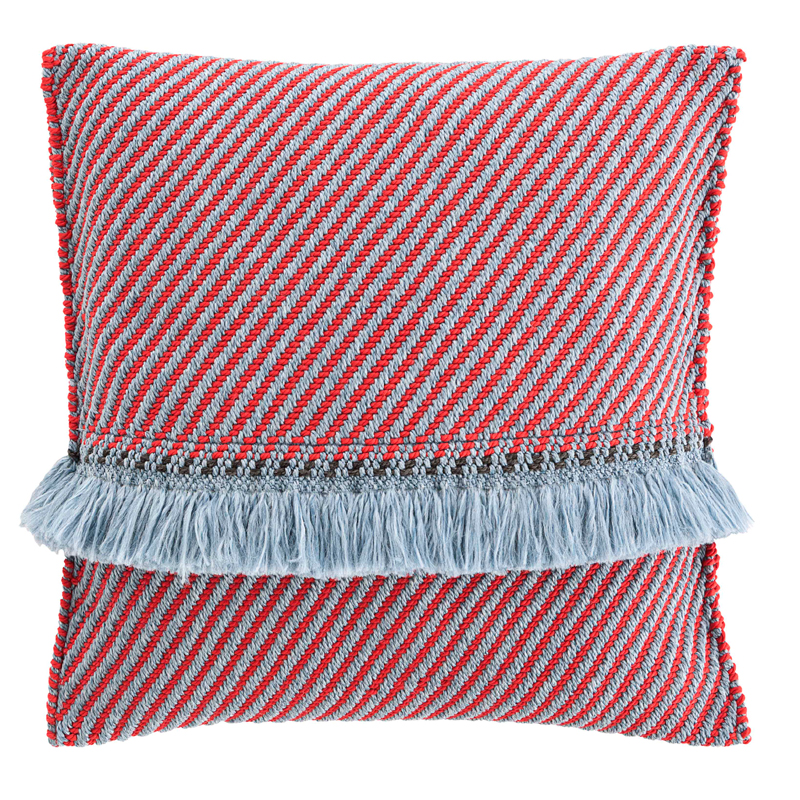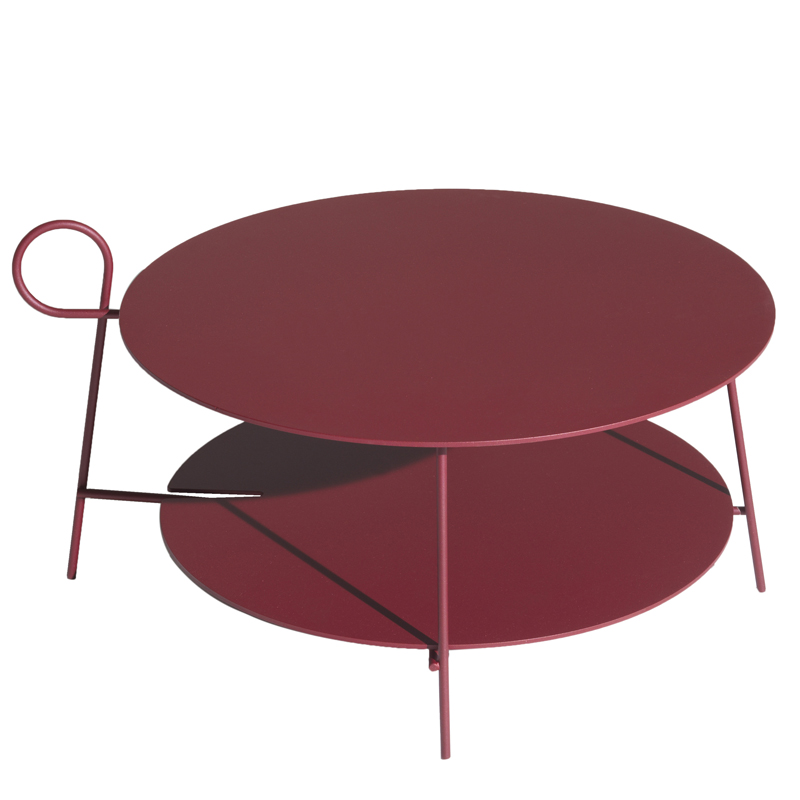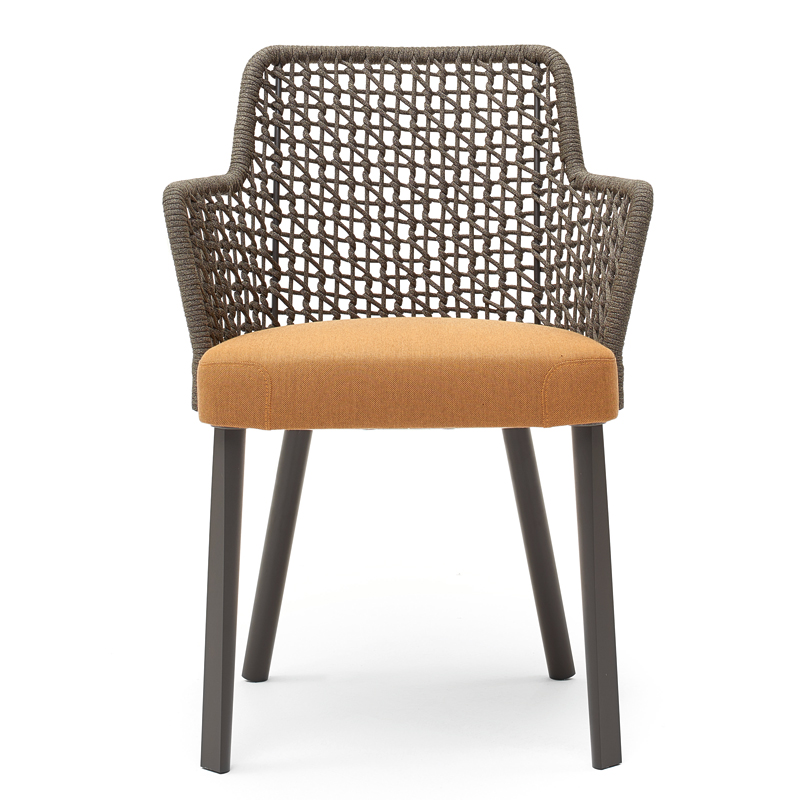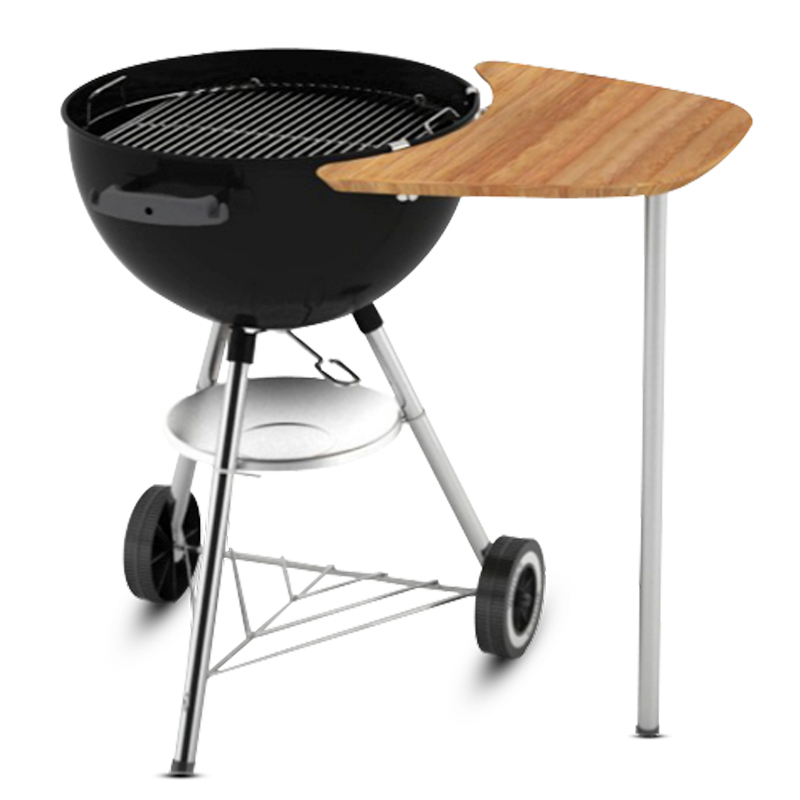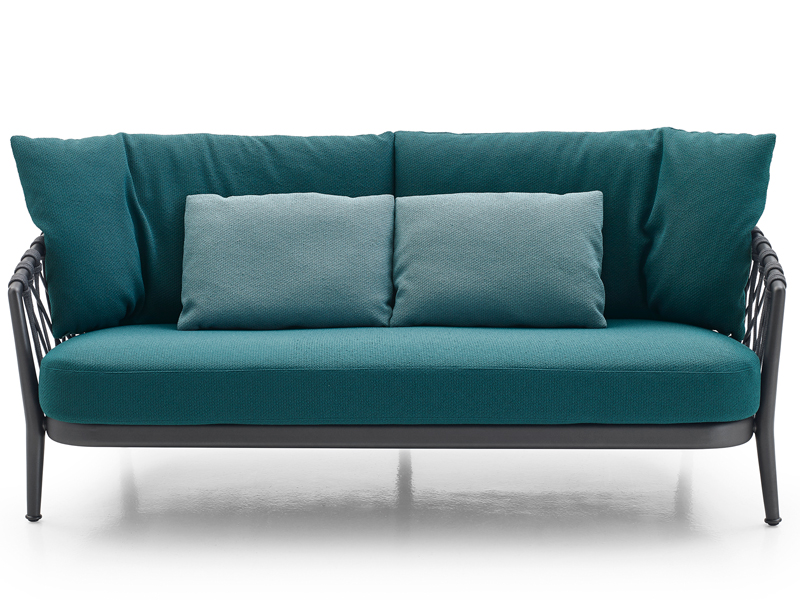 Finely crafted textures and details are also key to making any space personalised and welcoming – day or night. The Garden Layers cushion designed by Patricia Urquiola for GAN adds instant visual interest with its fringe design that's paired with joyful diagonal stripes. Use alone or in pairs for a dramatic seating option. For a more traditional option, try the EMMA/Rope garden chair with armrests by Monica Armani for Varaschin. Its rugged rope design brings character plus inviting, cosy style to any corner.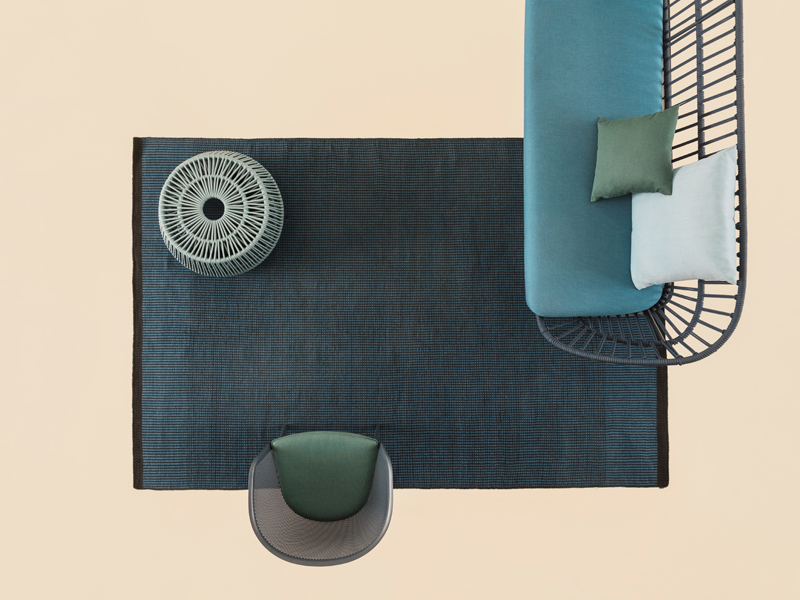 Relax + Unwind
Outdoor furnishings are also taking cues from hospitality projects, such as Dubai's new Bulgari Hotel and Spa, designed by legendary Italian architect Antonio Citterio. These stunning new resorts show how the seamless transitions between indoor and outdoor living reflect our desire to break  away from traditional boundaries and focus on the possibilities of flexible, nuanced spaces.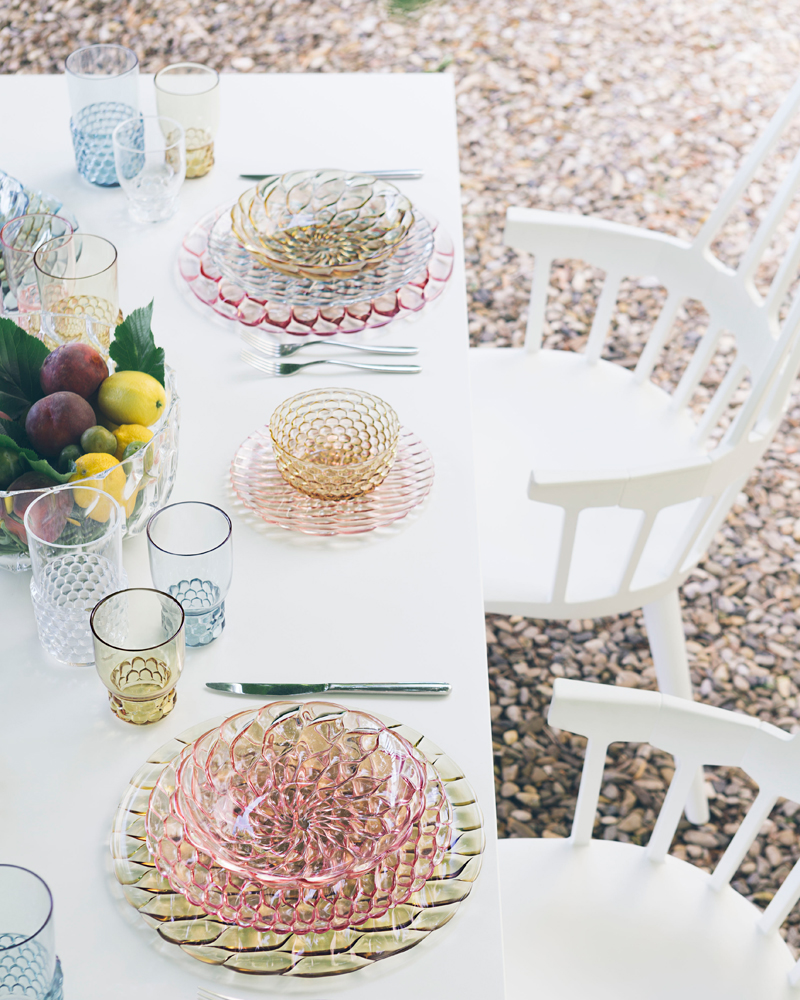 Blending clean lines and decadent finishes, Citterio's Ray outdoor fabric sofa for B&B Italia features a 'ribbon' interlacing made of polypropylene fibre, which is resistant both to UV radiation and atmospheric agents. The colour range, which blends particularly well into an outdoor setting, ranges from turquoise to blue, and from acid green to tortora and bright Bordeaux. Seats in both collections include sofas available in two depths and modular elements, from terminal components to the chaise longue and armchair. Its remarkable colouration and functionality make it a stunning, sculptural focal point.
For those looking for minimalist lines and the sleek versatility of stainless steel, Sergio Brioschi's sun lounger for Coro L3 blends seamlessly into any outdoor environment. Completely stackable, it's also fully adjustable, transforming from completely flat through to upright. But it's the smart details, such as hidden wheels and a storage sling under the seat, that make it an outdoor design star. It's an ideal companion for the season's embrace of dense textures and materials.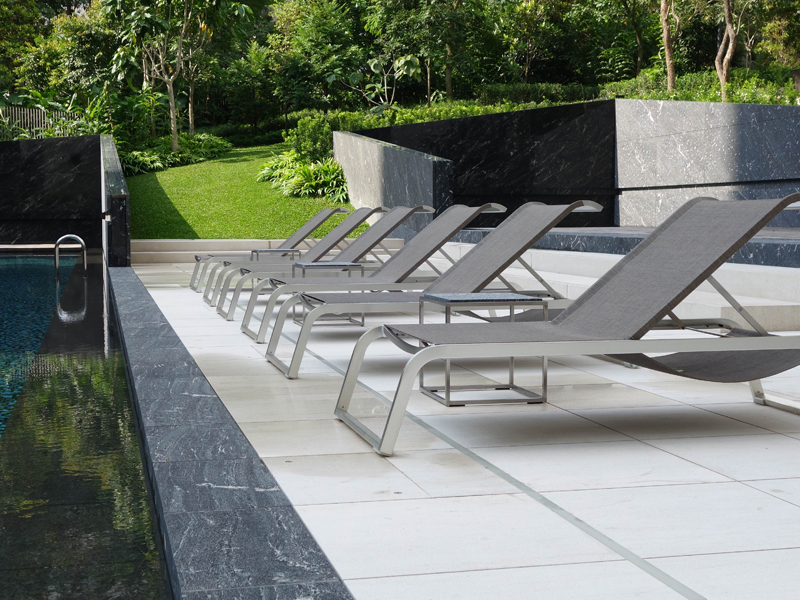 Underfoot, colour and style are just as bold and innovative. The Geometrics Fabrics outdoor rugs by design duo Doshi Levien for Kettal feature diagonal lines and an interplay of different geometries. In the first design, lines are laid over solid colours to make a spatial and layered effect, while in the second design, tiny rectangles or blocks of colour are spaced apart and repeated to create a fine mélange.
The two different rug designs, Block and Line, share the same weave technique, which means they can be used in infinite combinations.
Cool days + haute nights
Taking a cue from the Scandinavian passion for cosy, warm interiors, it's important to create coherent spaces rooted in light, warmth and a variety  of textures.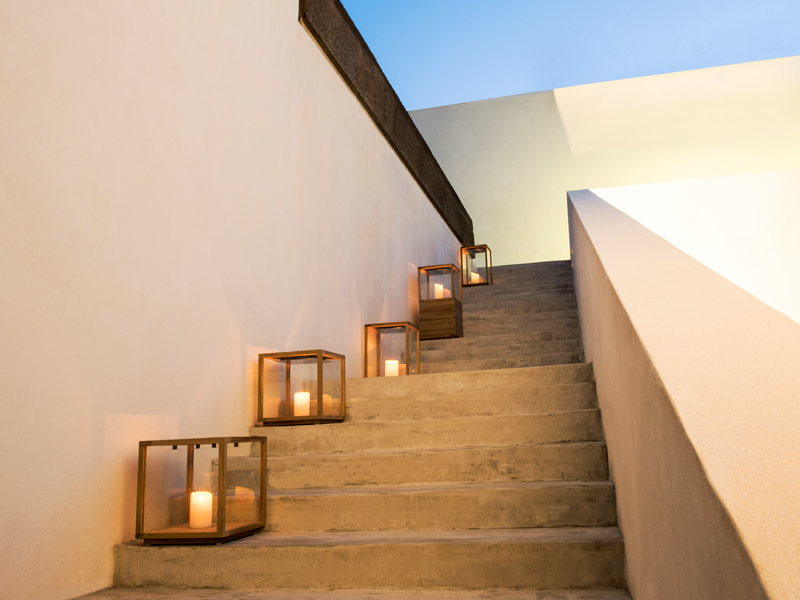 Toan Nguyen's luxurious MU outdoor lounging system for Dedon is an ideal anchor for any outdoor space. "My design aims at endless and unique varieties of combinations…" says the designer.
The system's name is derived from Zen philosophy, and means 'reduced to pure essence'. Its ethereal elegance combines new cushion technology, modular logic and refined proportions with lightness. Nguyen used Ferrari Batyline fabric support for MU's cushions, ensuring unparalleled levels of comfort, and its fine legs elevate it to just the right height, creating a sense of lightness while it seemingly floats above the patio underneath. The collection's subtle weave is handwoven from tonally and texturally varied stands of fibre, while its modules include daybeds, benches, side tables and coffee tables of varying sizes.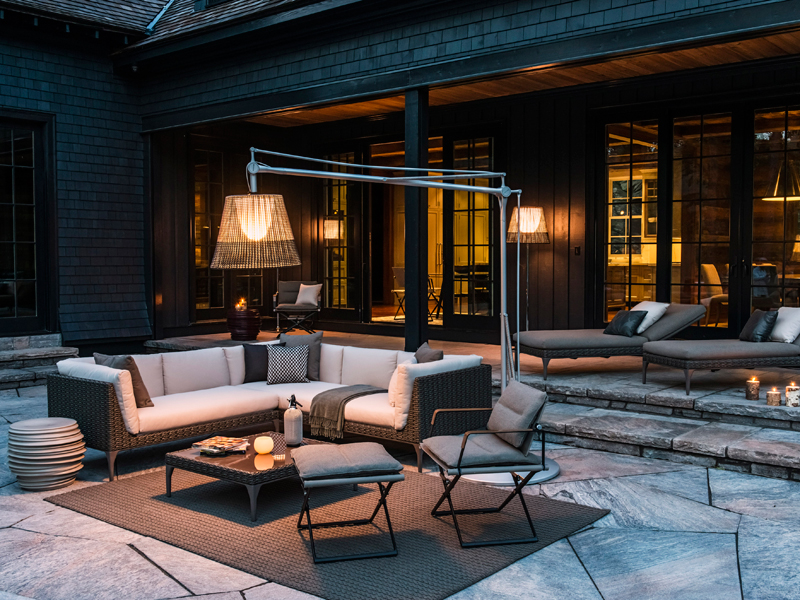 Lighting is just as essential as lightness. An ambient glow should be dispersed  over the entire outdoor living space,  using various sizes of lanterns, lamps  and candles.
For halos of natural light that can be easily transported throughout a space, try Tribù's lanterns with teak bases. Made of thermally strengthened glass, they make it easy to group different sizes candles.
Create instant drama with the exotic La Lampe torch from Maiori. Innovative and stylish, the solar-powered garden lamp reinterprets the traditional beach torch and is crafted with teakwood and aluminium for durability. For life, and for living, it allows  you illuminate the best moments, wherever you are.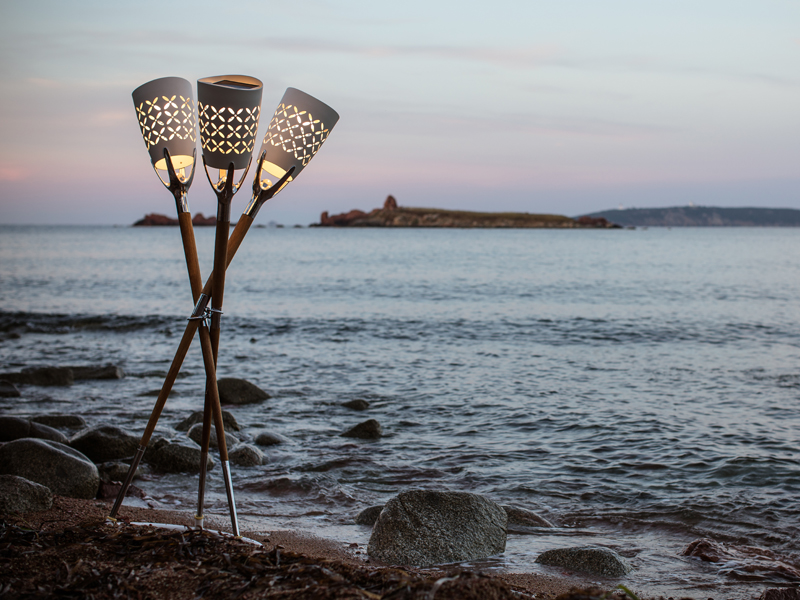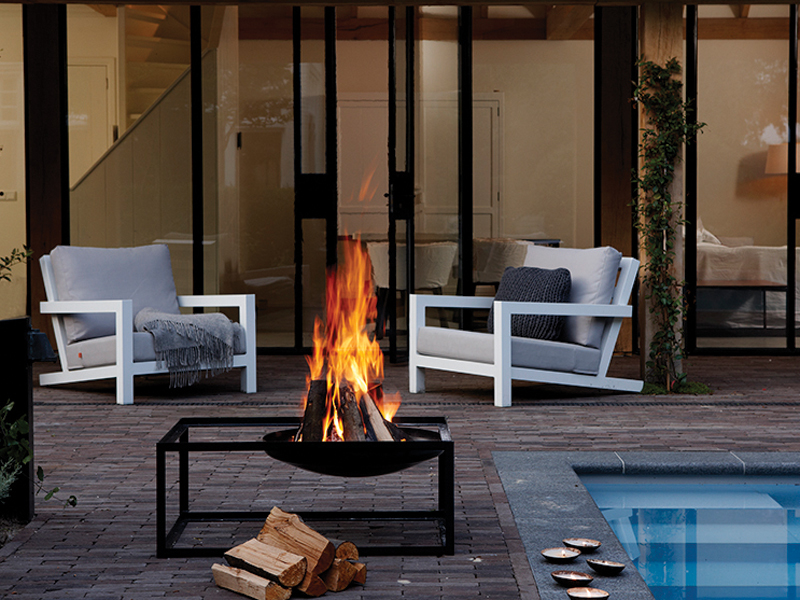 Providing another option for those looking for a contemporary spin on the classic fire pit and barbecue grill, the super-sleek Slide fire bowl by Konstantin Slawinski is a modern marvel. It's been designed so that the flame is the visual focal point when used as a fire pit or a grill. Simply move the cooking grate and griddle into the correct position – over each other or alongside each other, and above the fire, close to, or alongside the fire. Cleaning up is a snap: simply place the two attachments in the dishwasher.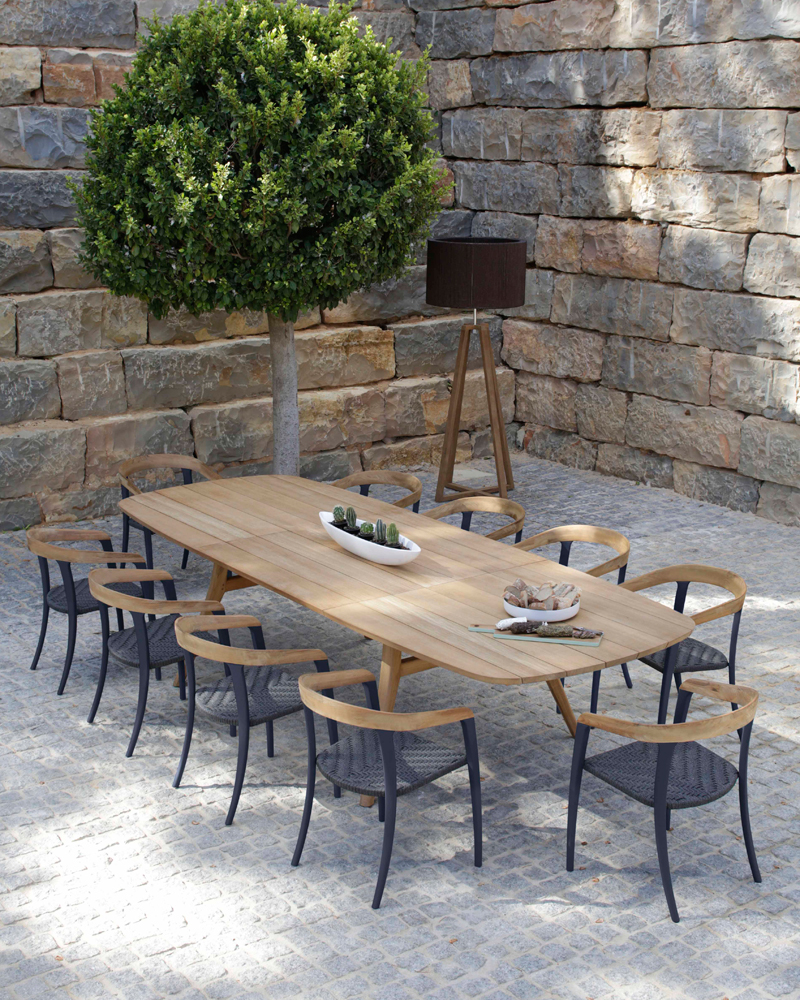 Al fresco
There's nothing as refreshing as dining outdoors. From sipping an espresso on the terrace, to the guilty pleasure of a romantic late-night dessert, this season is about streamlined living. To complement minimalist, low-maintenance landscaping that relies on eco-friendly textures such as stone, try using dining furniture created with durable wood and steel, as well as dinnerware that doesn't sacrifice style for substance.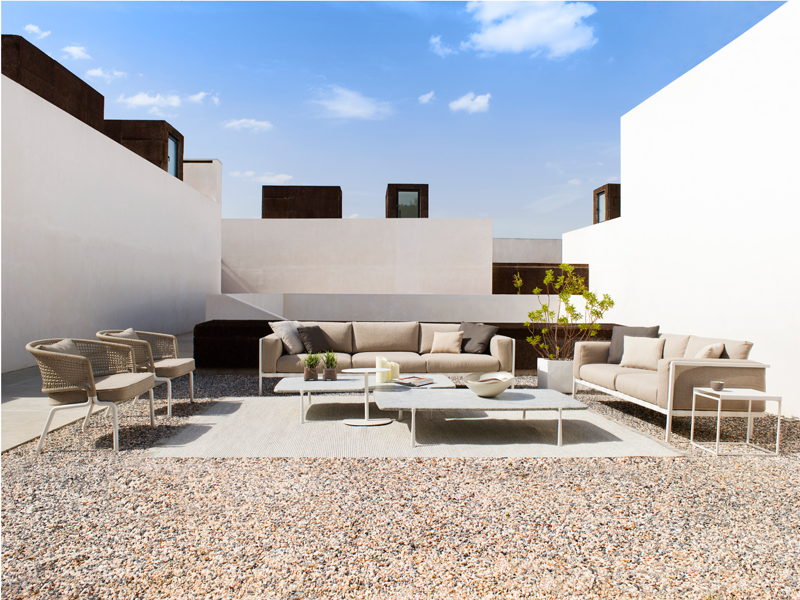 Piergiorgio Cazzaniga's Vis à Vis outdoor dining collection for Tribù was designed with depth and dimensionality. Using his favourite material, teak, Cazzaniga imagined a place where people could gather and enjoy the simple pleasures of dining in a comfortable environment. The table is available in various dimensions – including an extra-large table of seven metres.
Also 'Made in Italy,' EMU's classic Darwin steel dining set offers excellent durability and comes in a variety of colours. Its clean, elegant lines and curves are playful yet sophisticated.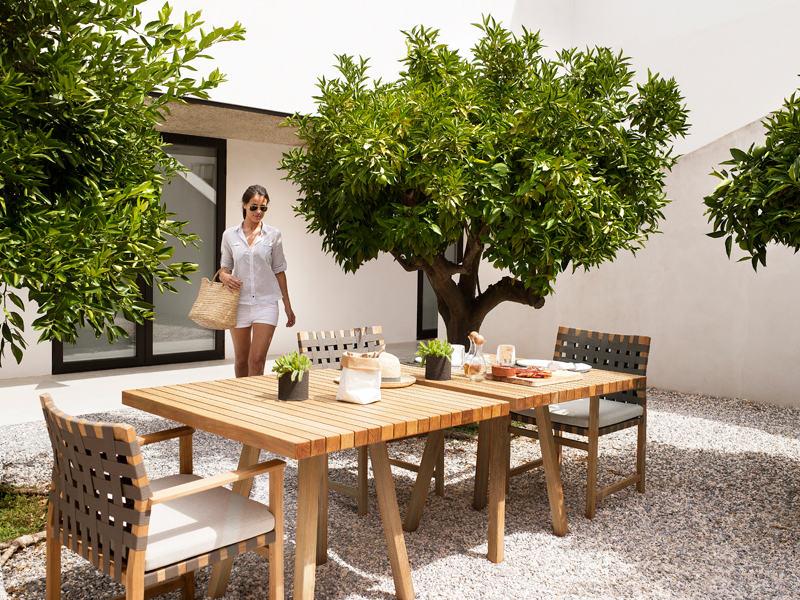 But at any outdoor feast, the scene-stealer is inevitably the dinnerware. Patricia Urquiola's Jelly Family dining set brings a smile to any meal with its joyful colours and imaginative flourishes. The comprehensive line of plates, trays, glasses, bowls and carafes is made from colourful and transparent PMMA plastic. Each model presents a different organic pattern that has clearly been inspired by nature, harking back to the moulds that are used for making jellies.