Vancouver is to become home to the tallest hybrid wood structure in North America, Philippe Starck has collaborated with Bentley to create a smart power dock for the luxury car brand's new Bentayga Hybrid, and plans have been unveiled for the world's largest and most powerful offshore wind turbine.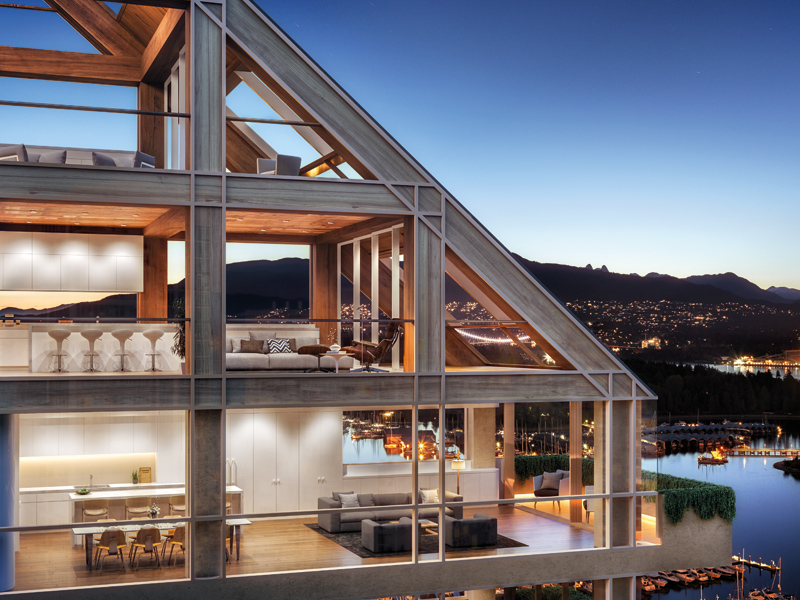 MASS APPEAL
Due to be completed in the summer of 2020 is Terrace House, Pritzker Prize-winning architect Shigeru Ban's Vancouver waterfront condominium, which will become the tallest hybrid wood structure in North America.
The top seven stories of this 19-floor project by PortLiving will, for the first time in Canada and the United States, feature exposed mass timber following official approval from the city of Vancouver. This was achieved after a process of performance-based fire and structural engineering tests which demonstrated that this hybrid mass timber structure is as safe, if not safer, than a conventional concrete or steel high-rise.
And the approval is seen as a major step forward in Vancouver's goal of becoming the greenest city in the country.
Wood is a sustainable and versatile building material that stores, rather than emits, carbon dioxide for the life of the structure and beyond. The environmental and performance benefits of wood construction also include reduced greenhouse gas emissions, reduced embodied energy, renewable benefits, and direct occupant and builder health benefits.
Homes within the upper timber levels will feature vertical and horizontal wood structural beams and columns of Douglas Fir harvested from sustainably managed forests 700 kilometres away in the Kootenay region of British Colombia.
Terrace House is a development of just 20 unique homes, almost half of which occupy entire floorplates. Custom features, from door handles to cabinet pulls, can be found throughout and have been designed by Shigeru Ban, while each residence will boast a full suite of smart home technologies, museum-quality glazing plus fully-integrated air conditioning and heating systems.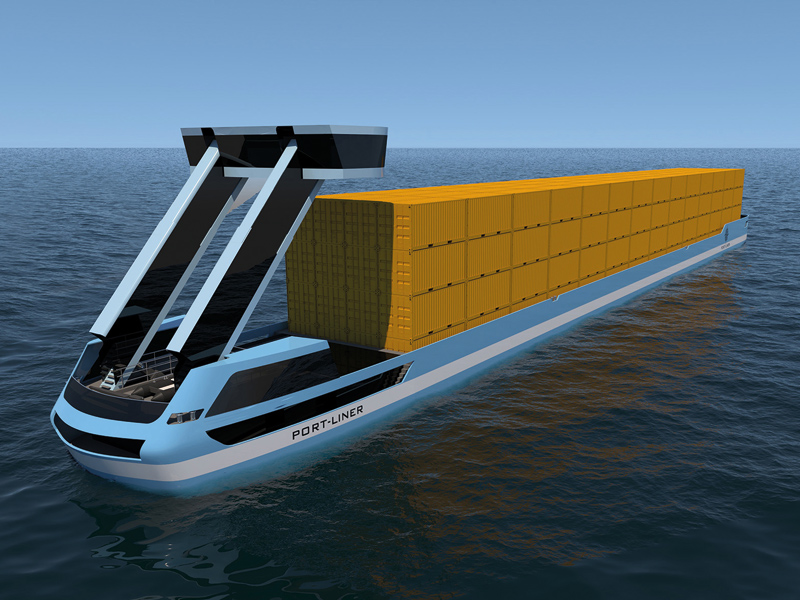 BARGING AHEAD
Due to begin sailing later this year are emissions-free barges propelled by electric motors.
Dutch company Port-Liner has developed the e-Powerbox, a shock- and vibration-free container battery which will soon be used by the GVT Group of Logistics on two barges deployed between Tilburg, in the south of the Netherlands, and the sea ports of Rotterdam and Antwerp.
These barges are 110 metres long and can sail for approximately 18-35 hours when using four e-Powerboxes.
The GVT Group will also be using five smaller fully electric barges on regular runs between the small container terminal in Budel and the Belgian port of Antwerp.
Windmill parks will be used to help generate the electricity needed to charge the barges' batteries, while solar energy will also be utilised as part of this innovative project, which is being supported by the European Commission.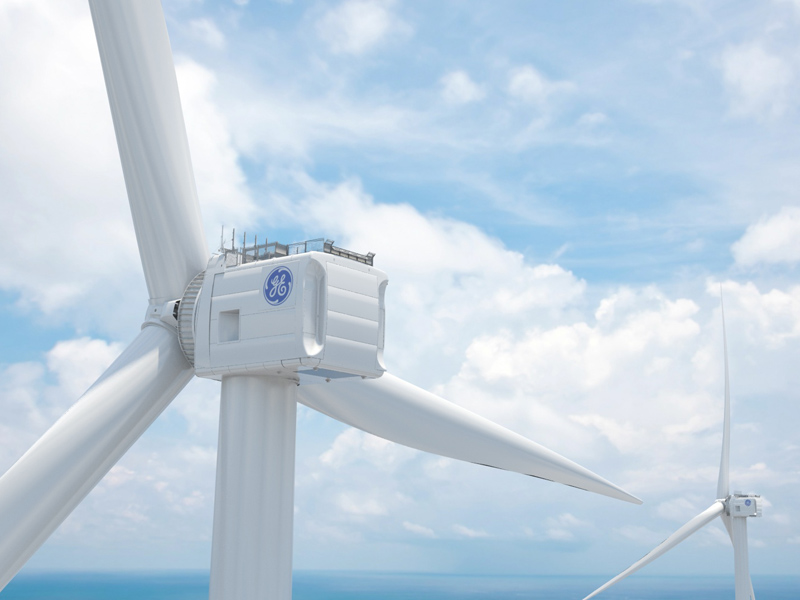 WIND POWER
Plans have been unveiled for the world's largest and most powerful offshore wind turbine.
The Haliade-X 12 MW, currently being developed by GE Renewable Energy, will produce 45 per cent more energy than any other rival product thanks to its size and advanced digital capabilities.
It towers 260 metres over the sea and is more than five times the size of the Arc de Triomphe, and features 107-metre blades – each one longer than the size of a football field.
It is estimated that one Haliade-X 12 MW turbine will generate enough clean power for up to 16,000 households, and up to one million European households can be provided for by a 750 MW windfarm configuration.
Jérôme Pécresse, President and CEO of GE Renewable Energy, said: "The renewables industry took more than 20 years to install the first 17 GW of offshore wind. Today, the industry forecasts that it will install more than 90 GW over the next 12 years.
"This is being driven by lower electricity costs [thanks to] scale and technology. The Haliade-X shows GE's commitment to the offshore wind segment and will set a new benchmark for cost of electricity, thus driving more offshore growth."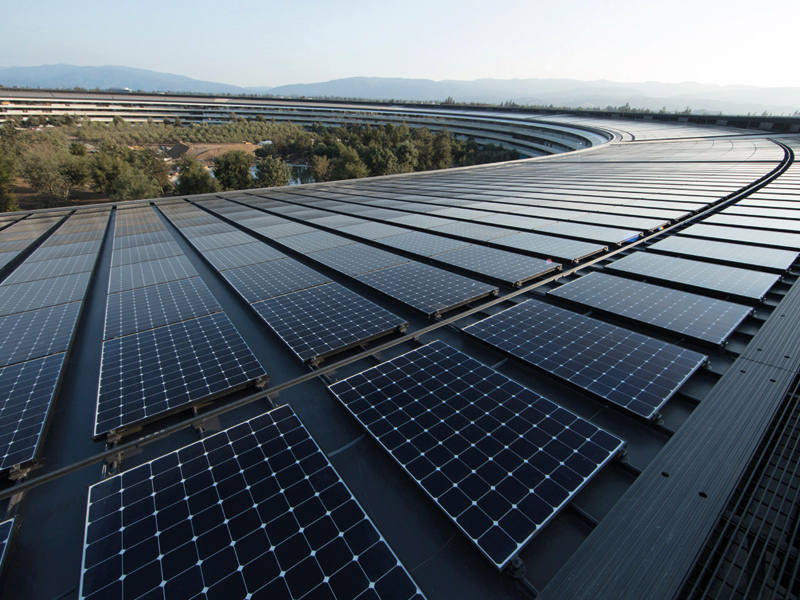 CLEAN MOVE
Tech giant Apple has announced that its facilities worldwide are now powered with 100% clean energy.
Its achievement covers retail stores, offices, data centres and co-located facilities in some 43 countries, including China, India, the United States and the United Kingdom.
Apple has also declared that nine manufacturing partners have made a commitment to power all of their Apple production with 100% clean energy, bringing the total number of supplier commitments to 23.
Apple CEO Tim Cook said: "We're going to keep pushing the boundaries of what is possible with the materials in our products, the way we recycle them, our facilities and our work with suppliers to establish new creative and forward-looking sources of renewable energy, because we know the future depends on it."
Solar arrays and wind farms – as well as emerging technologies such as biogas fuel cells, micro hydration generation systems and energy storage technologies – are all utilised by Apple, whose new headquarters building in Cupertino, California, has been certified as the largest LEED (Leadership in Energy and Environmental Design) Platinum-certified office building in North America.
It is powered by 100% renewable energy from multiple sources, including a 17-megawatt onsite rooftop solar installation and four megawatts of biogas fuel cells, and controlled by a microgrid with battery storage. It also gives clean energy back to the public grid during periods of low occupancy.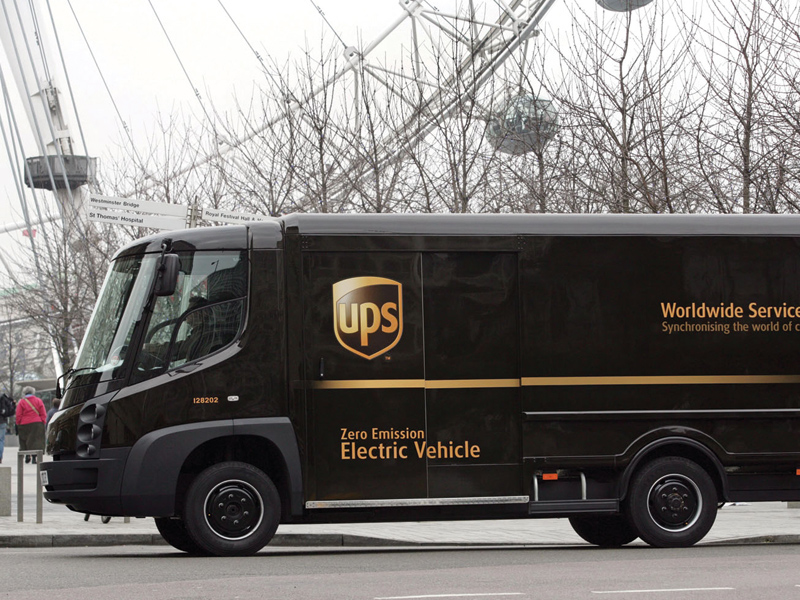 RADICAL TECHNOLOGY
UPS has unveiled what it calls "radical new charging technology" to help the company operate its London-based fleet of electric vehicles (EVs) without requiring an expensive upgrade to its power supply grid.
The global giant had been running 65 EVs from a central site in the British capital but announced that its entire fleet of 170 trucks based there will soon be composed entirely of electric vehicles, thanks to the use of onsite energy storage batteries and a game-changing smart grid.
This major advance – the first of its kind on this scale anywhere in the world – signals an end to reliance on internal combustion engines and is the result of the Smart Electric Urban Logistics (SEUL) project with UK Power Networks and Cross River Partnership, with funding secured from the UK's Office for Low Emission Vehicles.
The company believes the day is fast approaching when acquisition costs for EVs will be lower than for diesel counterparts, while also impacting on improving air quality.
UPS has pledged to obtain 25% of the electricity it consumes from renewable energy sources by 2025 and to replace 40% of all ground fuel with sources other than conventional gasoline and diesel.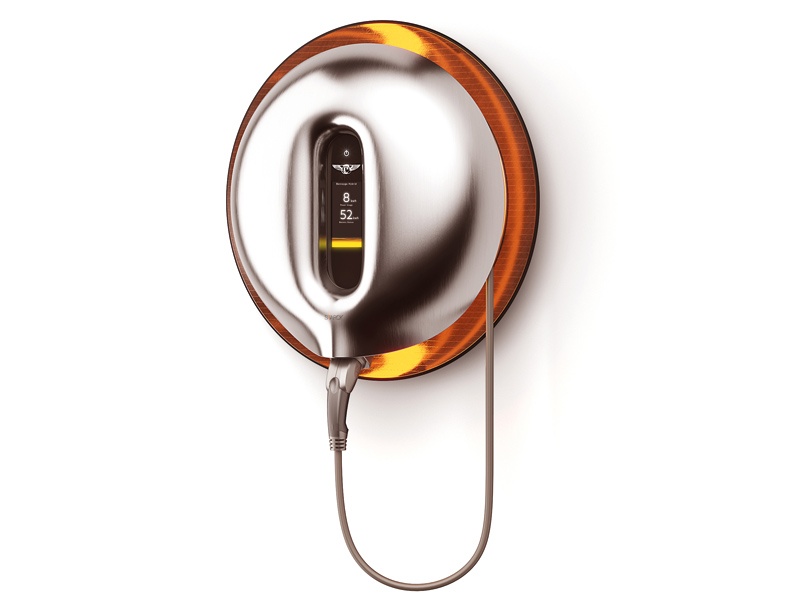 SMART POWER DOCK
French designer Philippe Starck has collaborated with luxury car manufacturer Bentley to create a stylish smart power dock for the luxury car brand's new Bentayga Hybrid.
The elegant surround of the statement piece is formed from pressed eco-linen reinforced with bio-sourced thermosetting resin, while the domed frontage is fashioned using a hot-pressure aluminium casting.
Starck, who was already a Bentley owner, said: "I wanted the maximum of intelligence with the minimum of materiality. I wanted it to be a modern art piece: durable, real and avant-garde high-tech."
The Bentayga Hybrid is Bentley's first hybrid and combines a V6 petrol engine with battery power that ensures an electric-only range of 50 km. It is also the most efficient and lowest-emission vehicle Bentley has ever made.
ends