Since its inception, Dastaangoi Gallery – a contemporary art space based in Islamabad, Pakistan – has brought together a curated selection of diverse artworks by emerging talents from the Global South. With the opening of its second gallery space in Dubai, coinciding with this year's edition of Art Dubai, the aim is to forge dialogue with the rest of the world and expand its talent and collector base to include the whole of MENASA.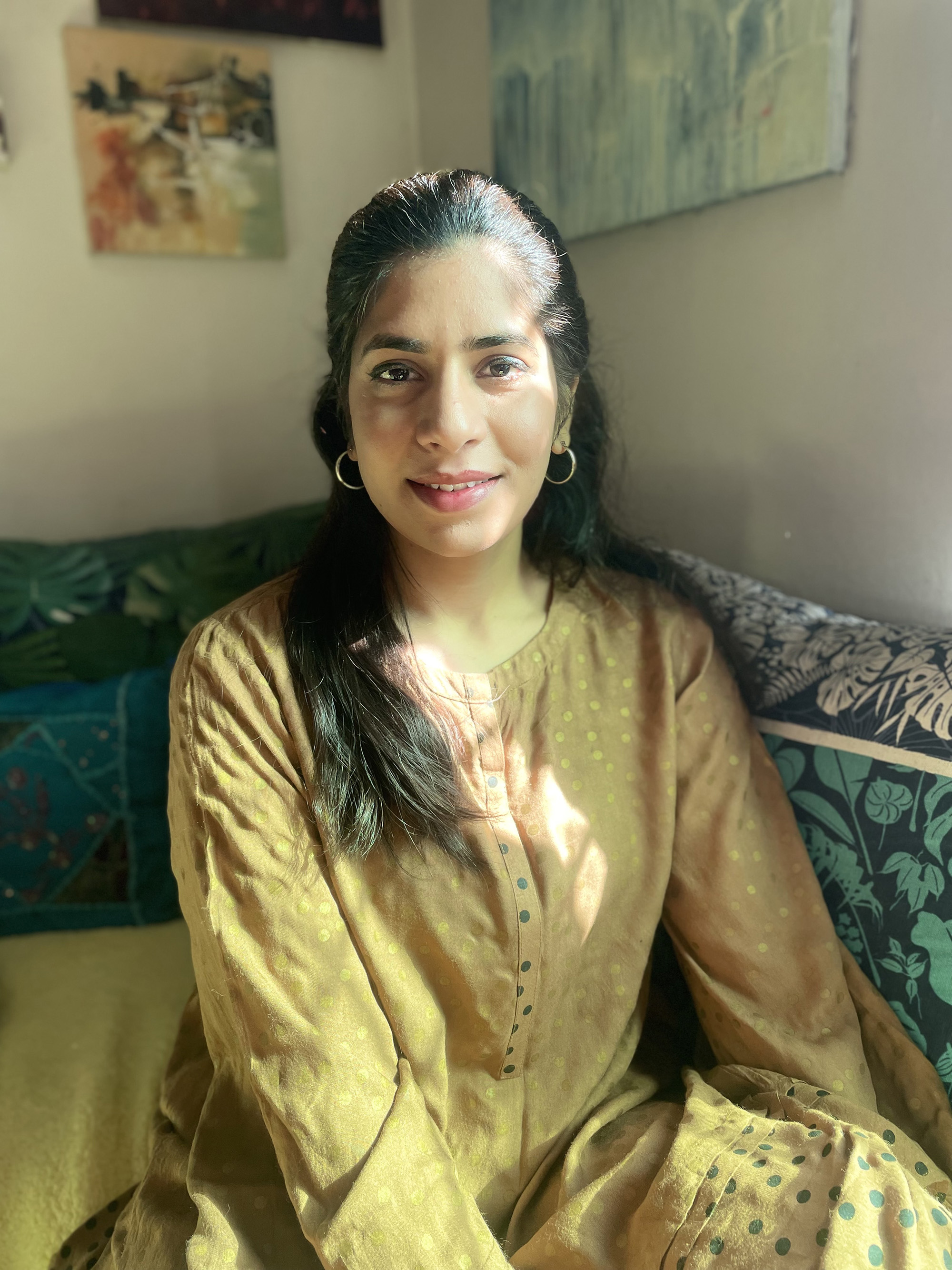 Lahore-based visual artist Zahra Asim's realist paintings are a narrative of congested spaces, characteristic of the narrow alleys and crowded neighbourhoods of Old Lahore where she spent most of her childhood. Light, space and intricate residential formations are all elements that come to play in her work. The artist's reference to encapsulate the interiors within the bustling old town becomes a medium to unlock personal memories.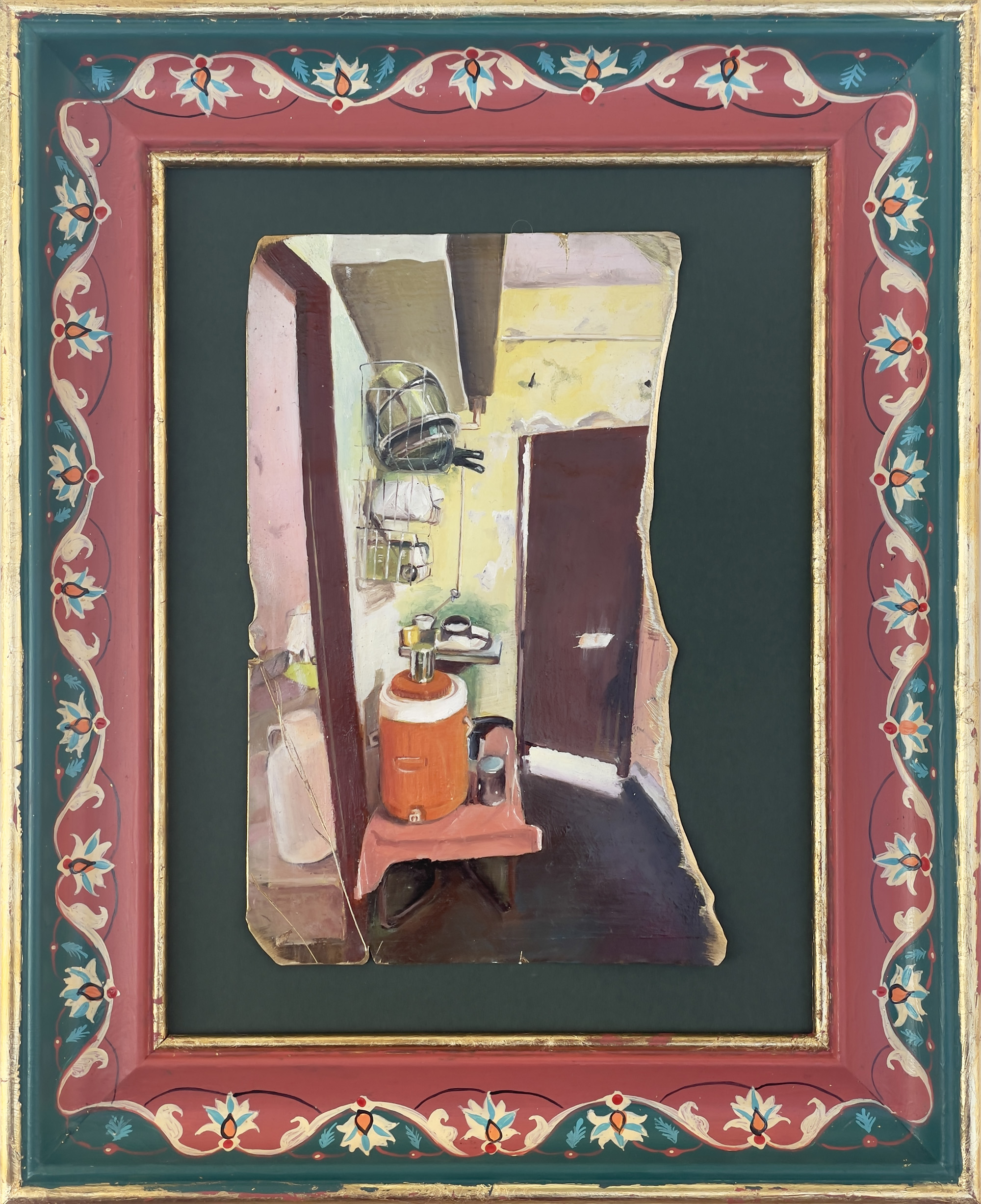 "In these fleeting times everyone is looking for connections to home, to attain a sense of belonging and a channel for their memories," explains Amad Mian, co-founder of Dastaangoi Gallery. "We chose Zahra for the opening exhibit, as her thought-provoking work and inspiring story transcends cultures and builds upon nostalgia that many resonate with."
Hailing from a humble background and raised by a single mother who nurtured her passion into a successful art career, Asim's love for art began during her childhood, when she would accompany her mother to the region's most prestigious art college, the National College of Arts (NCA) in Lahore. Being a child of a single working-class parent meant she was frequently on her own, which eventually led her to express her experiences through art.  "I felt a strong sense of belonging and [a] desire to be part of the fraternity at NCA," she explains.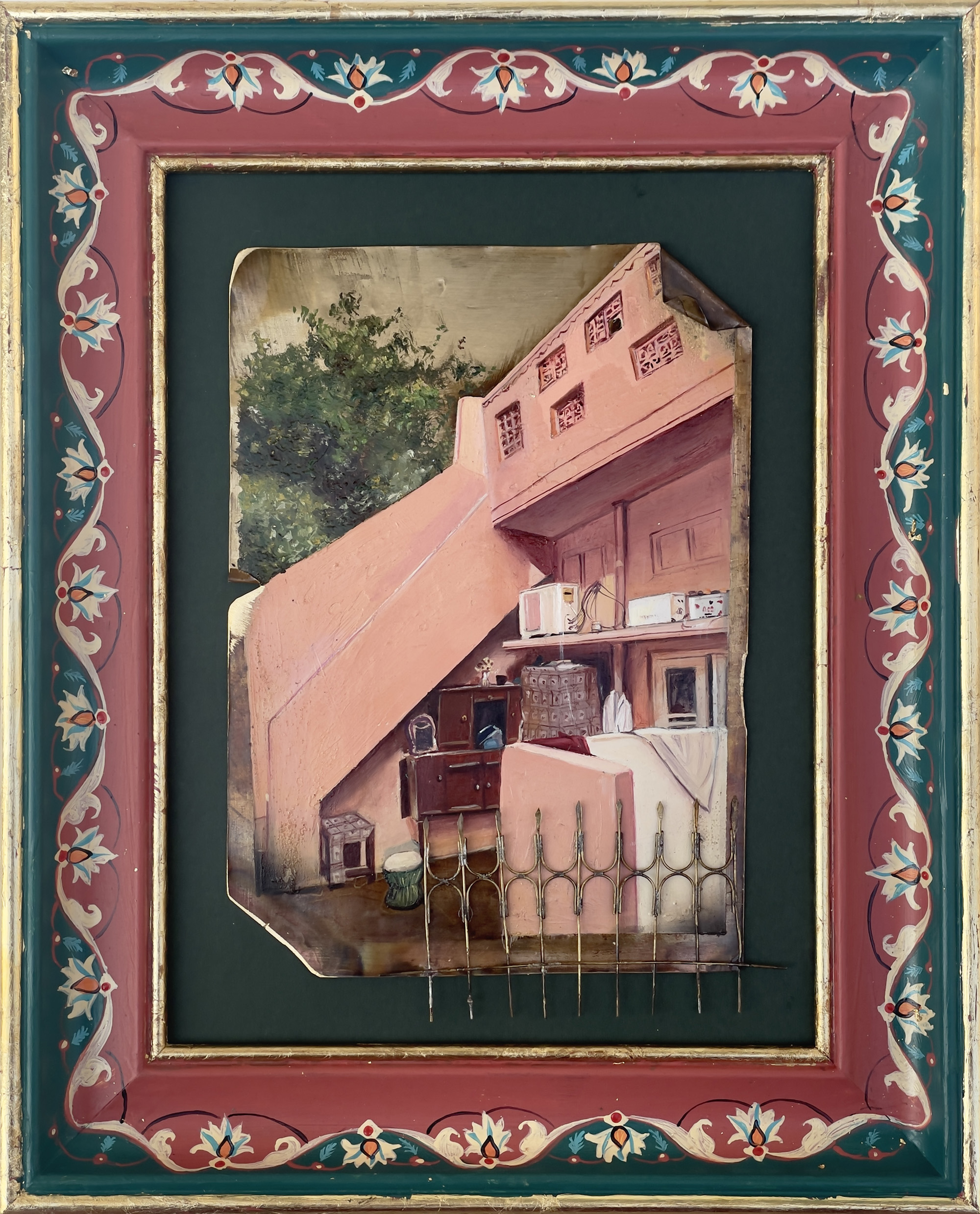 After graduating with a degree in Fine Art from NCA in 2014 and completing her master's in art and design from Beaconhouse National University, Lahore in 2019, Asim painted professionally for almost nine years and has exhibited in numerous groups' shows, both nationally and internationally. 
Having been raised in the constricted lanes of the old Mozang area of Lahore, she began to develop a phobia of small and enclosed living spaces, which exists to this day. "The domestic environment was chaotic, overfilled and lacked natural light, yet at this age I have realised that – along with being surrounded by stacks of objects – I was simultaneously encircled by a vibrant community of love and support," Asim recalls.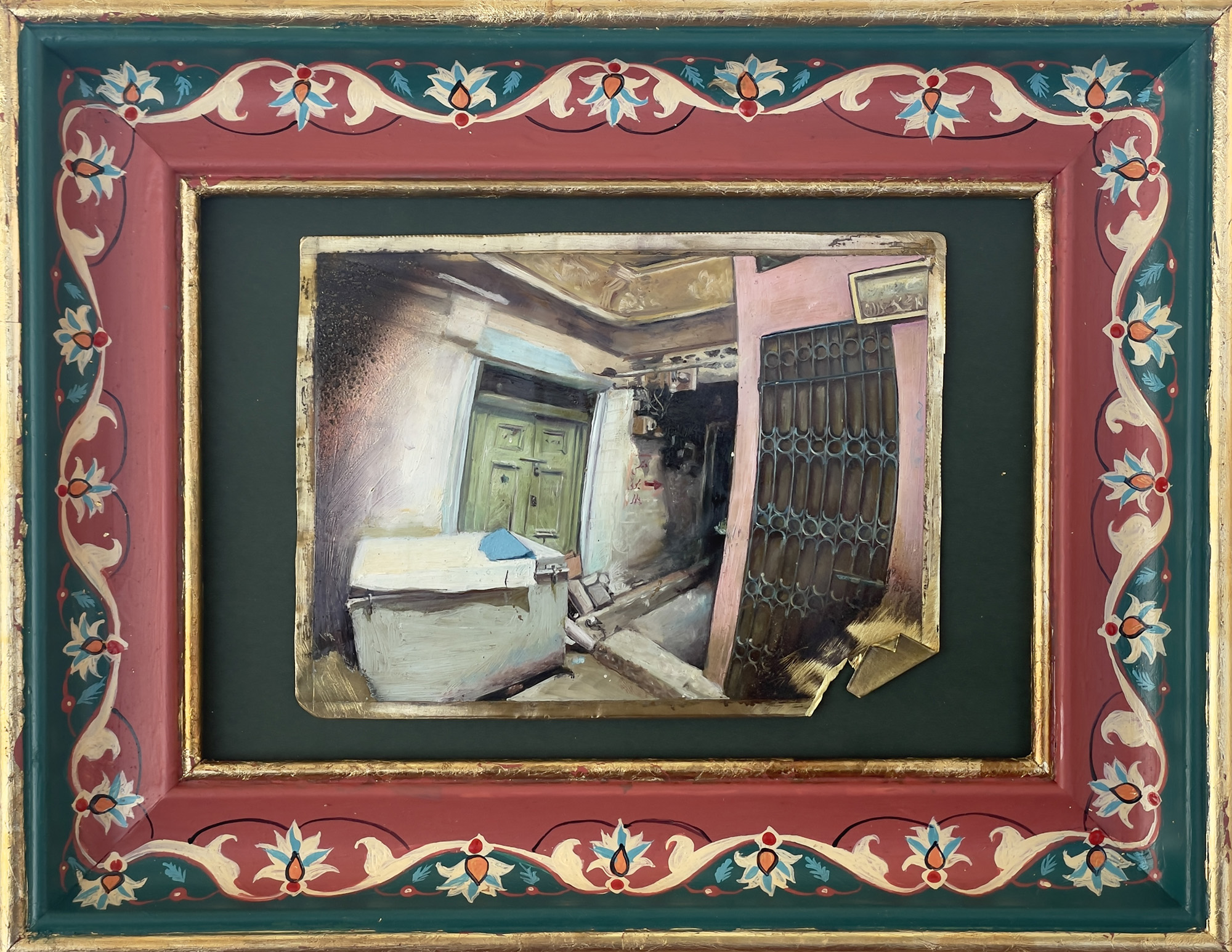 Her closely laid-out urban environment honed her sense of perspective. As a child, the fixation was on claustrophobia, and yet ironically, it is the very Tetris-like patterns of such residential spaces and the play of natural light that now defines her artistic expression, which is symbolised by a bare honesty that shifts between the artist's memories and a positive nostalgic association.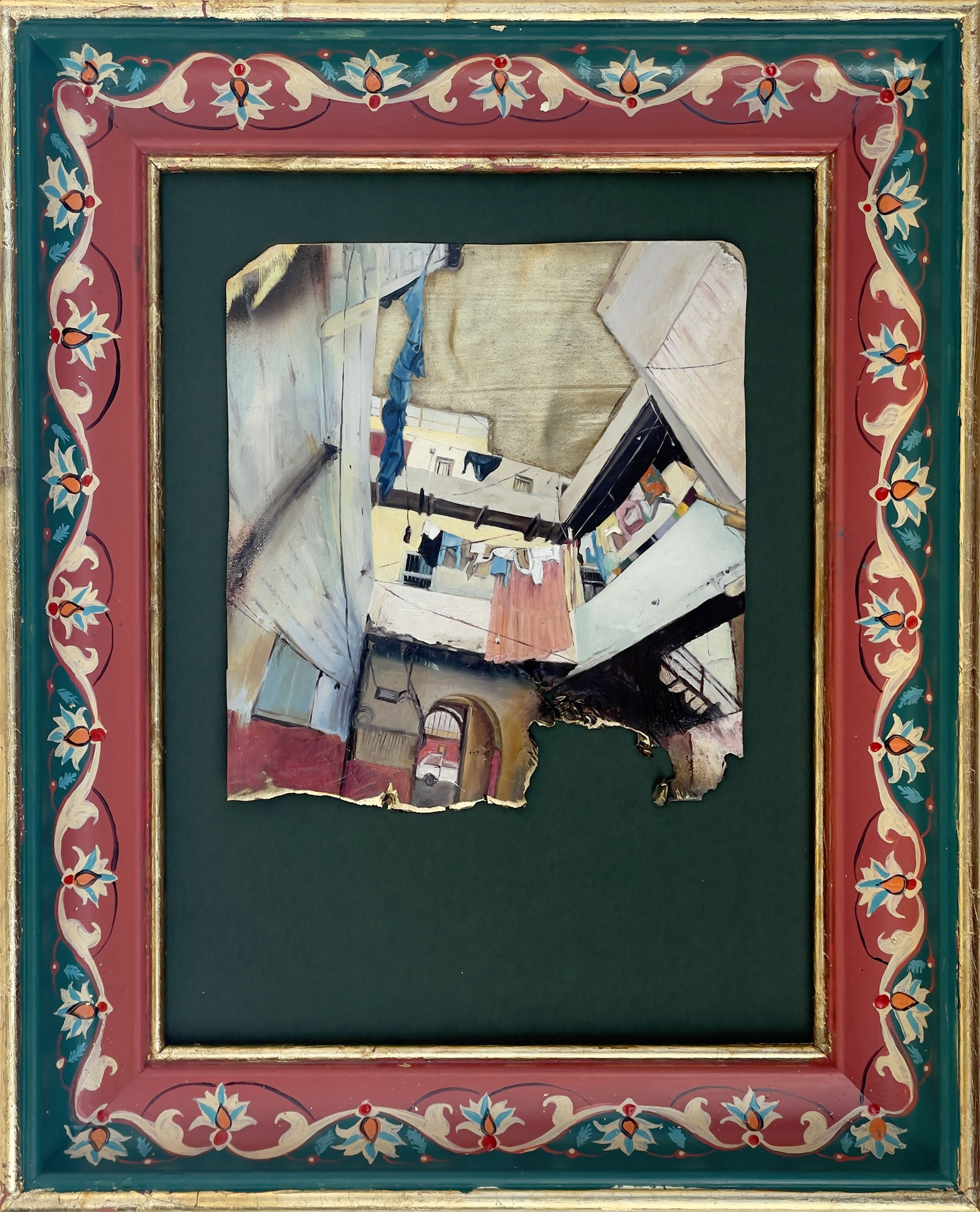 The beauty of her work lies in her ability to use simplified forms through the medium of oil paints to create intricate and layered paintings, akin to manuscripts that speak a universal language. Still life, nostalgia, the past and the future: all are perfectly captured on the gleaming brass sheets Asim uses as a base for her art. "Every single piece has an intimate story that sheds light on the creation of my own emotional relationship with it," she explains. "I have confronted spatial experiences through my creative strategies."
Words by Aisha Zaman