As a place for everything from cooking and eating to entertaining and gathering with family and friends, the kitchen is the heart of any home. It can be a space that invites creativity as well, not only with food but also with design. Contemporary or traditional, urban-inspired or with a countryside feel, adorned with neutral colours or noble materials, bespoke or modular: there are many options to reflect your own style.
Open kitchen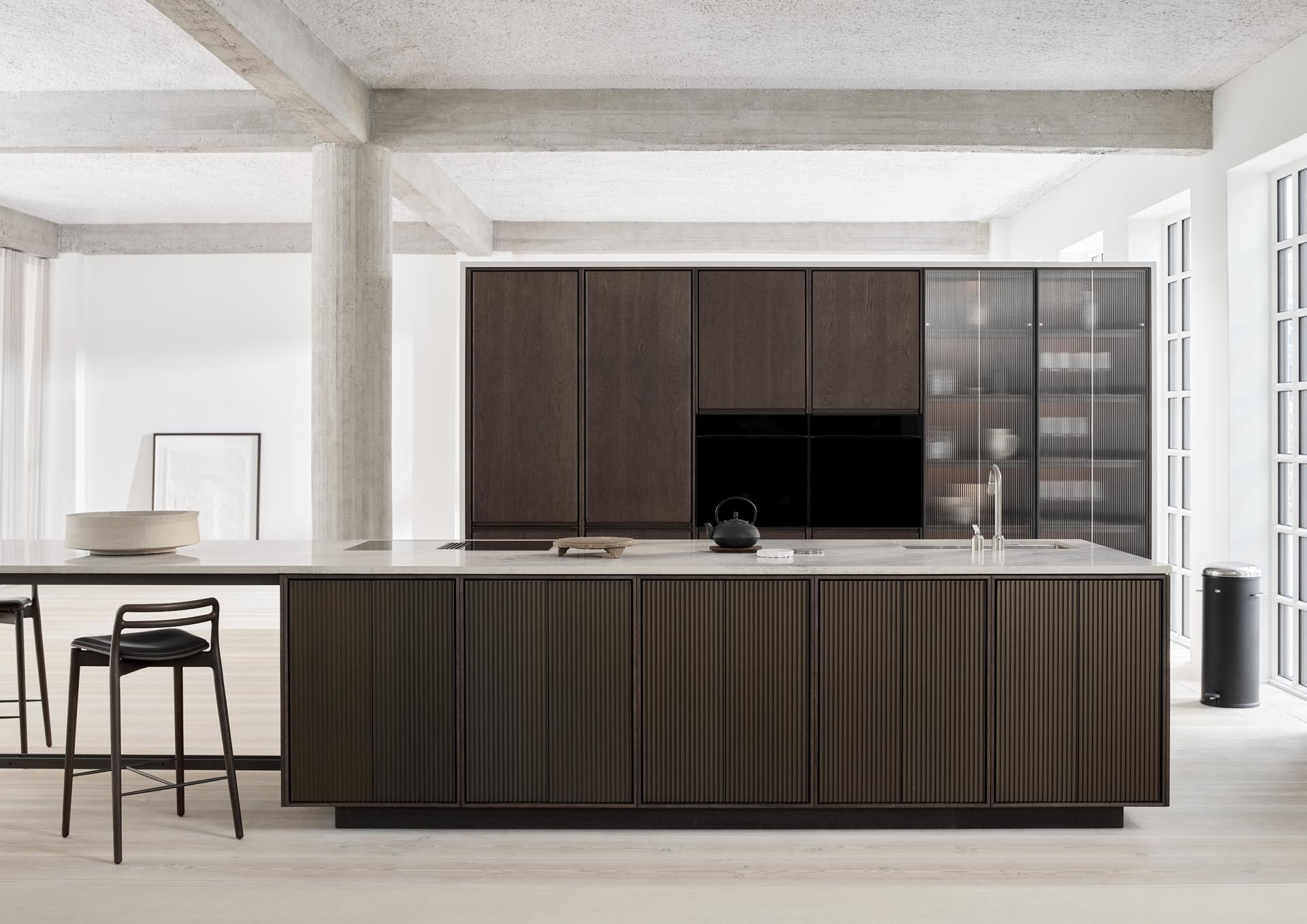 Eliminating walls between the kitchen, dining room and living area has become the norm in contemporary homes. Why? Because it creates an inviting and bright atmosphere and in addition allows the host to be part of the conversation with guests when preparing food. In her most recent project in Sydney, Australia, architect Carla Middleton achieved exactly that. "I wanted the whole rear extension of the house to be open, to create a sense of space filled with natural light," she says. "The kitchen was designed to fit appropriately within the [living] space without looking too large or small."
For Sashya Thind, founder of ID8 Design Studio, the extremely challenging floor plan of a Boston home she worked on for clients led her to create an open concept kitchen. "It was the only way to make the space feel airy," Thind explains. "The house also has amazing water views of the harbour, which is visible from the kitchen." In this sophisticated and contemporary kitchen, the play between materials became the focal point.
"The stone is a quartzite, which is strong and easy to maintain while being extremely expressive," she adds. "The wood paired well with it while warming up the palette… I hid all the appliances by panelling them, and created a pantry under the stairs for additional storage." The result is balanced and elegant, combining aesthetic appeal and functionality.
A personal touch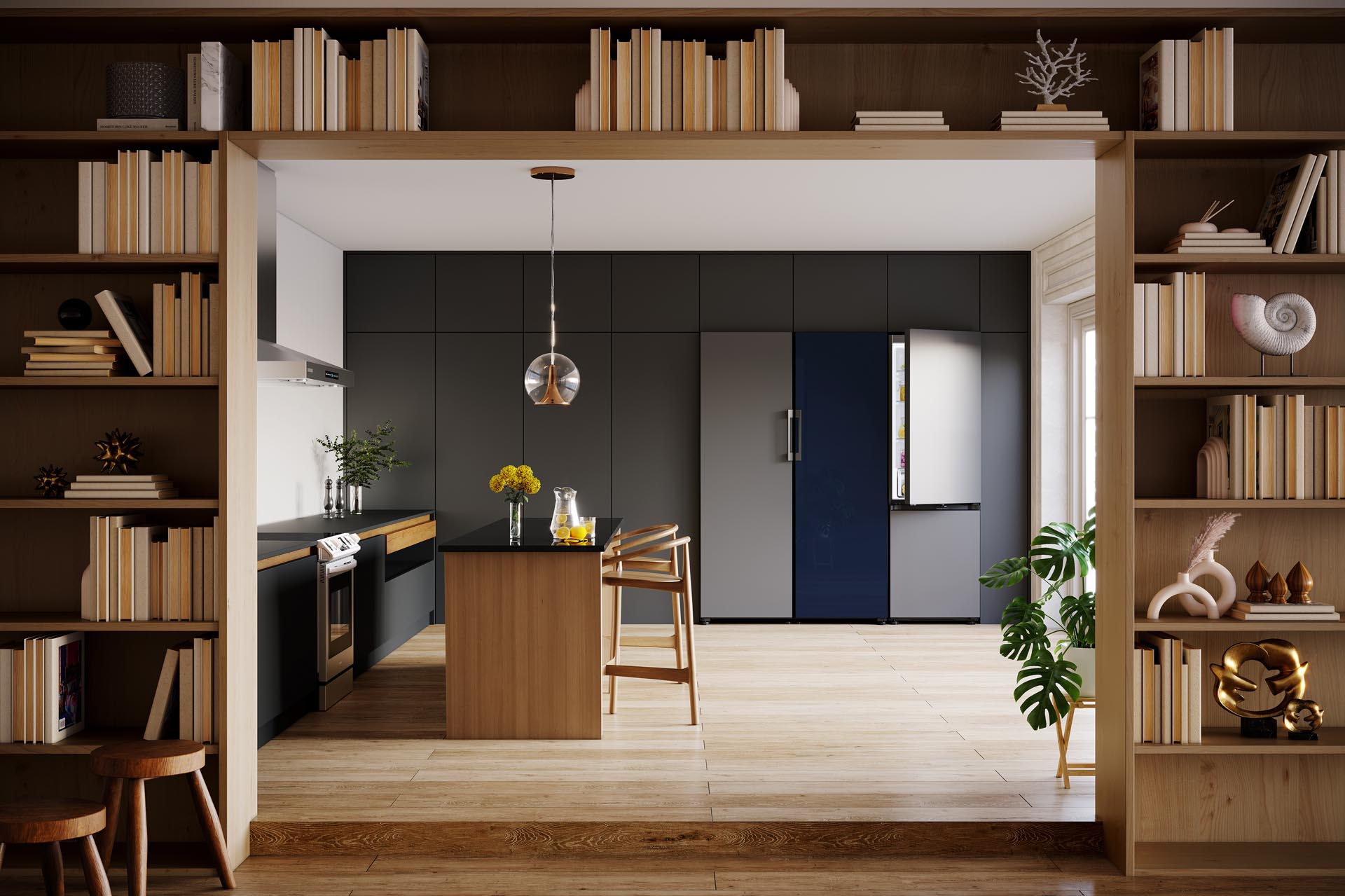 Creating a made-to-measure kitchen is a dream come true thanks to innovative solutions such as the new V2 system by Vipp, a new iteration of the V1. It's now wrapped in dark oak and Jura marble – a fine-grained limestone – reflecting a design language that refers both to the Danish roots of the brand and a Japanese aesthetic. Modularity is what gives these Vipp kitchens their uniqueness. The four types of modules – island, island with seating, wall and tall – offer different possibilities through a building-block approach that helps customers craft a kitchen of their own.
Other solutions such as Bespoke by Samsung also put personalisation at the forefront. Versatile configurations, two finishes and eight colours (matte black steel, champagne rose steel, navy steel, white glass, rose pink glass, navy glass, grey glass and sky blue glass) are available to customise the 4-Door Flex refrigerators and Flex Column and Bottom Freezer models, fitting any space. Launched a few weeks ago, a limited-edition 4-Door Flex panel design was created by Samsung in collaboration with artist Andy Rementer, bringing colour to the kitchen through a visual celebration of the diversity and individuality of people around the world.
By transforming boring appliances into fun design elements that are accessible, these options provide more options for personalising products that are part of our daily life.
Al fresco dining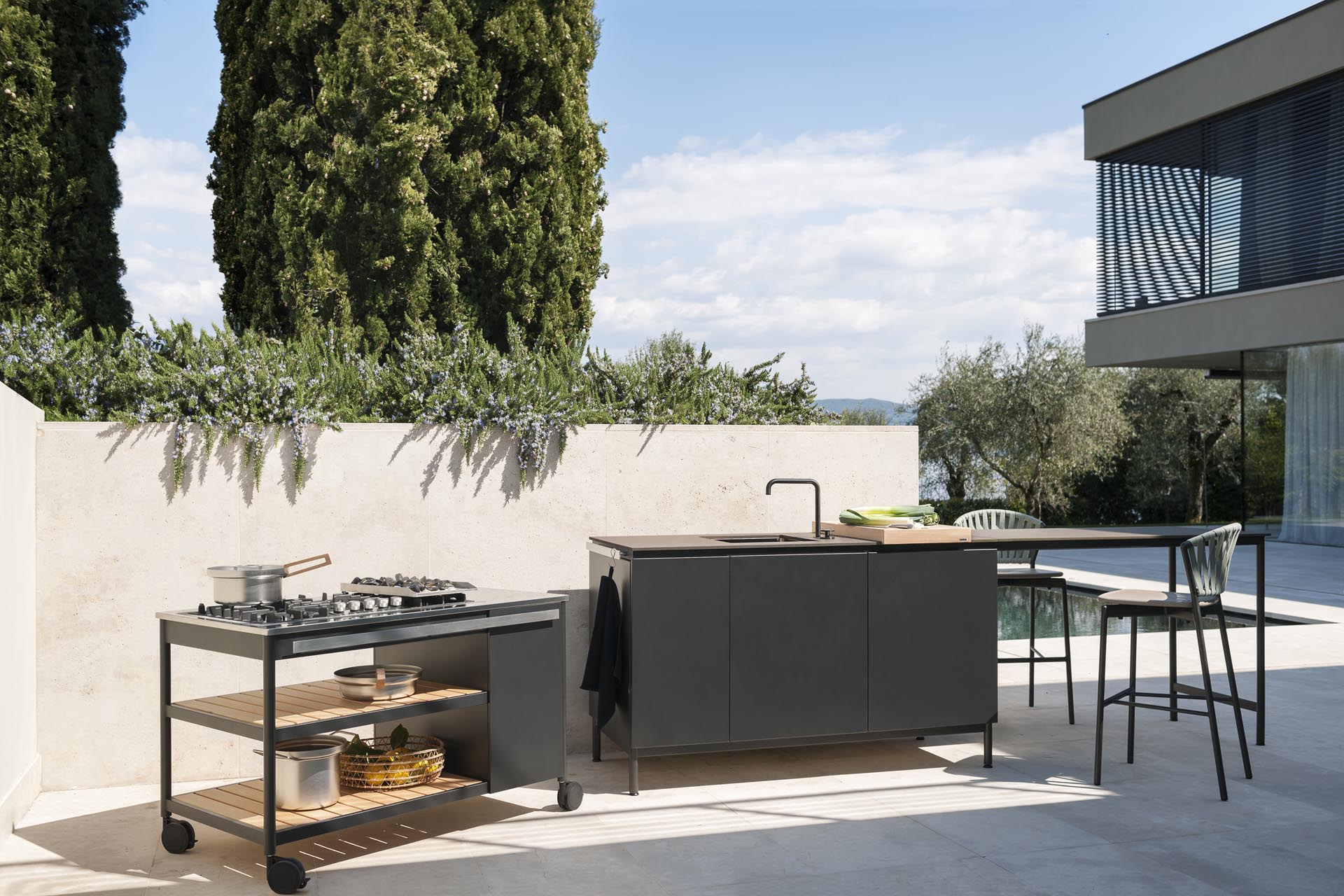 When summer is coming, or for the lucky people who live under the sun all year round, there is nothing like having an outdoor kitchen. To make the most of this true privilege, designers and specialised brands pay particular attention to materials, which have to be specially made for exterior dining experiences to ensure their durability.
For Spanish architecture studio ÁBATON, embracing the warm and sunny weather of the Balearic Islands through the design of this Menorca holiday home, owned by a family that lives in Madrid, came naturally. "We wanted to bring to life a pleasant and comfortable environment where the owners' friends could feel at home," says co-founder Camino Alonso. "We tried to recreate the beach vibe of the area through neutral tones, the cement finish – which has the colour of sand – and natural fibres for the pergola."
Designed by Rodolfo Dordoni, Norma is the new outdoor kitchen from Roda that has a contemporary look with pure lines. It comprises a freestanding island in the Roda Smoke tone, an AISI 304 stainless steel sink unit with doors available in Rust or Milk, and a cooking module available with fixed feet or wheels. "Norma was designed with a truly Italian essence, exalting our passion for cooking and combining it with the practicality and quality of good design," says Dordoni.
All about marble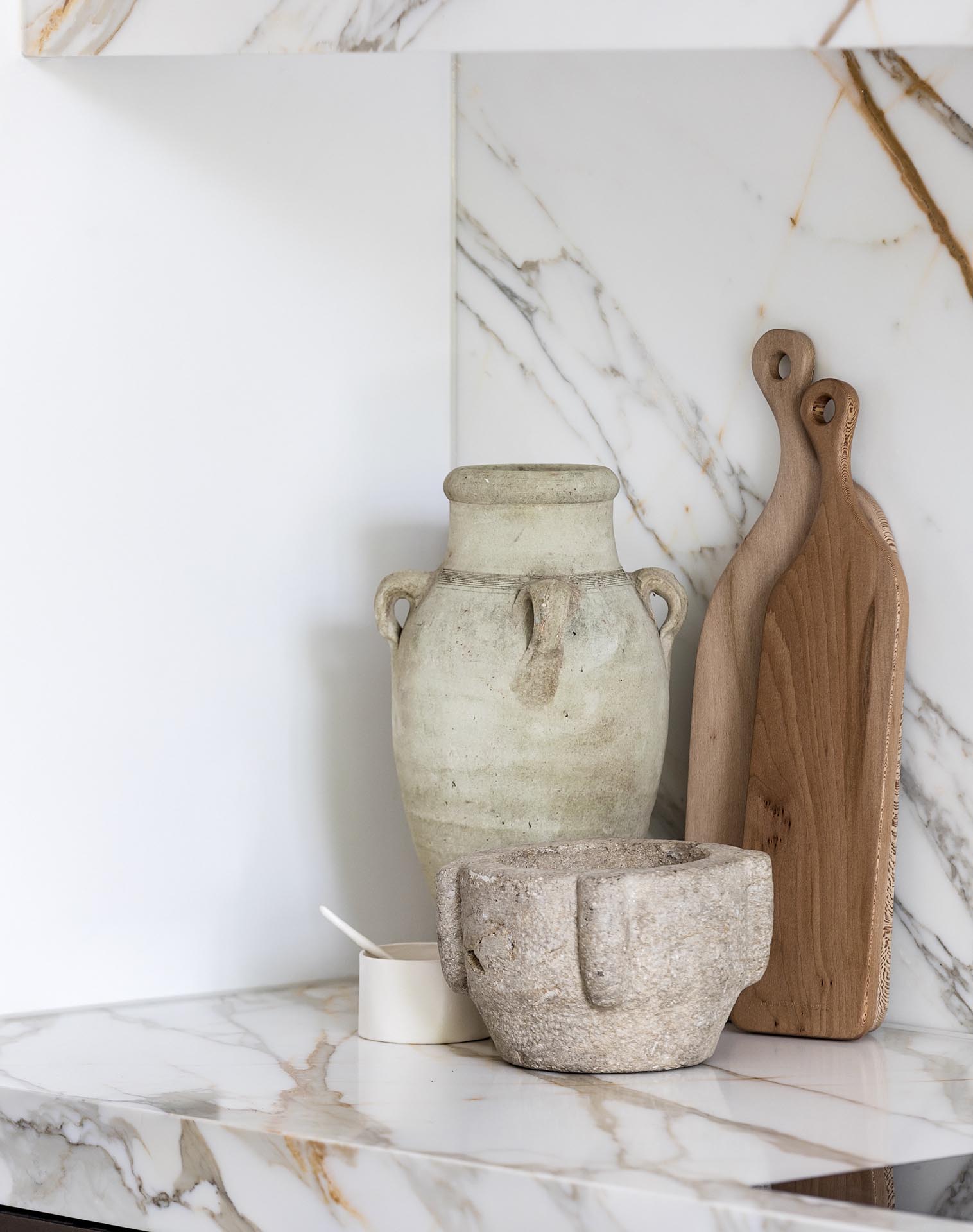 "This is aesthetically pleasing but also calm; a space you can happily be in at any time of day," describes Edo Mapelli Mozzi, founder of Banda. Every element in this London home's kitchen has been carefully considered, and the use of natural materials and texture – such as wood, bronze and stone – was extremely important. "The sheer length of the bespoke cantilevered Calacatta Oro marble island is incredibly rare and stands out as a piece of statement artwork in its own right," says Mapelli Mozzi. "This in itself was an engineering feat and required incorporating a significant steel structure to support the weight of the marble, [which is] situated at a perfect height to allow low-level seating for more casual breakfasts."
Interior designer Crystal Sinclair, at the helm of Crystal Sinclair Designs, also chose marble – Macchia Vecchia – for the New York City apartment she created for a couple who live in the Upper West Side. "I love marble in a kitchen," Sinclair says. "Honed is definitely the way to go as it won't show water marks and rings. One clever thing I like to do is to use a gorgeous slab of marble for the splash and a basic quartz or granite for the countertop. This way you get the best of both worlds – a durable work surface with an eye-catching splash."
Coming in different colours and textures, this noble material is always a hit. Elegant and timeless, marble transcends trends.