JDS Development Group and ShoP Architects announce the height of The Brooklyn Tower at 9 DeKalb Avenue in Brooklyn at a staggering 1,066 feet, making it the tallest tower in the borough. The tower stands just off the steps of the landmarked Dime Savings Bank of Brooklyn – and thus has absorbed some of its design sensibilities. Blending modernity, heritage and strong geometric design, the The Brooklyn Tower rises from the back of the landmark in a façade of shimmering bronze and black, soaring high into the air with never-before-seen views of the city, the river and harbour.
Drawing inspiration from the Dime Savings Bank of Brooklyn (designed by Halsey, McCormack & Helmer in 1931-1932), the tower features hexagonal patterned ceilings and white marble which informs the design for the base of The Brooklyn Tower. The base of the two structures have thoughtfully ben integrated and will now house retail spaces and a roof deck sported just above, where residents will be able lounge and swim around the storied dome.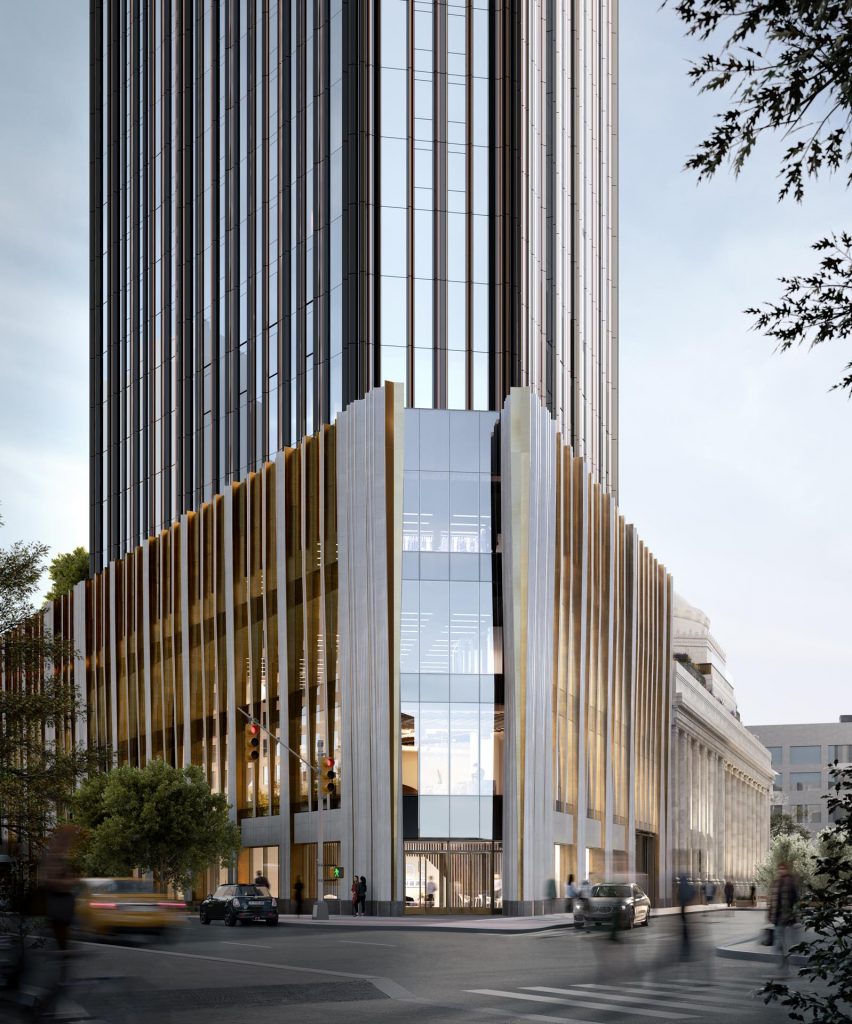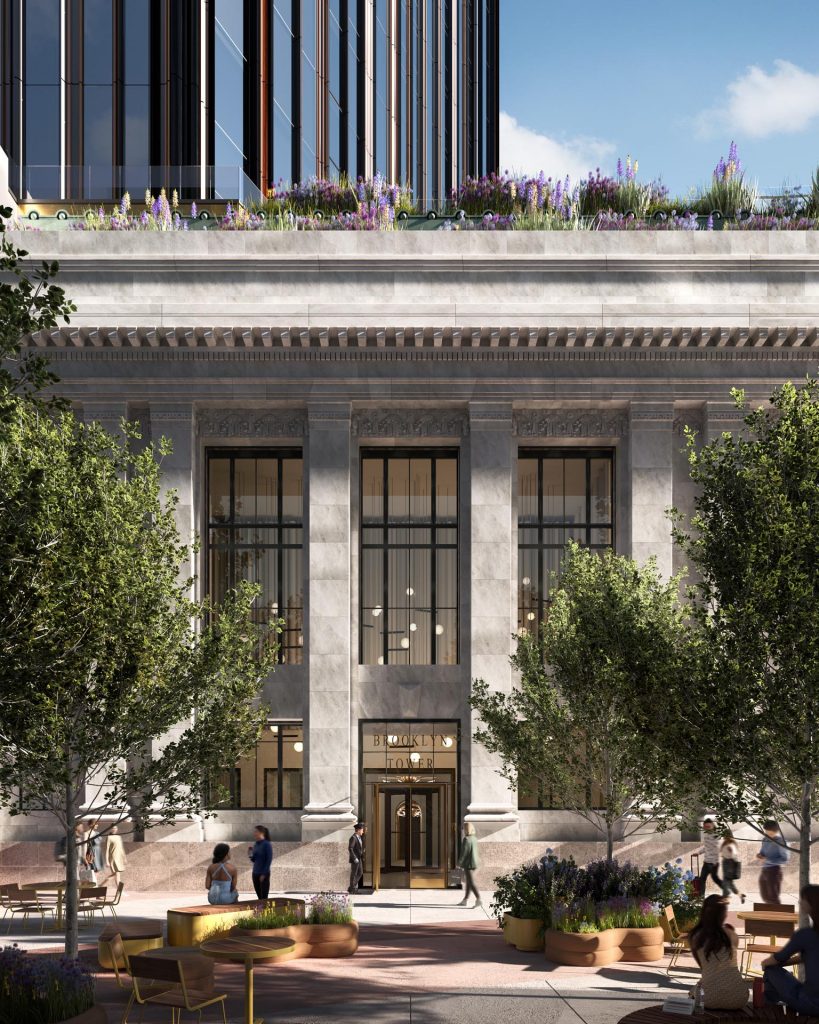 "Today marks a significant milestone for Brooklyn and New York City as The Brooklyn Tower reaches its peak, continuing Brooklyn's long history of design innovation and bold thinking," says Michael Stern, Founder and CEO of JDS Development. "We take great pride in the thoughtful work that SHoP and our JDS Construction team have done to create this unprecedented new tower, while carefully preserving the historic Brooklyn landmark."
The Brooklyn Tower stands uniquely in DeKalb Avenue with as its white marble base striking turns to a black ended stainless steel and shades of bronze, as the eyes draw upwards. The upper façade of the tower maintains its bold appearance by deploying a variety of fluted, cylindrical, and triangular shapes contrasted sharply by oversized glass panes. It makes for a severe, yet sophisticated expression of the tower.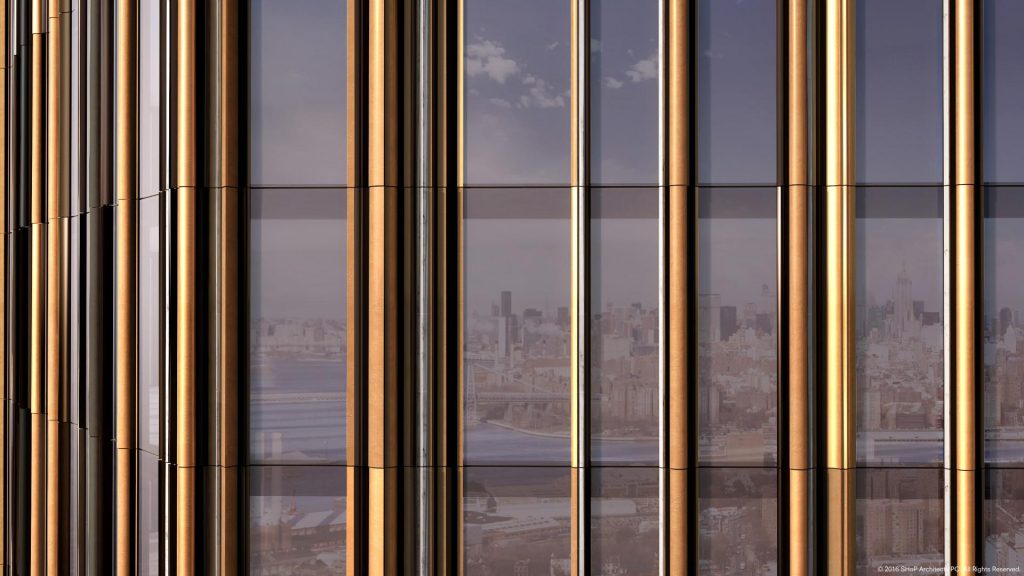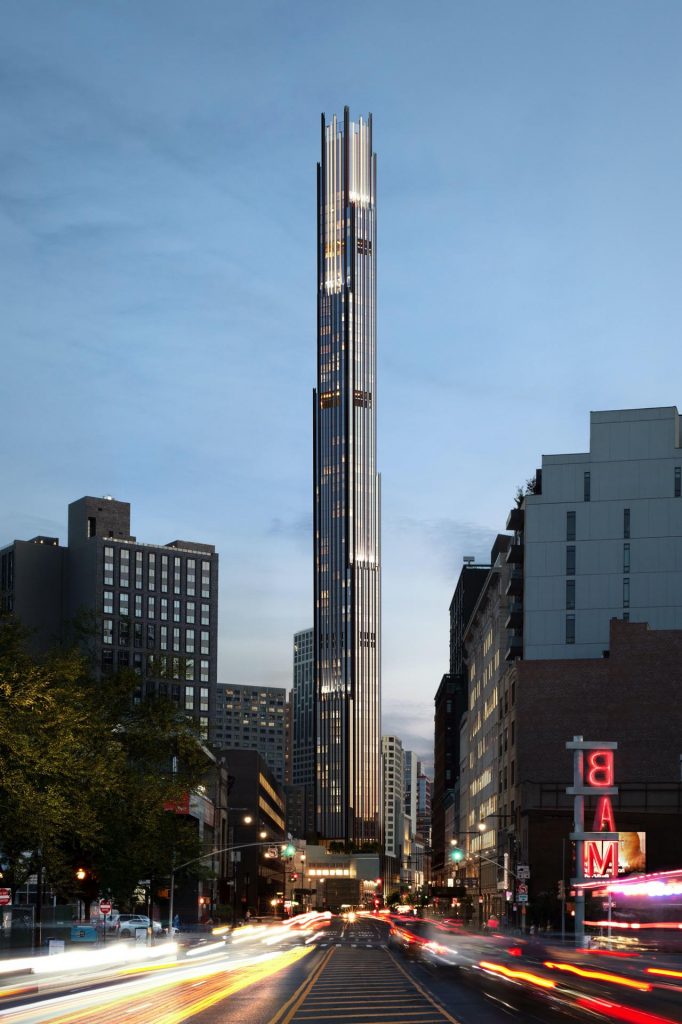 "The SHoP team is thrilled to be a part of a project that is so impactful to one of the world's most acclaimed skylines," said Gregg Pasquarelli, Founding Principal of SHoP Architects. "As more people look to move to Lower Manhattan and Brooklyn, the detail that went into the texture and shape of the structure was critical. We wanted it to remain authentic, with that baroque, Brooklyn charm, but also look crisp and modern to capture the borough's constant state of growth and influence."
The Brooklyn Tower features 550 residences – for sale and lease, and almost 100,000 square feet of retail space at the base. The tower also boasts amenities such as state-of-the-art health and fitness spaces. The tower is expected to be ready for occupancy by late 2022, while sale of residences start early 2022.