Nestled between 300 hectares of forest, sand dunes and beachfront on the southern tip of Mozambique, on Benguerra Island, Kisawa Sanctuary features thatch-roofed bungalows and clusters of conical volumes created by local thatchers using traditional techniques.
"When building Kisawa, we were directly informed by our environment. Design decisions were led by nature and the materials readily available around us. Giving value to local materials was inspirational as well as logical," begins entrepreneur, creative director and philanthropist Nina Flohr. Kisawa Sanctuary is Flohr's first hospitality project and was completed by her in-house design studio NJF Design.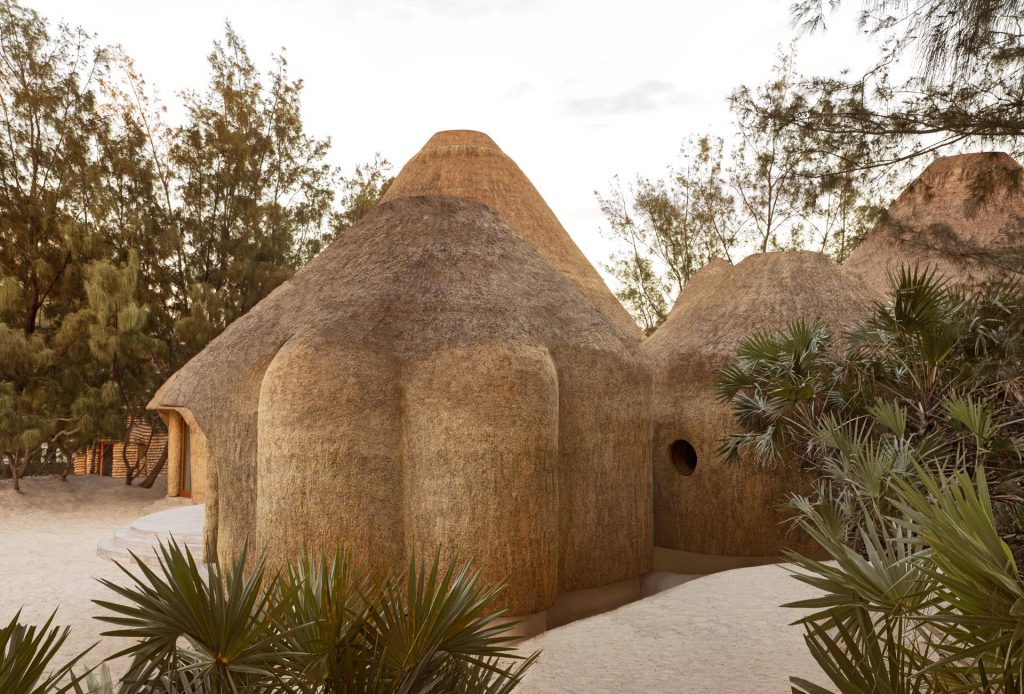 "I personally discovered a book on biomimicry and became fascinated with ways to apply this process to Kisawa. After months of research, we ultimately used 'biomimicry' – the process of looking at nature in order to imitate it – to provide solutions to visual pollution, as well as wind protection. Today, when you arrive at the property, you don't notice the structures until you are very close to the shoreline. We did this by taking inspiration from the 150-metre-high sand dunes surrounding Kisawa, using their form and shape to design the roofs across the entire property so that the view from the ocean blends the building into the landscape – since we wanted Kisawa to be integrated into the land as much as possible, and of course protected from tropical weather."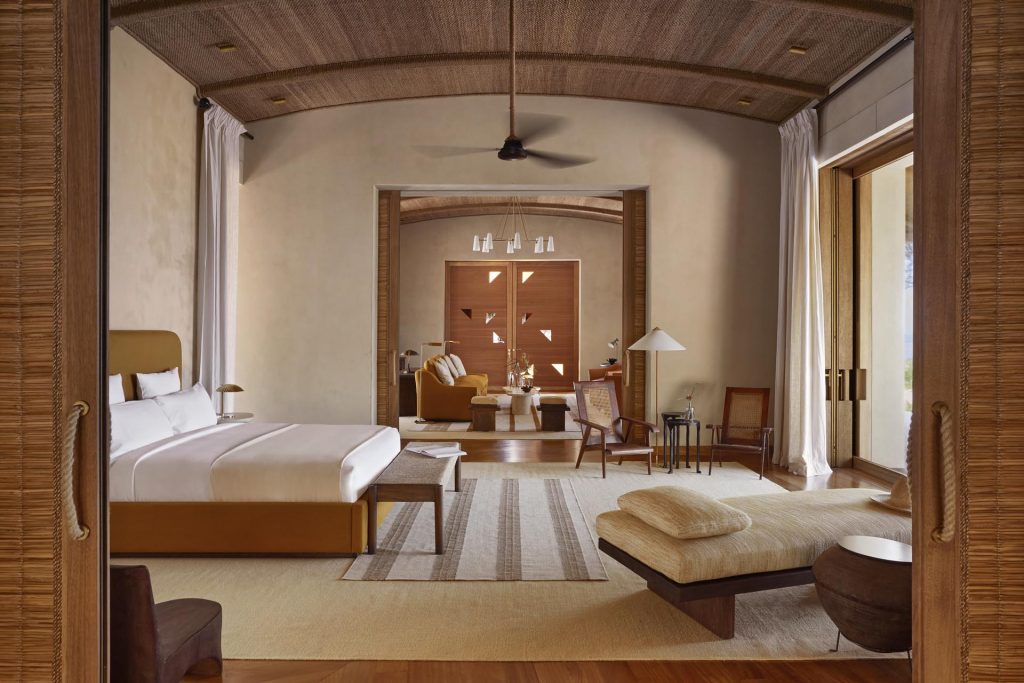 Flohr describes NJF Design's approach as 'conscious construction' that aims to reduce impact on the land where possible, and uses local techniques – in this case, local thatching and timber – as well as expressing the local vernacular through its architecture and design. And while a passive design approach dominates the project, modern technology has also been utilised to fulfil its commitment to the environment.
Using non-cement-based surface cladding was one of the decisions which led to the reduction of cement usage on the project by up to 60%; NJF also opted for Surefoot systems, which are concrete-free foundations. Similarly, Sudpave technology, which uses recycled paving materials, was used to construct the entire 8.5-kilometre road system of the retreat.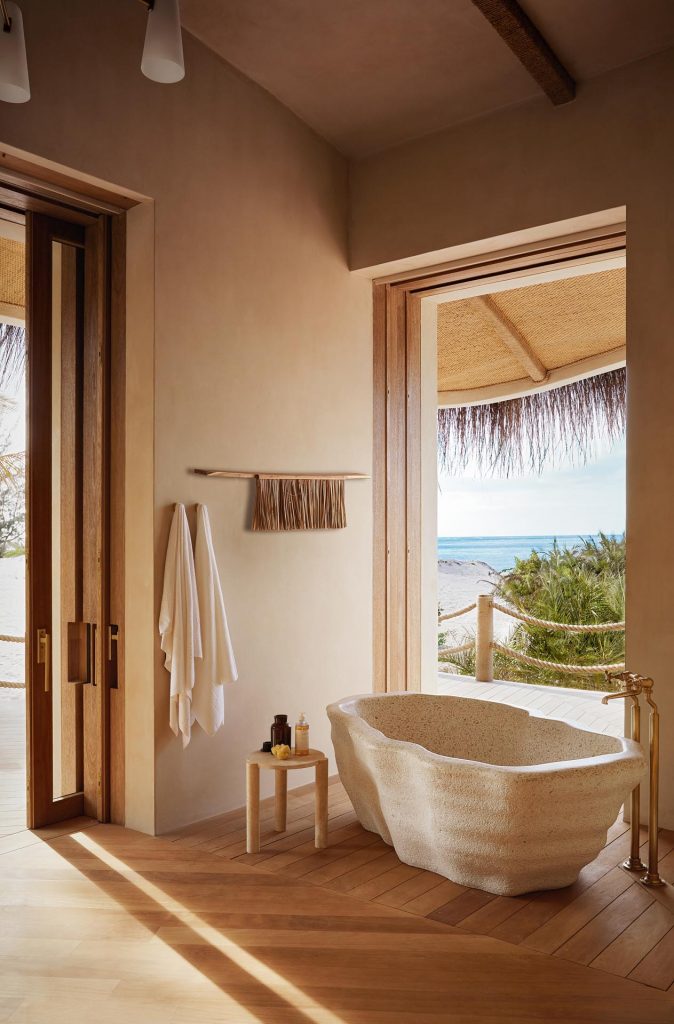 "By taking such steps, and considering our surroundings at every possible juncture, we made sure that we were continuing to pursue our goal of creating an integrated property that values the hand-made. Something hand-made in Mozambique should be equally precious as something hand-made in Italy or France, and it is the time and careful quality control that allows for such a process to come about," Flohr says.
Construction work involved artisans from Benguerra and neighbouring islands, making up 80% of the workforce; half were women, contributing skills such as Mozambican weaving (which is a traditional artform on the island) as well as thatching and carpentry, celebrating local and regional know-how.
"We worked in partnership with a select group of architects, artisans and consultant engineers, as well as commissioned local weavers, thatchers, carpenters and textile-makers, joiners and painters to deliver a unique design solution that is relevant to coastal Mozambique; hopefully rooted in authenticity and long-term cultural heritage," Flohr says. "During the development [of the project], we made a commitment to not use any heavy machinery, instead opting for more manpower. All equipment, including tools, was carried over to the island on dhows.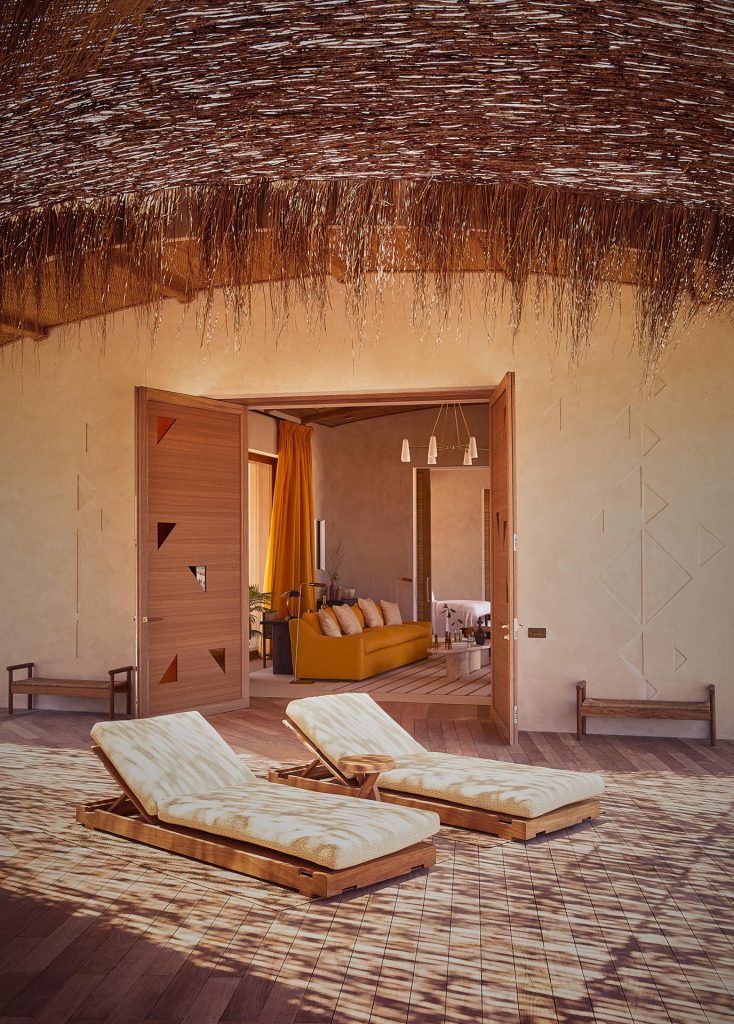 "We felt an immense duty towards our surroundings, and nature became the driving force in the project. At NJF we believe in inclusive design, meaning we wanted to work in tandem with skilled local craftspeople to establish the desired outcome, not only because this is appropriate but also because it is wholly relevant to create a celebration of coastal Mozambican vernacular. Our processes were always informed by observation and collaboration, not plain direction," she adds.
In addition to being informed by the natural environment, the design studio conducted in-depth research into 'tropical modernism' – an architectural movement that was very popular during the 1970s on the African continent and other parts of the globe – which was later implemented in the design.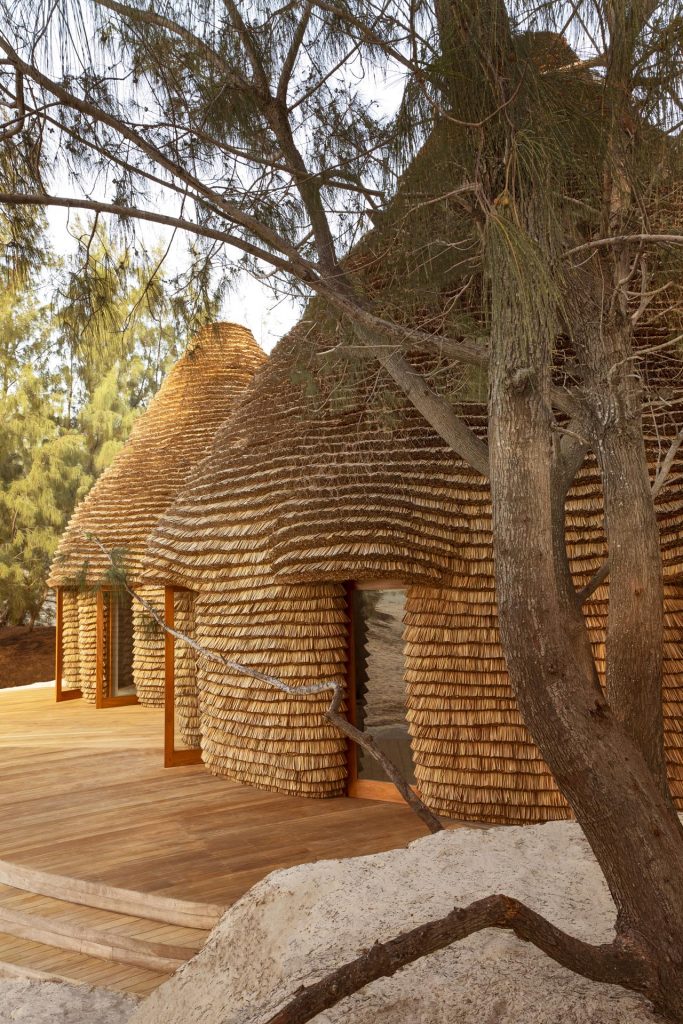 The retreat features a residential ambiance, combining large open-plan layouts with personalised interiors, which are both high-end and comfortable. Local weavers created a bespoke collection of textured, undulating baskets that reflect the waves of the Indian Ocean – in addition to echoing the curved thatched roofs on the residences on the resort and the 'domes' of the Natural Wellness Centre. Expert weavers also entwined grasses into sliding door panels that open up to bedrooms and bathrooms to living areas and the outdoors, while artisans carved chairs and tables from local jambir and simbiri woods. 
All statues and carved forms were created by Kisawa's in-house craftsman, Andre Antonio Zivane, and range from miniature figures to oversized, organically shaped structures. Born in Vilanculos, and now a Benguerra Island resident, Zivane used a combination of jambir and simbiri wood off-cuts left over from the sanctuary's construction.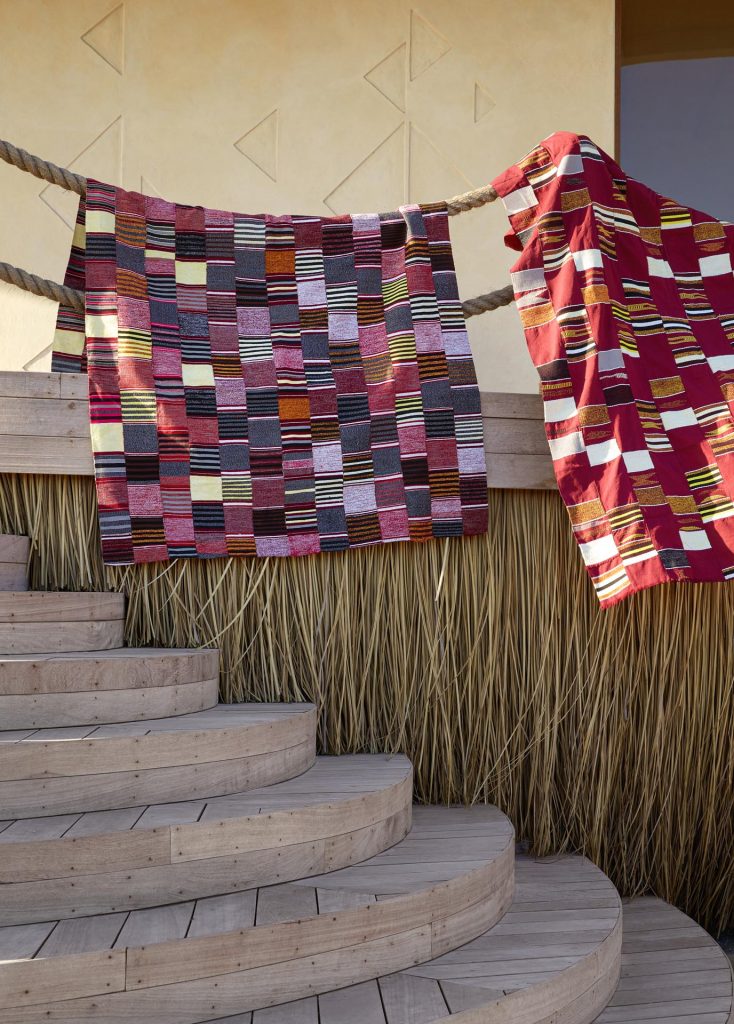 "When choosing the materials for Kisawa Sanctuary we wanted to avoid the approach of 'this is local, therefore it's appropriate'. We wanted to make sure that we got as much of a narrative into the story of the property [as possible], but also… that we were doing so in an appropriate and meaningful way. We immensely enjoyed the research phase of this project and tried to pull references from all over Africa to understand the varying approaches, decades and regions. We did this by going into archives, museums, galleries and libraries, both on and off the continent."
Unique art and antiques were sourced from across the African continent to ensure the preservation of heritage artefacts and their remaining provenance within the continent; these sit alongside locally made bespoke furniture, showcasing colourful patterns and prints that are evocative of the region and provide layers of tactility and patina.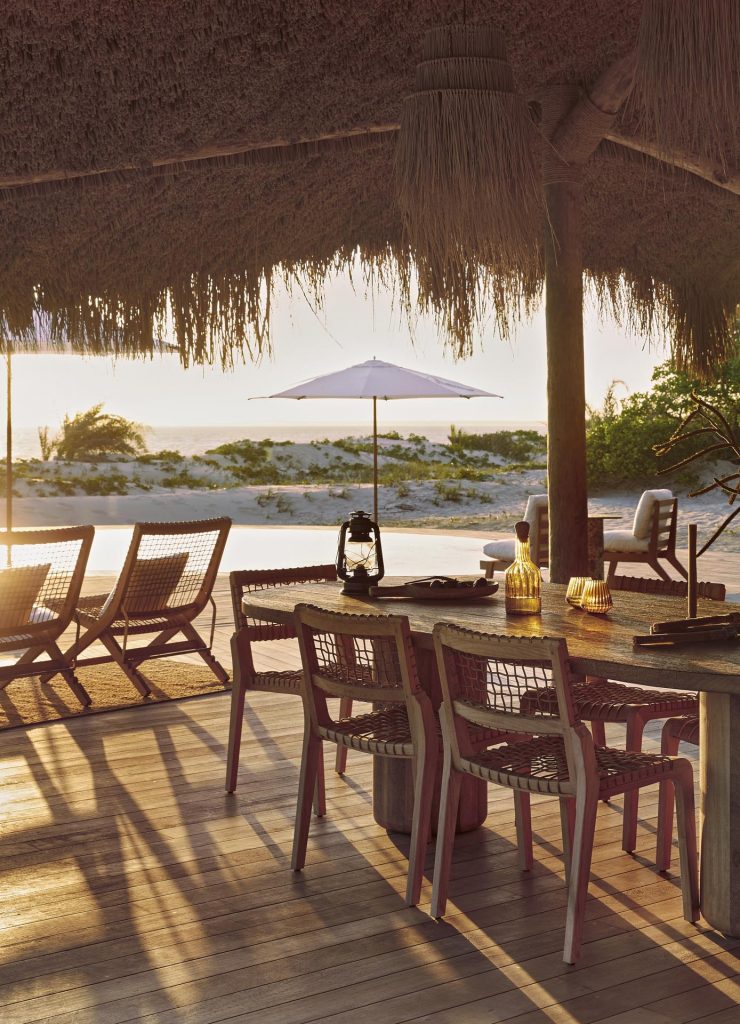 "Kisawa Sanctuary very quickly became a platform for not only Mozambican but also pan-African objects. There are so many interesting and unique stories from the property, one of which includes old school furniture from Cameroon. We lovingly restored each wooden chair and table to give the pieces a new life. The end result is absolutely beautiful, and they could be seen today as precious antiques, despite their humble origin. I think beauty lies in giving value to well-made things, even if they are simple," says Flohr. 
In addition to founding Kisawa Sanctuary, Flohr launched its sister property, the Bazaruto Centre for Scientific Studies (also located on Benguerra Island), Africa's first permanent ocean observatory. Their parallel operations create a new, symbiotic business model where the for-profit hospitality project contributes directly to non-profit marine science through conservation and research.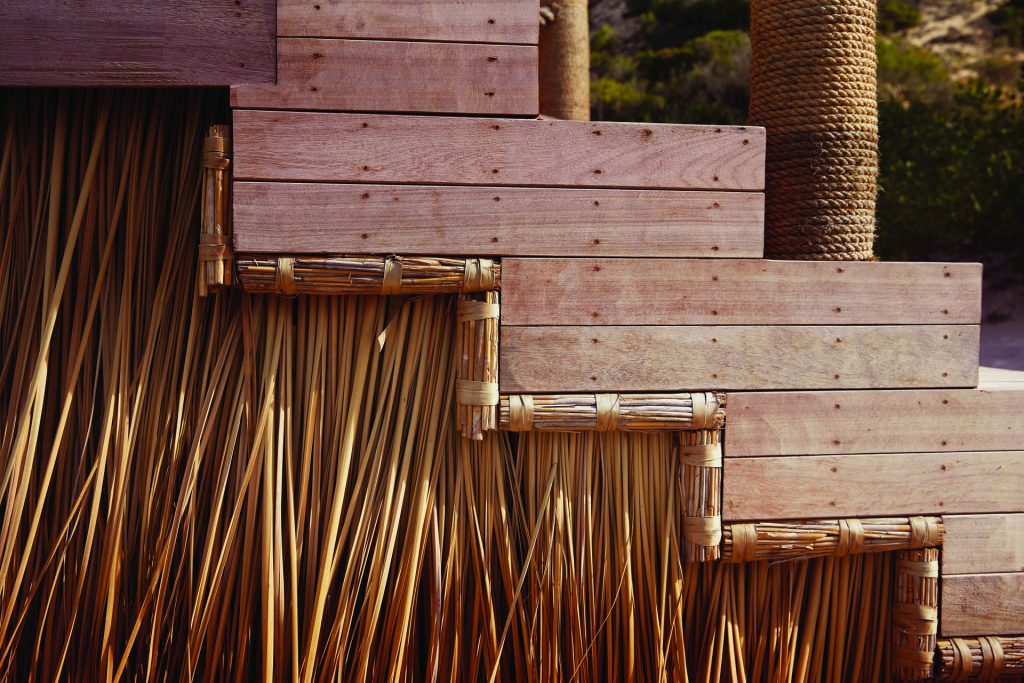 "Minimal impact was our initial design intent, given how precious and untouched the environment is, and we want this commitment to outlive the initial cause. Our hope is that the impact we have created is a positive one that is felt for generations to come," Flohr comments.
"Both at Kisawa and NJF Design, we wholeheartedly believe that sustainability is a way of life rather than a box-tick in the building or an operations process for a hotel. We have therefore embedded our genuine love for the natural environment of Kisawa into the property's DNA, and by doing this we have, hopefully, created a product that is long-lasting, largely hand-made (despite its scale) and resilient to the test of time. We hope [that] in years to come Kisawa will be as much of a cultural celebration as it is today; an earmark or small ode to a moment in time that is modern, yet timeless, while continuously employing and creating opportunity for the local population." 
Photography by Elsa Young