Fresh and inspiring, Shababeek's enchanting new interior is like a fine meal, generating an intangible sensation the French deem je ne sais quois. Designed by Pallavi Dean – whose eponymous company was named UAE Boutique Interior Design Firm of the Year in the most recent identity Design Awards – its ecstatic blend of colour, style and grace create a world-class Lebanese culinary destination in Sharjah.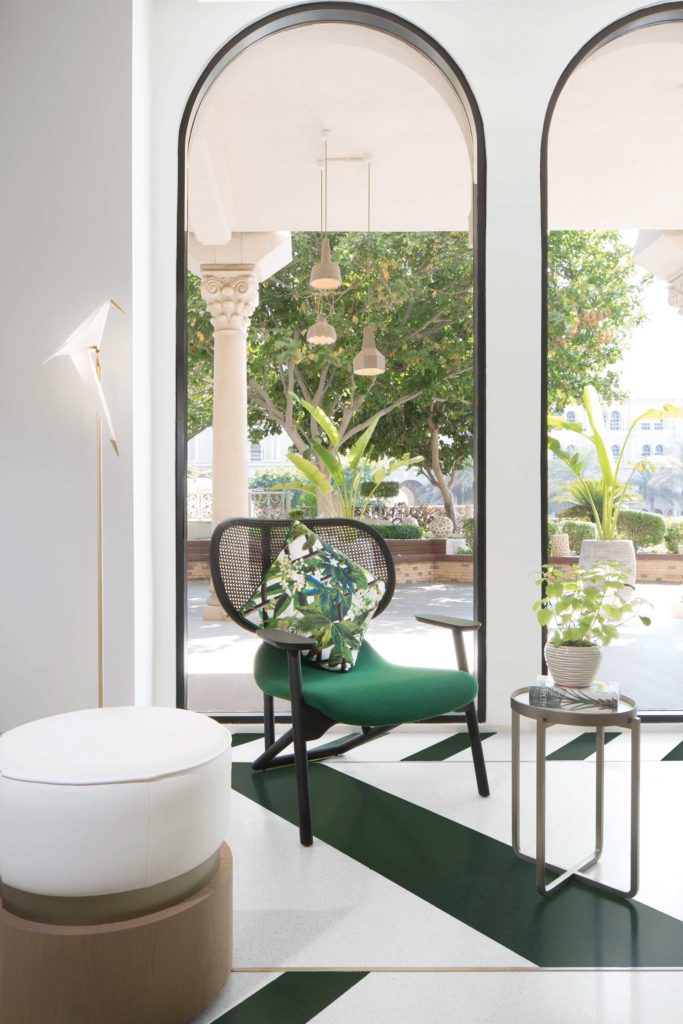 The client, HH Sheikha Bodour bint Sultan Al Qasimi, wanted to create a platform for beloved regional celebrity chef Maroun Chedid, and to support and showcase the talent of local artisans throughout its 550 square metres.
"This was never going to be just another Lebanese eatery. Shababeek reflects what we see as three giant cultural influences that have helped shaped Lebanese architecture: Islamic and Roman since ancient times, and more recently French Parisian glamour. The window arches are classically Roman, while the delicate plaster moulding patterns use abstracted Islamic geometry. Then you throw in a layer of Emirati culture, and yes, you've got a lot of influences fighting for attention! The fun is weaving them all together in way that makes a subtle nod to history but with contemporary wow factor," Dean explains.
"We were clear from the outset that while the food would be 'fine dining', we didn't want the kind of stuffy, formal, white tablecloth interior that often comes with that. We made a conscious effort to embrace biophilia – bringing the outdoors inside. Hence the big statement olive tree, and the custom-design mural on the ceiling above it, which reflects birds, plants and trees indigenous to the UAE," she continues.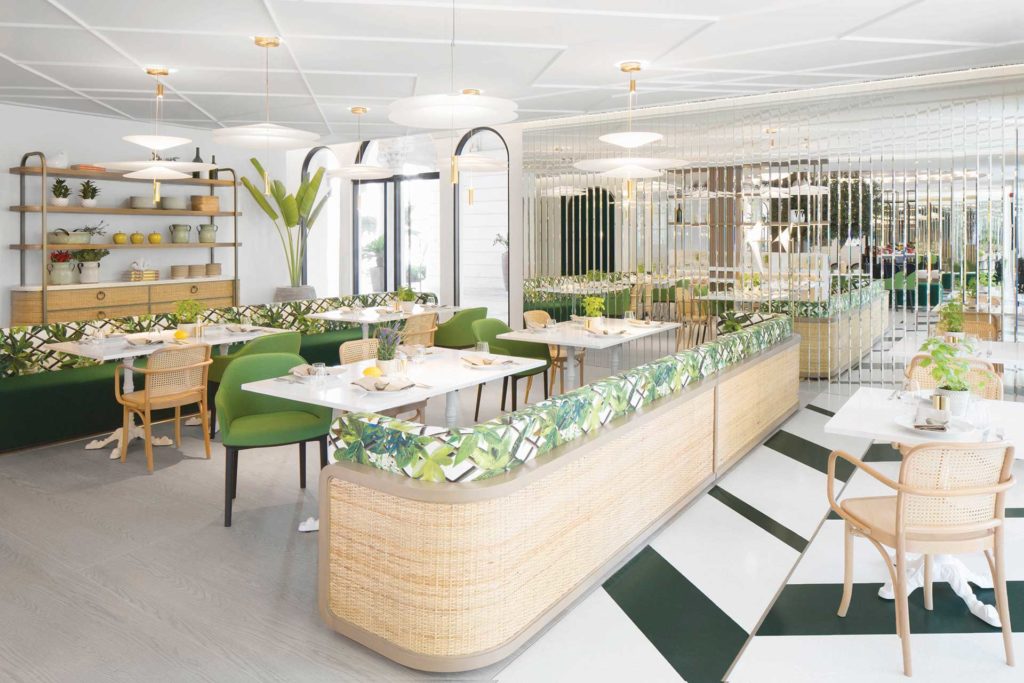 Craftsmanship and maintaining a strong sense of identity when thinking about the cuisine were crucial when considering the elements of design.
"A lot of the carpentry was made just a few kilometres away in Sharjah and Ajman. Then, if you look at the natural materials that form the base palette – such as rattan, wood and local aggregate in the terrazzo flooring – [you'll see they] reference Chef Maroun's artisanal approach to the menu. That said, we balanced the local element with a healthy dose of European designer pieces from the likes of Vitra and Thonet," Dean notes.
Collaboration was also key to the project's success. "It was one of those collaborations where everyone actually got along!" quips Dean. "I'm not going to lie: sometimes when you get big egos in a room – a chef, a designer, an owner, a branding expert – they don't always play nicely together. But this was a case of everyone working as a team, bringing different ideas, sometimes disagreeing but always respectfully. I'd probably credit three people for that. HE Sheikha Bodour bint Sultan Al Qassimi, the owner, has such a warm, positive energy and that's infectious. Zohra Qureishi and Ricardo Ledluna represented the client and helped pull the whole thing together."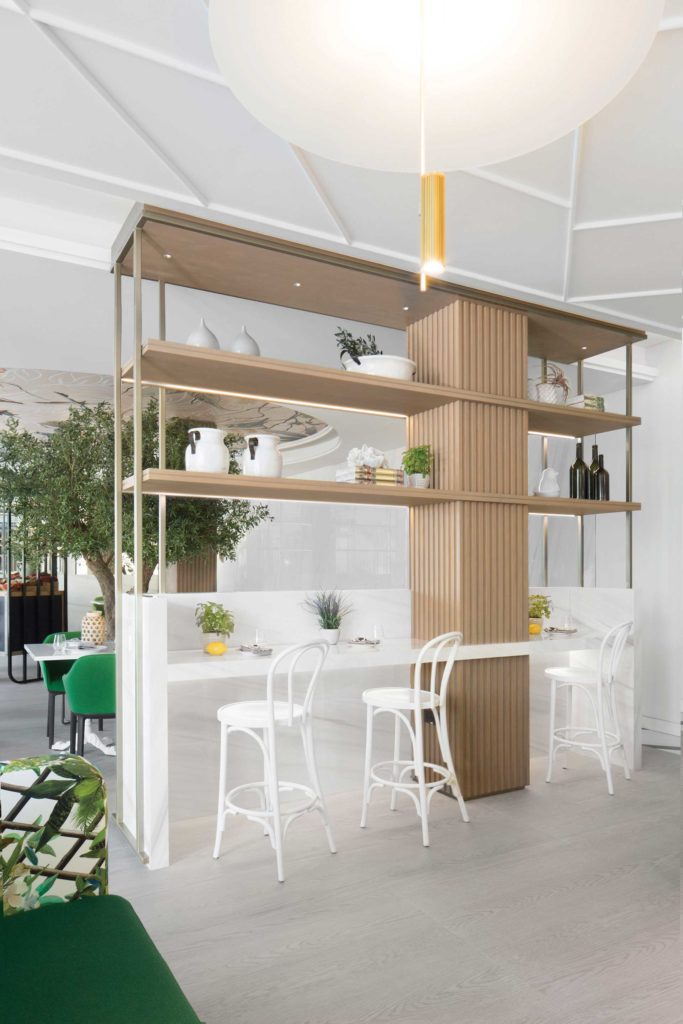 Dean's favourite space: the entrance area with the custom-designed mural. "It brings together the flora and fauna in both Lebanon and the UAE, and ties the design concept together subtly. The terrazzo striped flooring is another favourite," she muses.
But the best design elements aren't always in plain view. A crucial hidden design element? The bathrooms. "We designed a curved full-length mirror that embraces the hand wash-basin – this creates a great optical illusion: you drop five kilos in your reflection if you stand at the right angle."
Dean's future is as bright as the restaurant's interiors. "The next restaurant for the same client opens in Sharjah in a just a few weeks. It's called Al Rawi and it's a combination of café, library and bookstore. Sheikha Bodour owns a publishing company and is one of the driving forces behind Sharjah's literature festival, so it's a natural extension of that. We are also designing a confidential education project – which is going to redefine early years learning environments – as well as the new Edelman HQ in Dubai."