The home designed for her own family by Maria Joāo Fradinho, the founder of Studio FRARI atelier, is a spectacular and unique masterpiece. She was inspired by her personal connection with the neighbouring porcelain industry and, like the products produced by one of the most important industries in the region, Fradinho wanted a hard-working abode that would meet the demands of a busy lifestyle with beauty and flair. The resultant well-illuminated home brings the family together, even while using different compartments of the house, with unique features created expressly for their needs.
A semi-private patio separates the theatrical outer façade from the large glass windows of the main façade, providing a bridge between the two seemingly incongruous but related realities. Inside the entrance hall is a welcoming wooden box; a foyer that's clad in natural European pinewood, which conveys a sense of comfort and is also used to cover the floor on the first and second levels.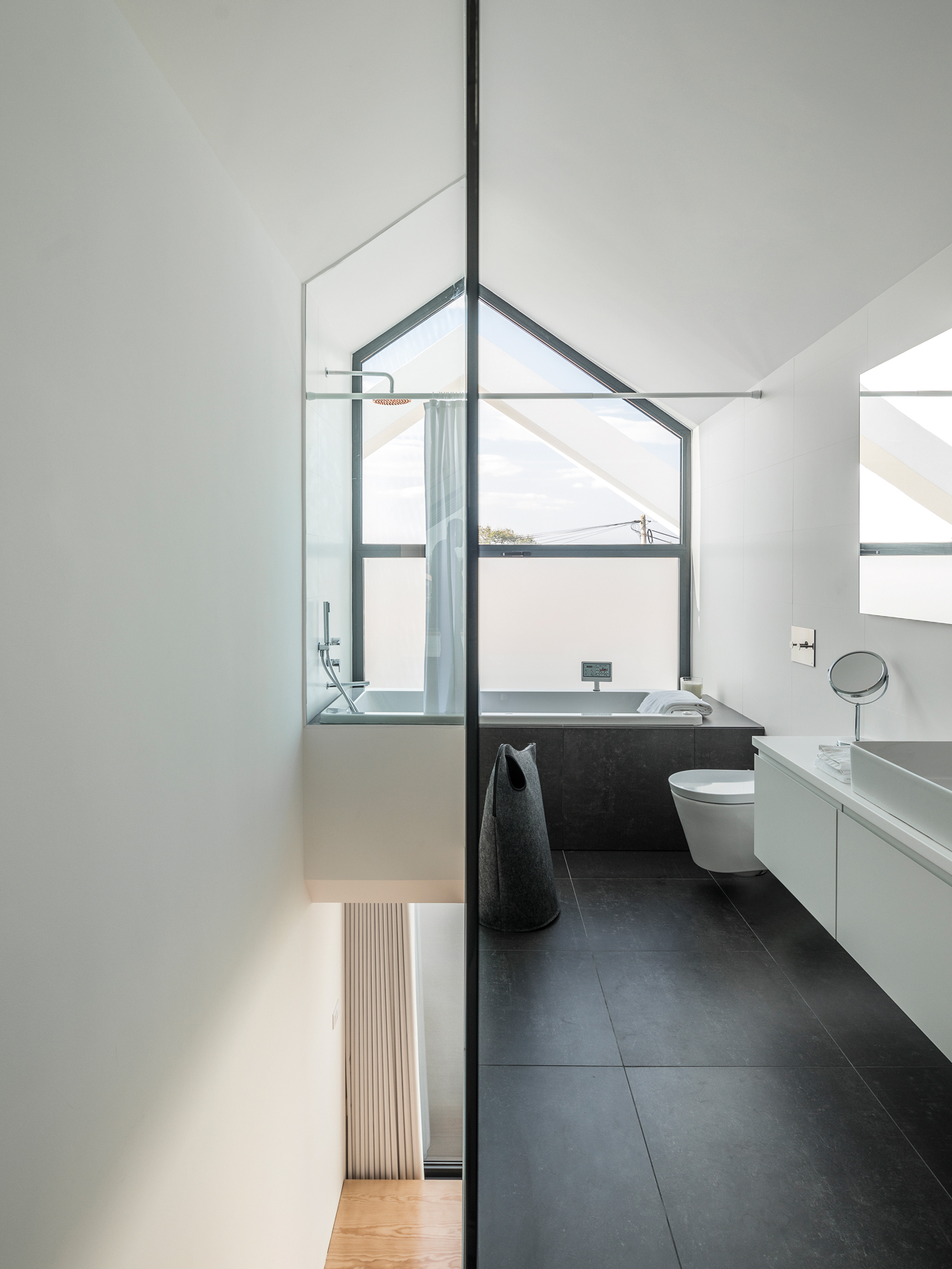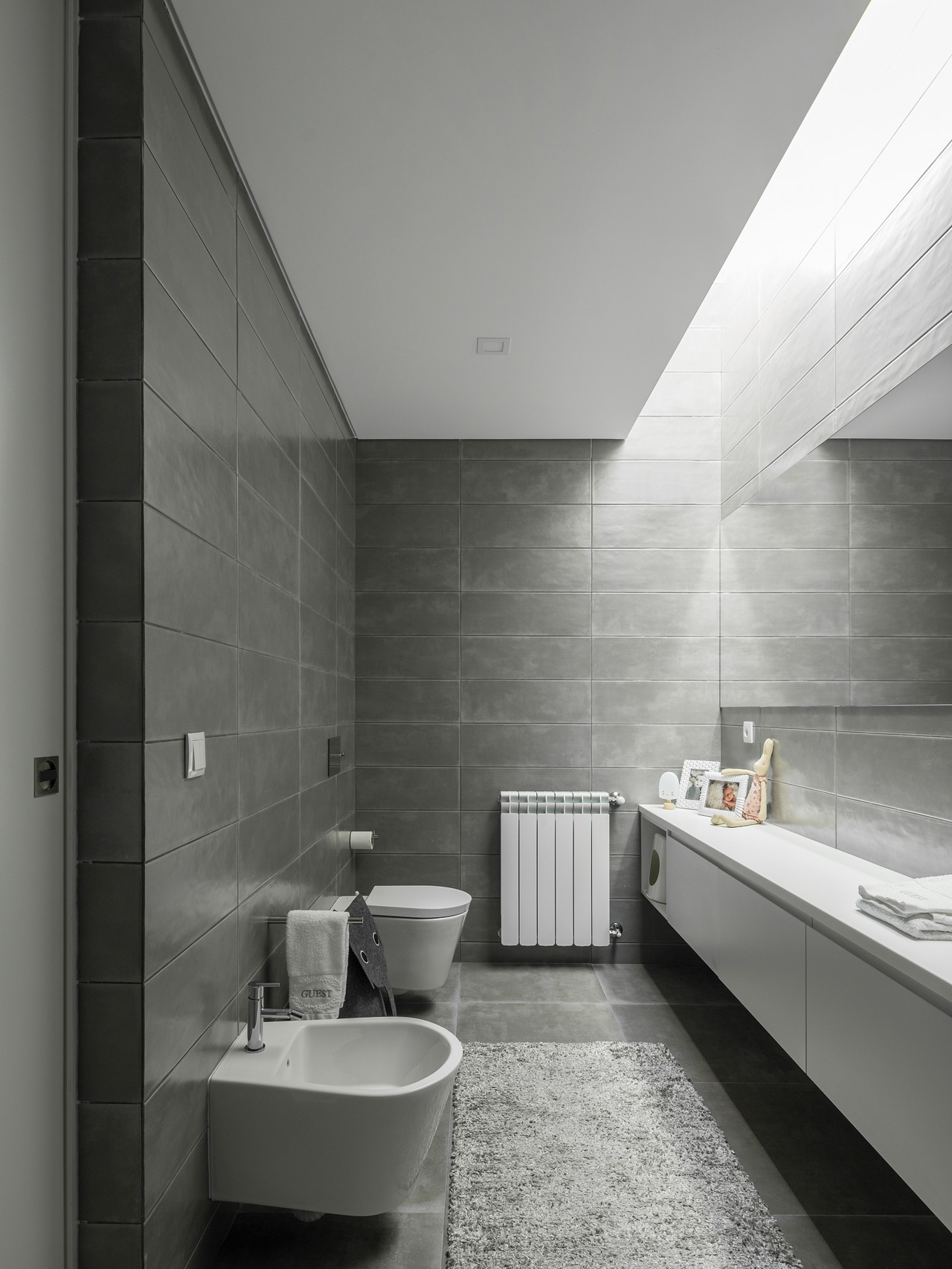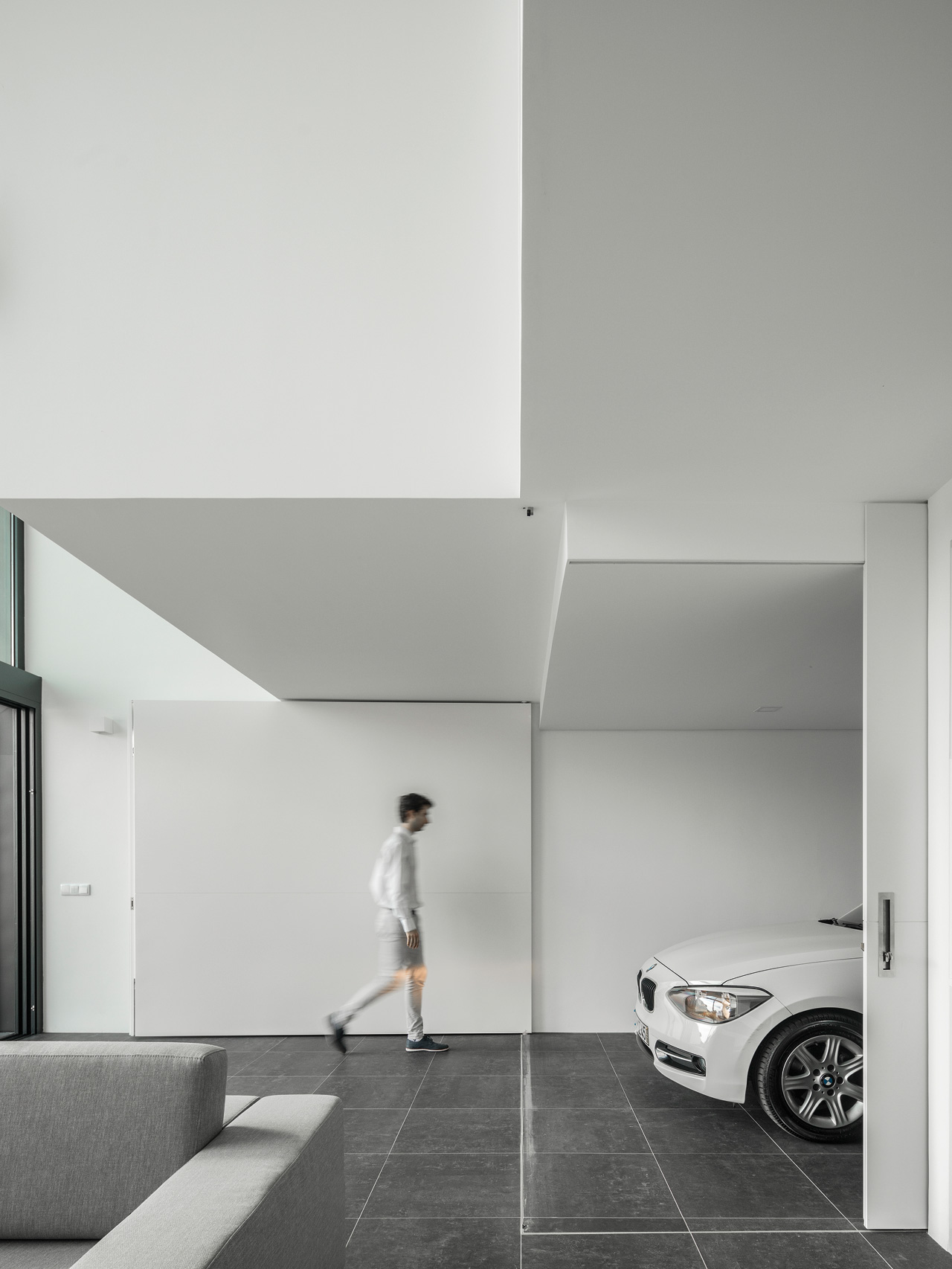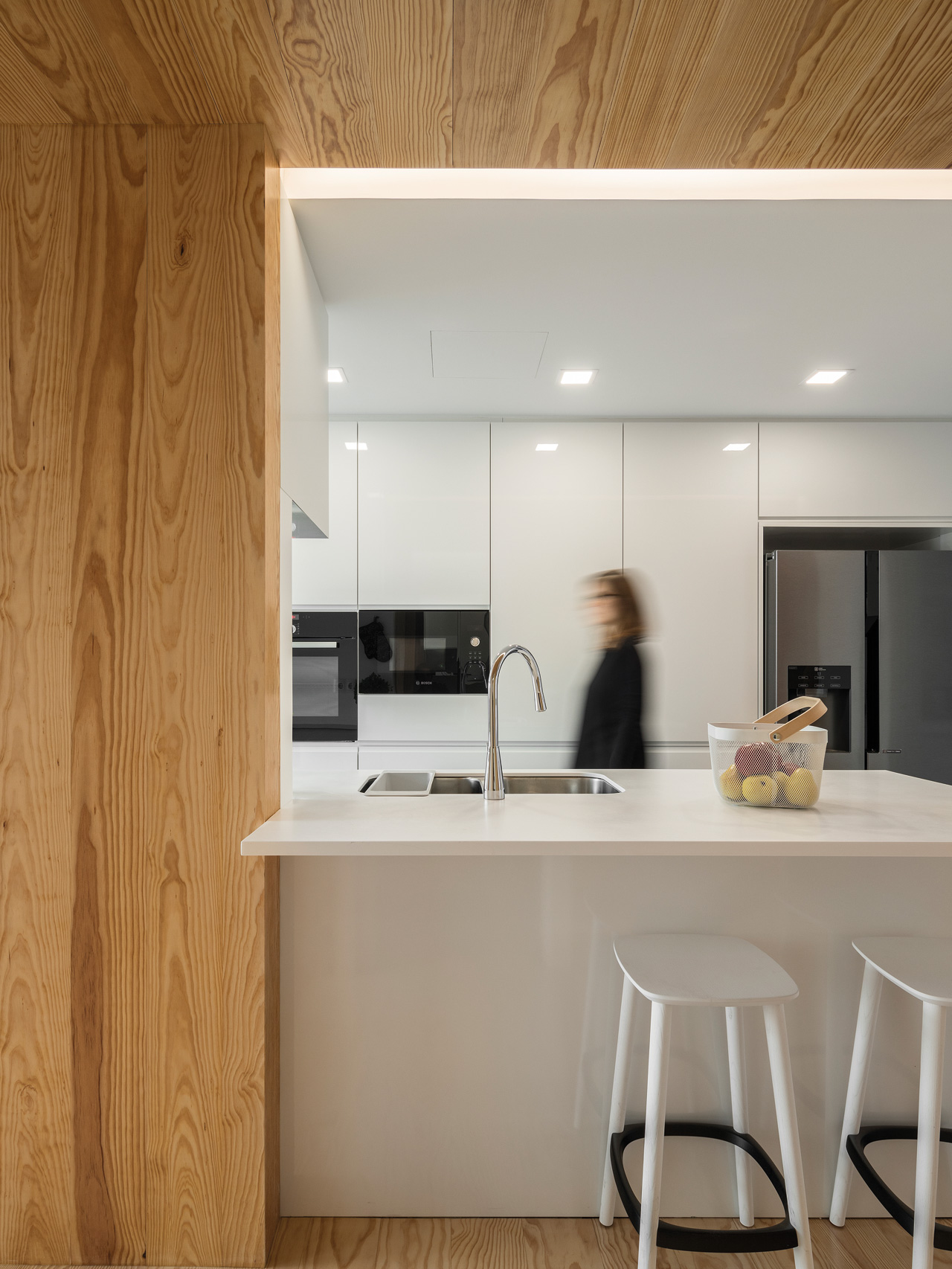 The fully glassed back façade emphasises the lines of the soaring ceiling in the living area. The ground floor has a restrained four-by-fifteen metre footprint and so the vertical dimensions provide an aura of massive volumes. Functional and beautiful, the expanses of glass maximise exposure to natural light and vistas of the outdoors. The house was designed to be an active thermal throughout the year, allowing natural light to enter during the winter and ensuring proper shade and natural ventilation during the warmer months. This reduces wasteful energy consumption while still maintaining privacy. Space and water heating are preformed entirely through solar energy and biomass. The exterior is coated with dark grey zinc sheet – VMZinc Anthra-zinc – reflecting the industrial influence of the area.
The entire ground level – consisting of the entrance hall, toilet, laundry area, kitchen, pantry, garage, storage and living and dining areas, and garage and storage space – is covered with the same Margres Subway Smoke porcelain stoneware. The consistency of the flooring visually expands the space, while magnifying the flexibility of the level. When an additional room is needed, the separation between the living and garage areas can be opened up to allow the living area to flow seamlessly into the garage. This also allows for cars to cross the house into the backyard.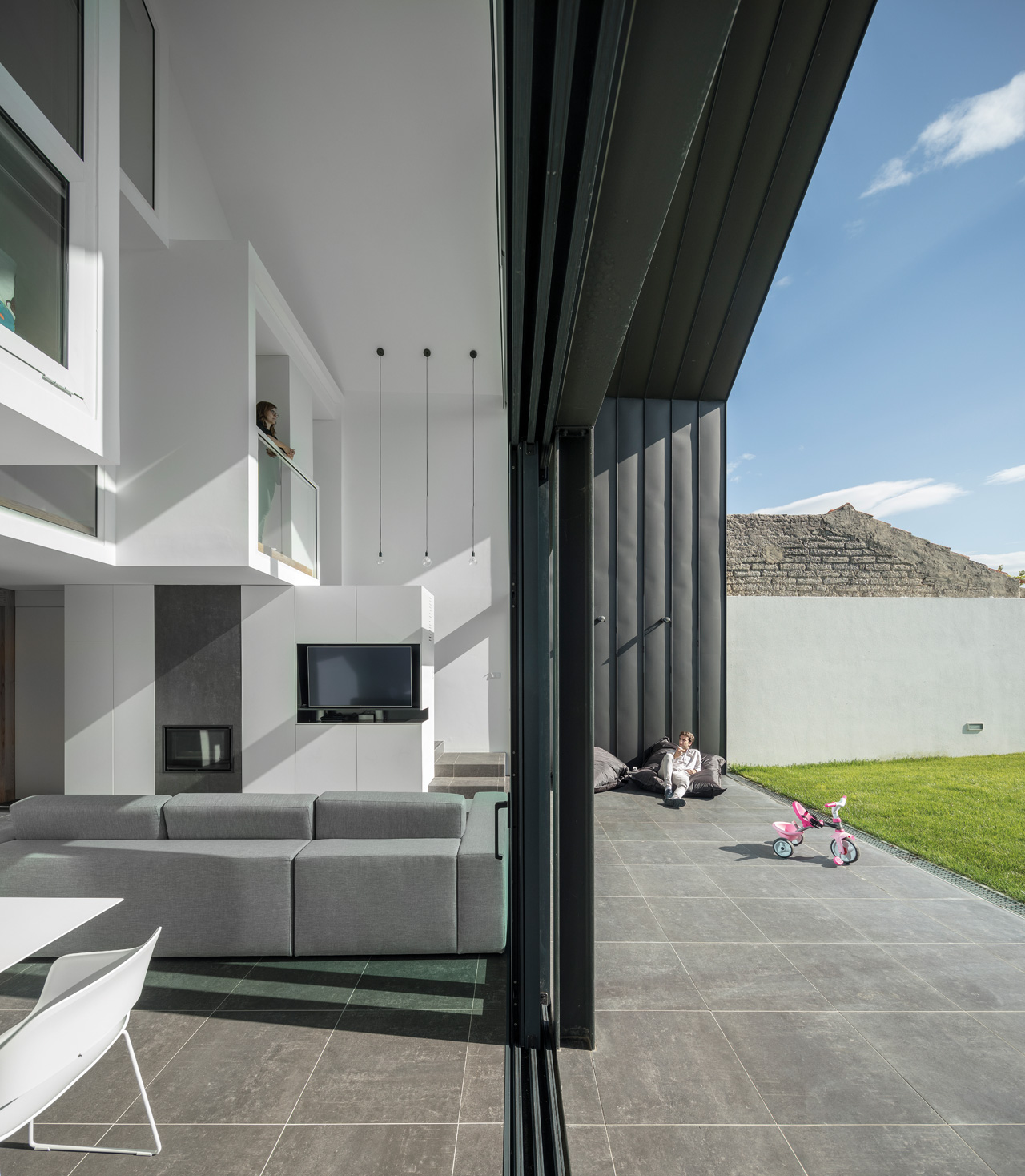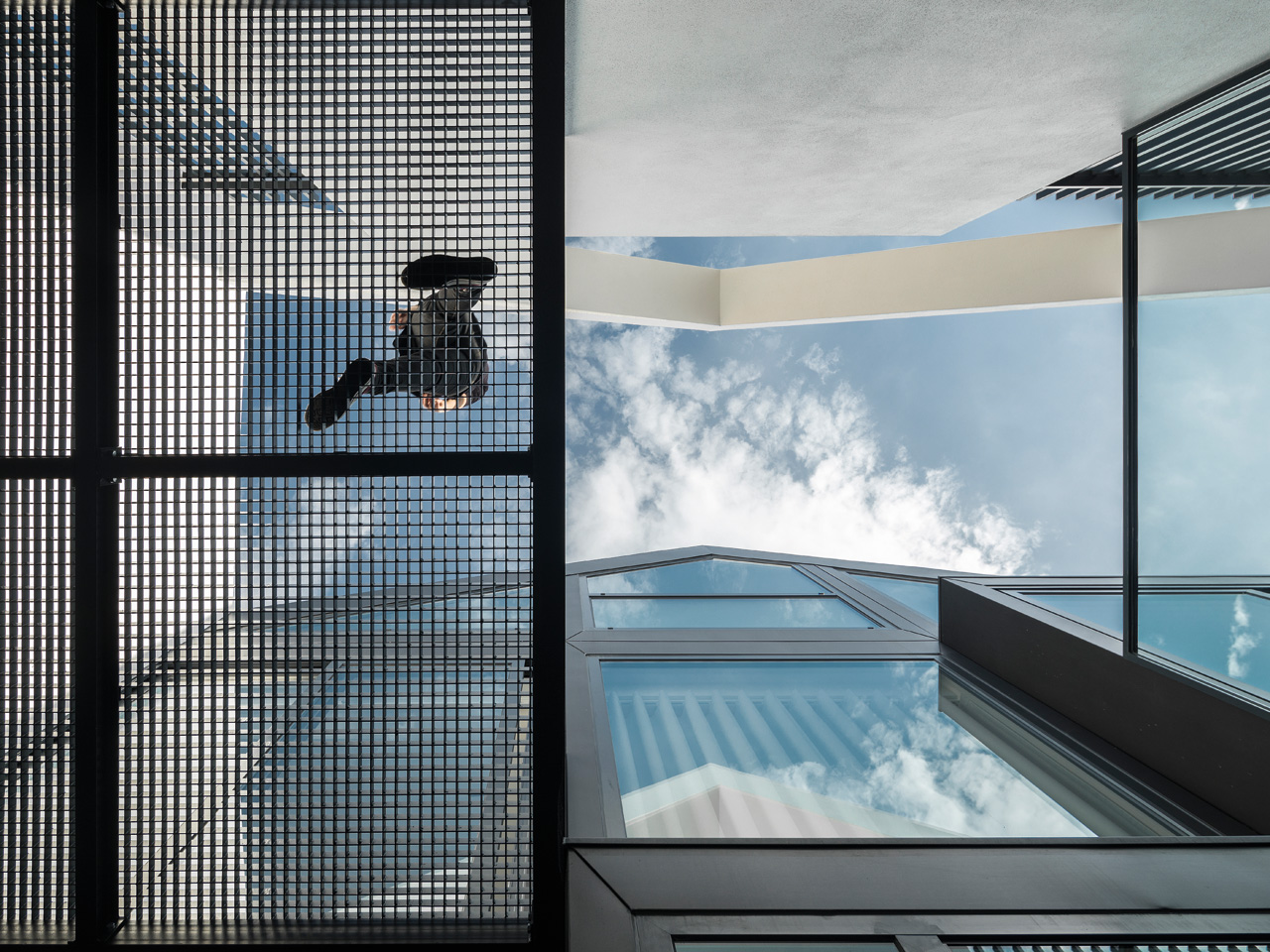 Several transparent volumes extend from a central core in different positions above the main living area. Because the projections do not touch the back façade, space is connected vertically, reinforcing the idea of a single building occupied by different users.
The first floor houses the master suite, junior bedroom and its bathroom and study room. The second level, which completes the 300-square metre built area, includes the mezzanine of the junior bedroom as well as the bathroom and private office of the master suite.
The end result is a one-of-a-kind home that is completely tailored to the needs of the family occupying the premises.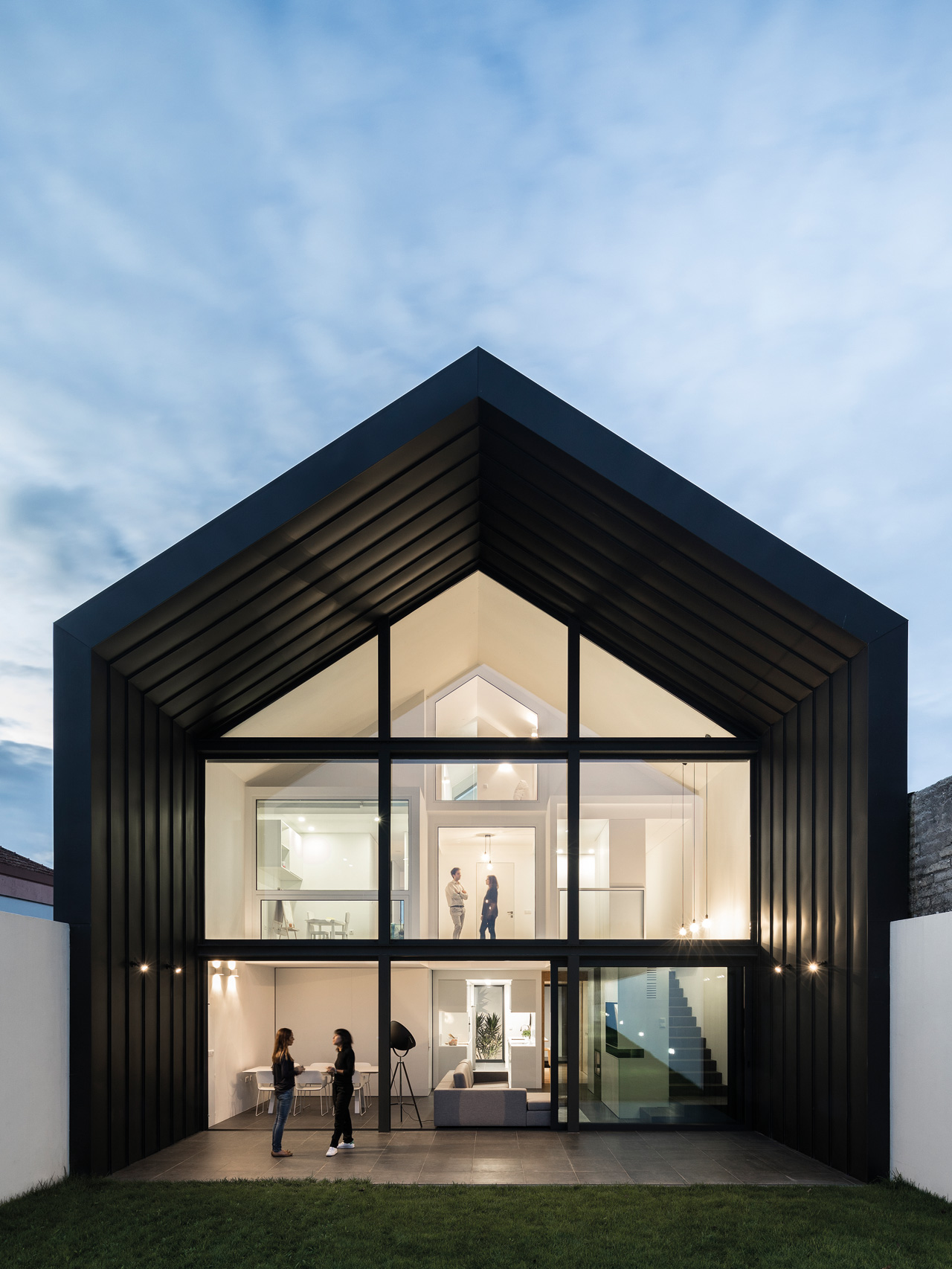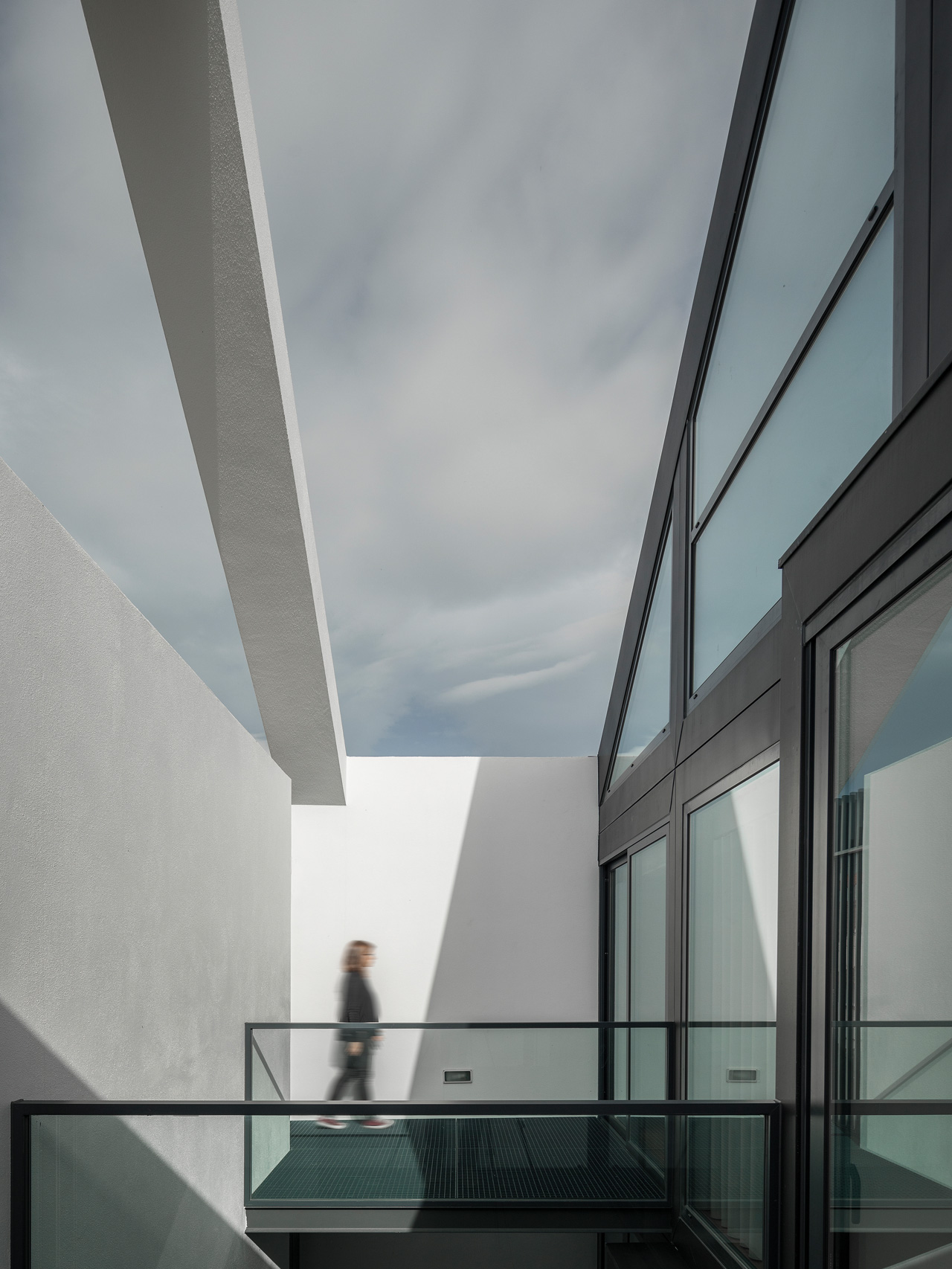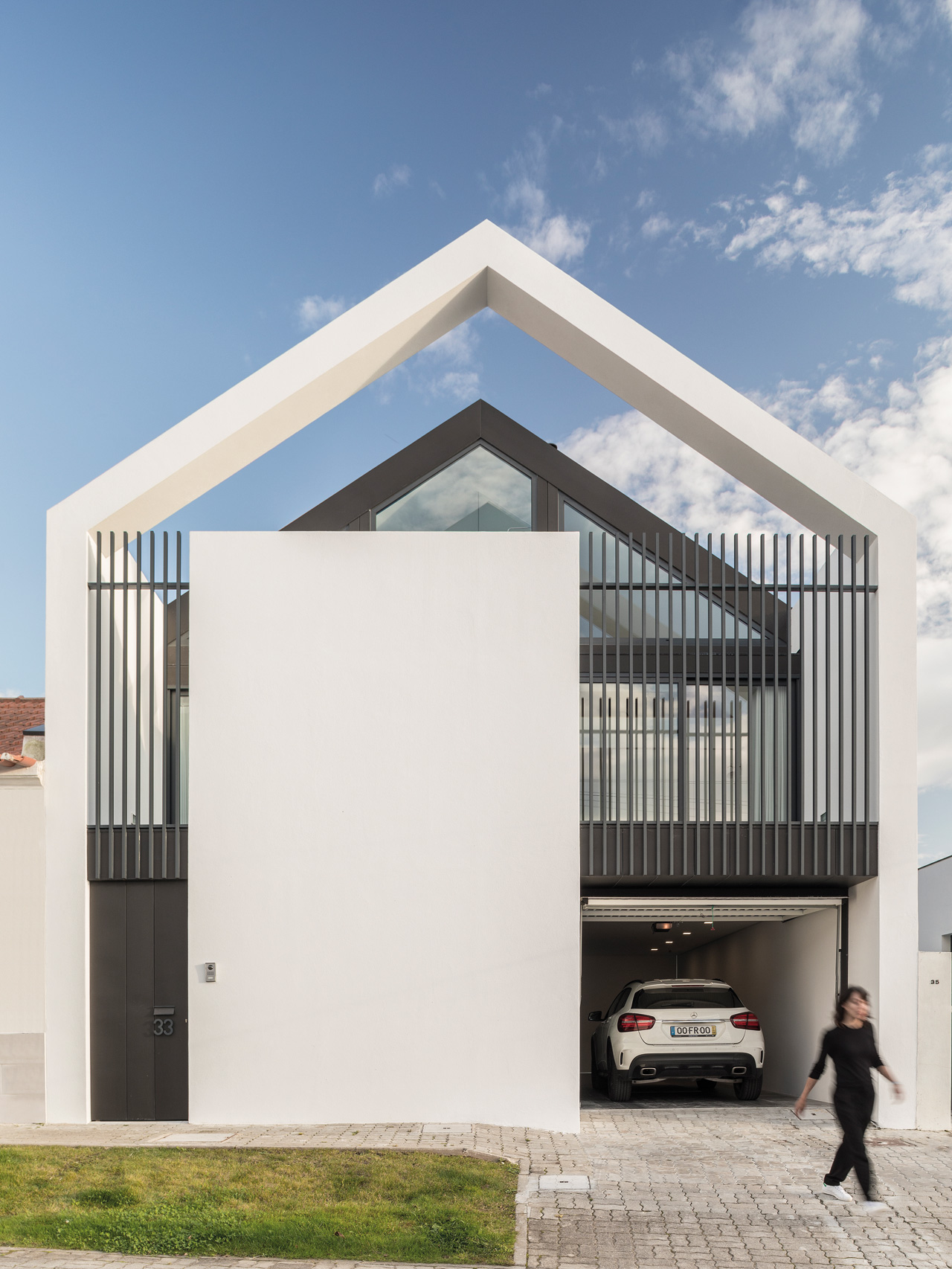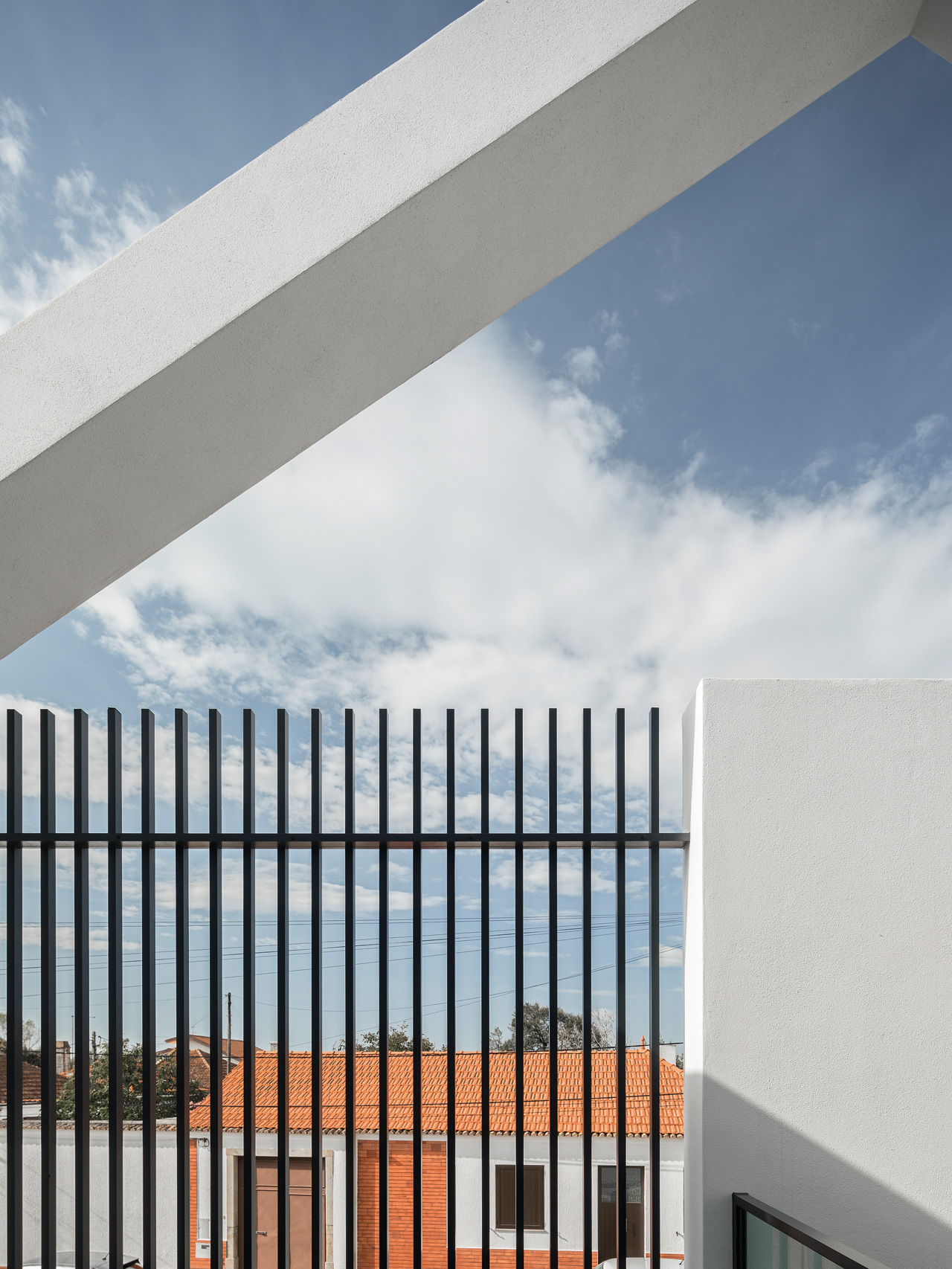 Photography: Ivo Tavares