When you are accustomed to designing spaces for others, creating your own home can be a challenge. The advantage of having total freedom soon transforms into infinite possibilities – from the floor plan to the material and colour palette to the selection of furniture and art. For French-Lebanese interior architect Chadi Abou Jaoude, surprisingly, the outdoor space was the decisive factor. "I had been looking for an apartment with a terrace for a very long time," he remembers. "There are just a few in Paris, as most of the historic buildings have zinc roofs, which don't allow for rooftops."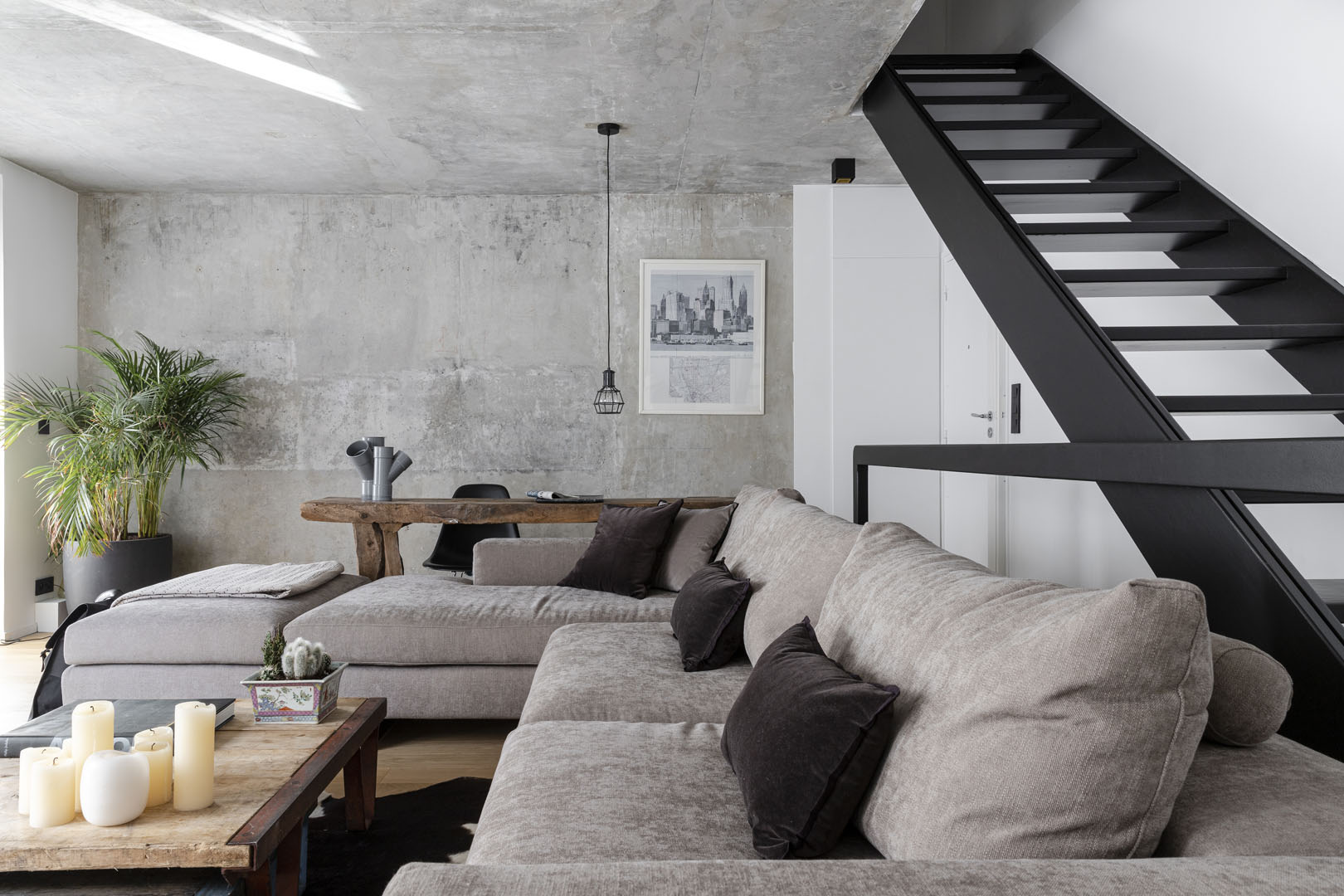 Located in Paris's 20th arrondissement – an eclectic, young and en vogue neighbourhood described in French as bobo, which means bourgeois and bohemian at the same time – the 75-square metre flat is nestled in a typical building from the 1980s with tiled façades. "Outside, it has little external appeal," Abou Jaoude says. Inside, however, the atypical, row distribution of spaces organised over three levels seduced the interior architect, in addition to the 20-square metre terrace that offered an immediate 'wow factor'.
Described by Abou Jaoude as "small yet divine," this al fresco area is where he feels totally relaxed. "I am an outdoor person and since I've become a fan of gardening, I can spend whole days taking care of my plants," he says.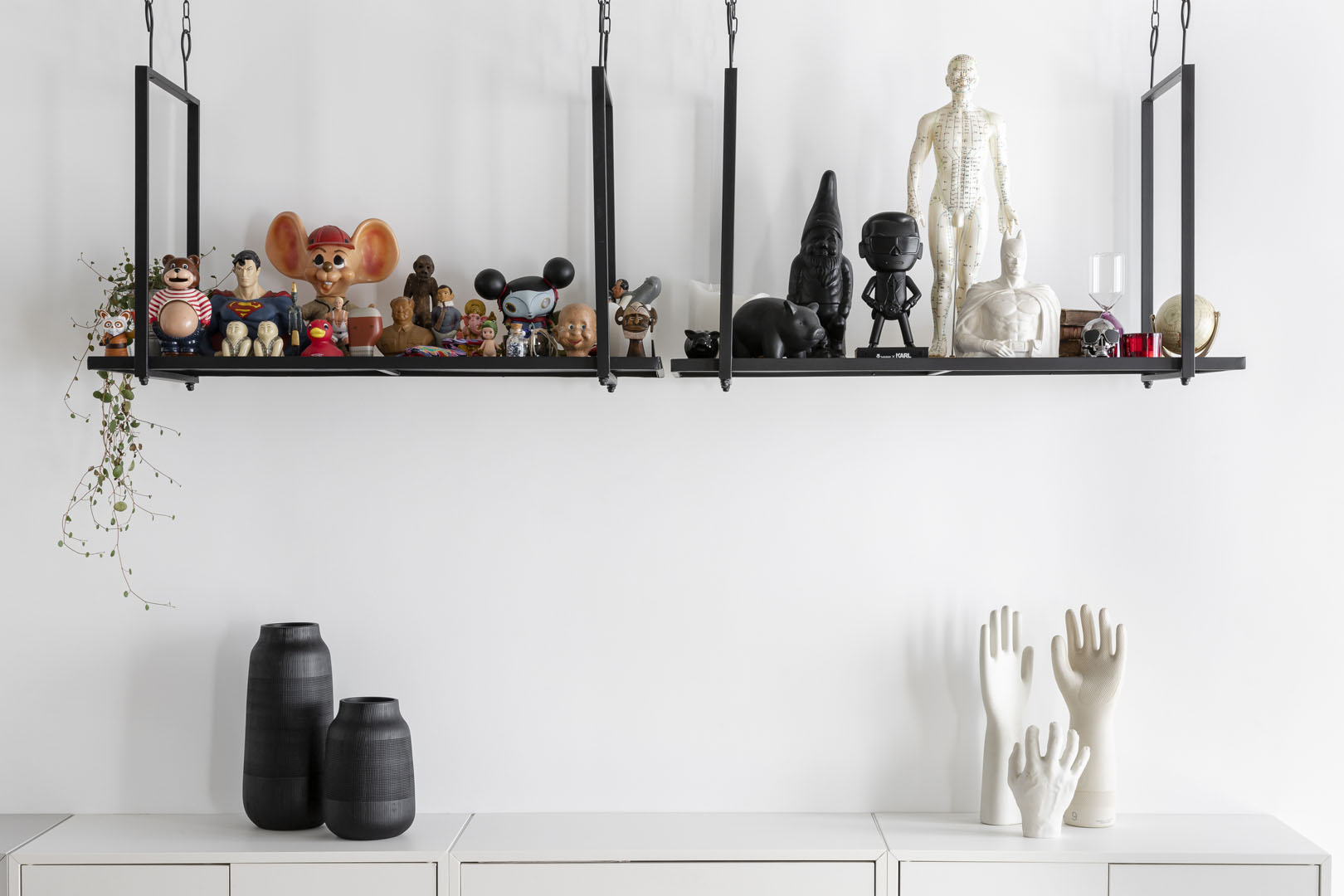 For Abou Jaoude, the conception process was key to envisioning every detail. "During this phase, I am obsessed. I can't sleep, I am asking myself thousands of things; it's exhausting!" he describes. "I am doing the project in my head until finding the right combination."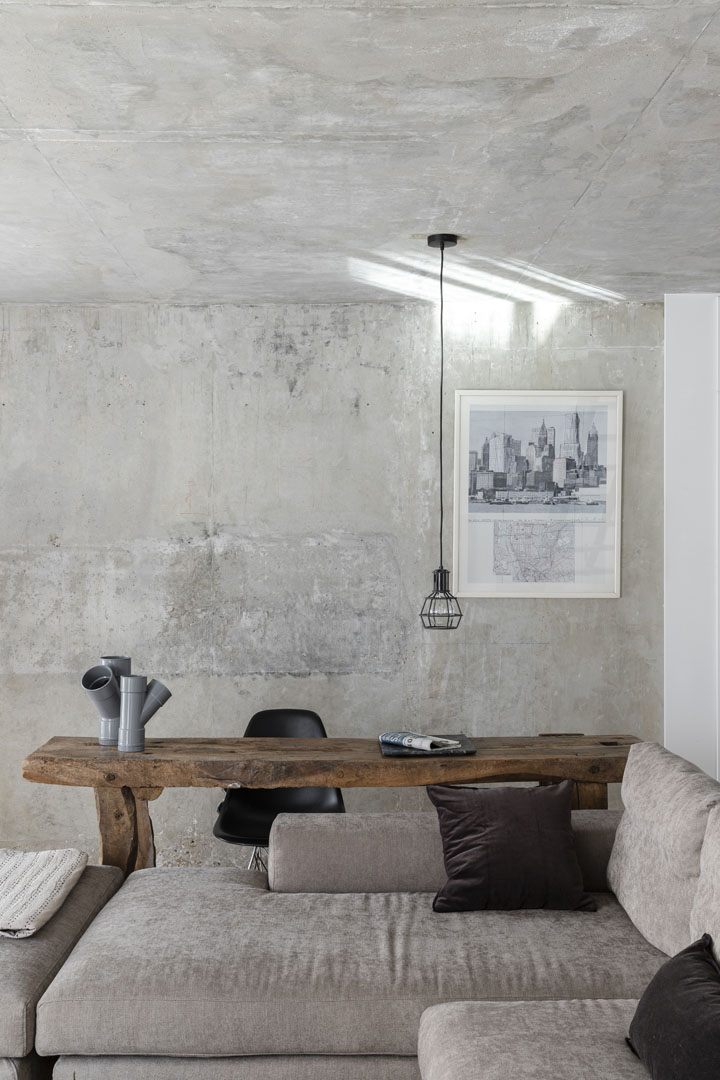 The entrance – where an old carpenter's workbench from the early 20th century serves as a desk – leads directly to the living room, which is filled with natural light thanks to floor-to-ceiling windows. A departure from the elegant Haussmann architecture, there was no moulding, parquet or fireplace – but the demolition revealed the real character of the apartment. "When we started the renovation, I discovered the raw concrete ceilings and walls that were in a very good state," Abou Jaoude says. "This material gives a lot of personality to the space. It adds a brutalist and contemporary touch."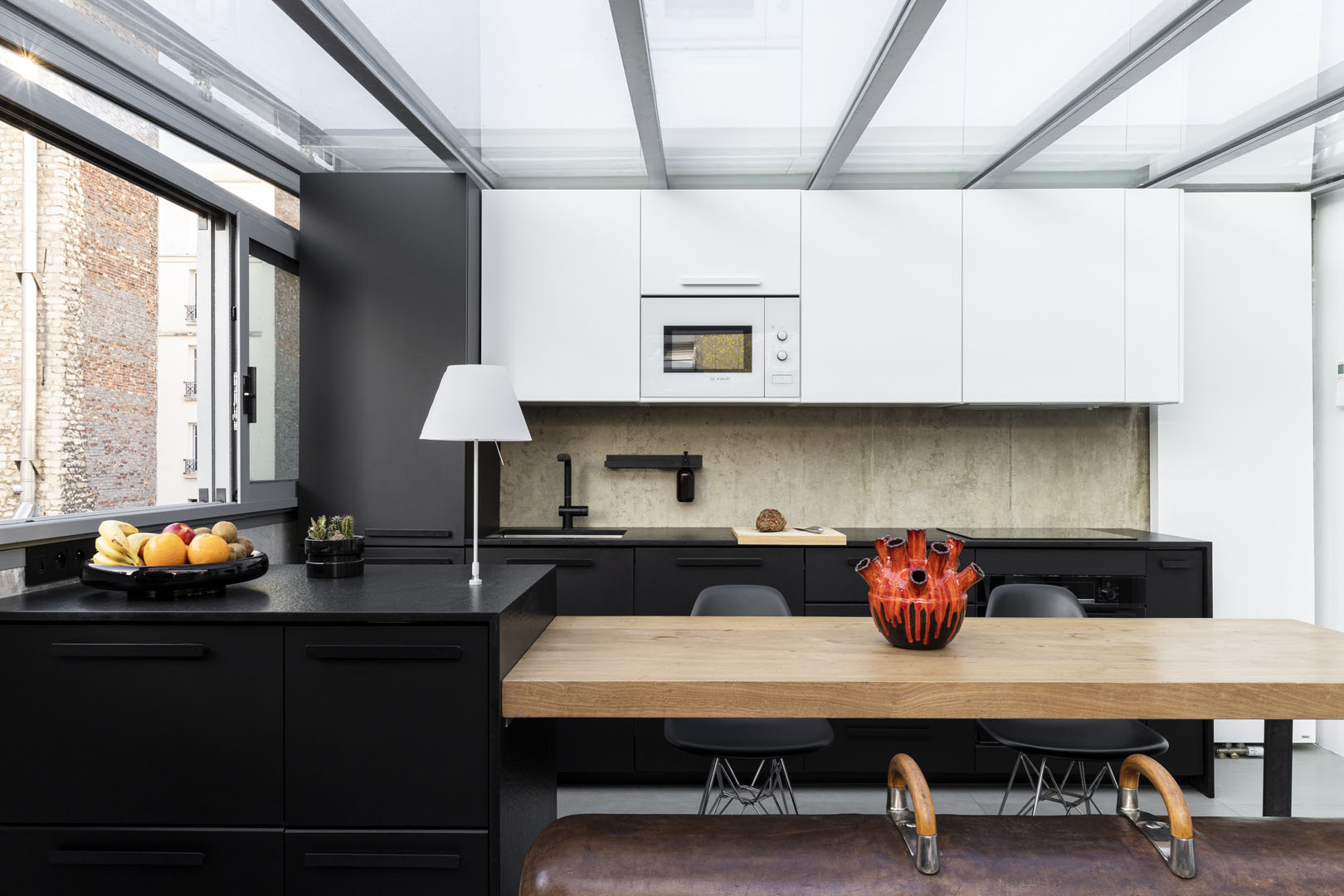 One of the interior architect's objectives consisted of giving life to a real home that would not look like a showroom, but instead be his refuge in which to entertain and host friends. To create a sense of balance throughout, he chose a raw, light oak flooring, while the rest of the design and decorative elements are mostly white, grey and beige, with a few black details.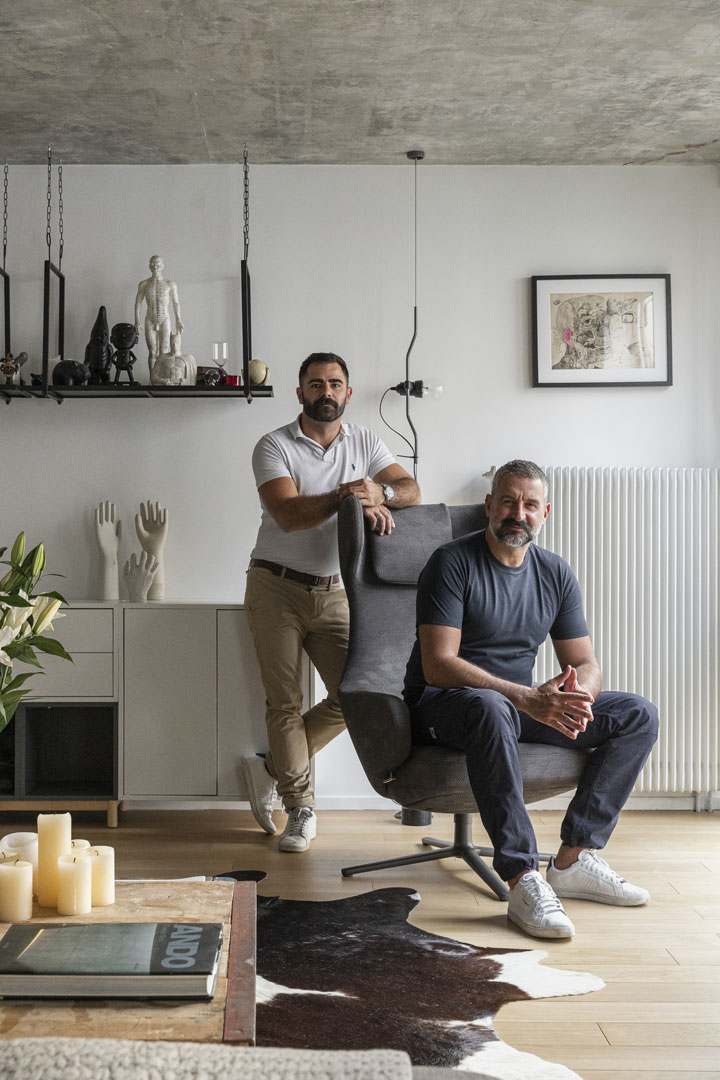 Abou Jaoude is fascinated by mixing different styles, and took this approach in his home. In the living room, an L-shaped Pianca sofa combines with coffee tables made with reclaimed pallets from the SNCF (the French national train operator), an Antonio Citterio armchair and ottoman (from Vitra), the Parentesi pendant lamp by Achille Castiglioni, several figurines purchased at flea markets and a cowhide rug, among other elements. The original staircase, which gives access to the other floors, was painted black for a more modern look and now has a handrail against the wall instead of the initial guardrail.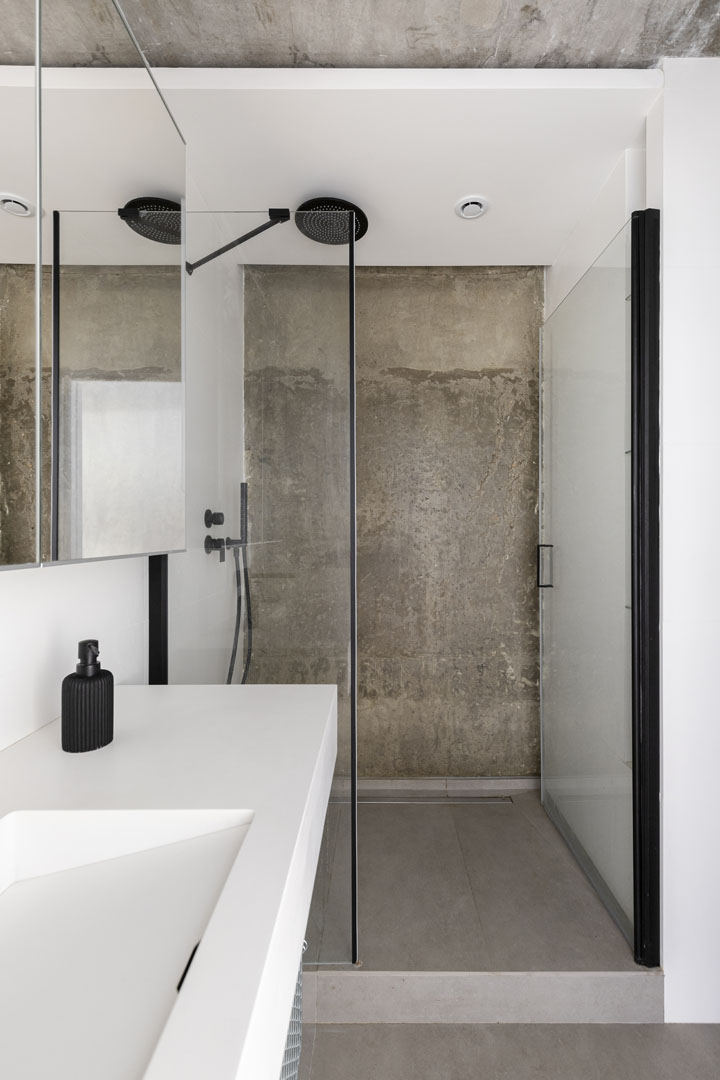 Comprising just a few pieces that express a feeling of peacefulness, the two bedrooms (master and guest) with a bathroom and an independent toilet are situated downstairs, providing privacy from the rest of the apartment while sharing the same aesthetic characterised by neutral tones.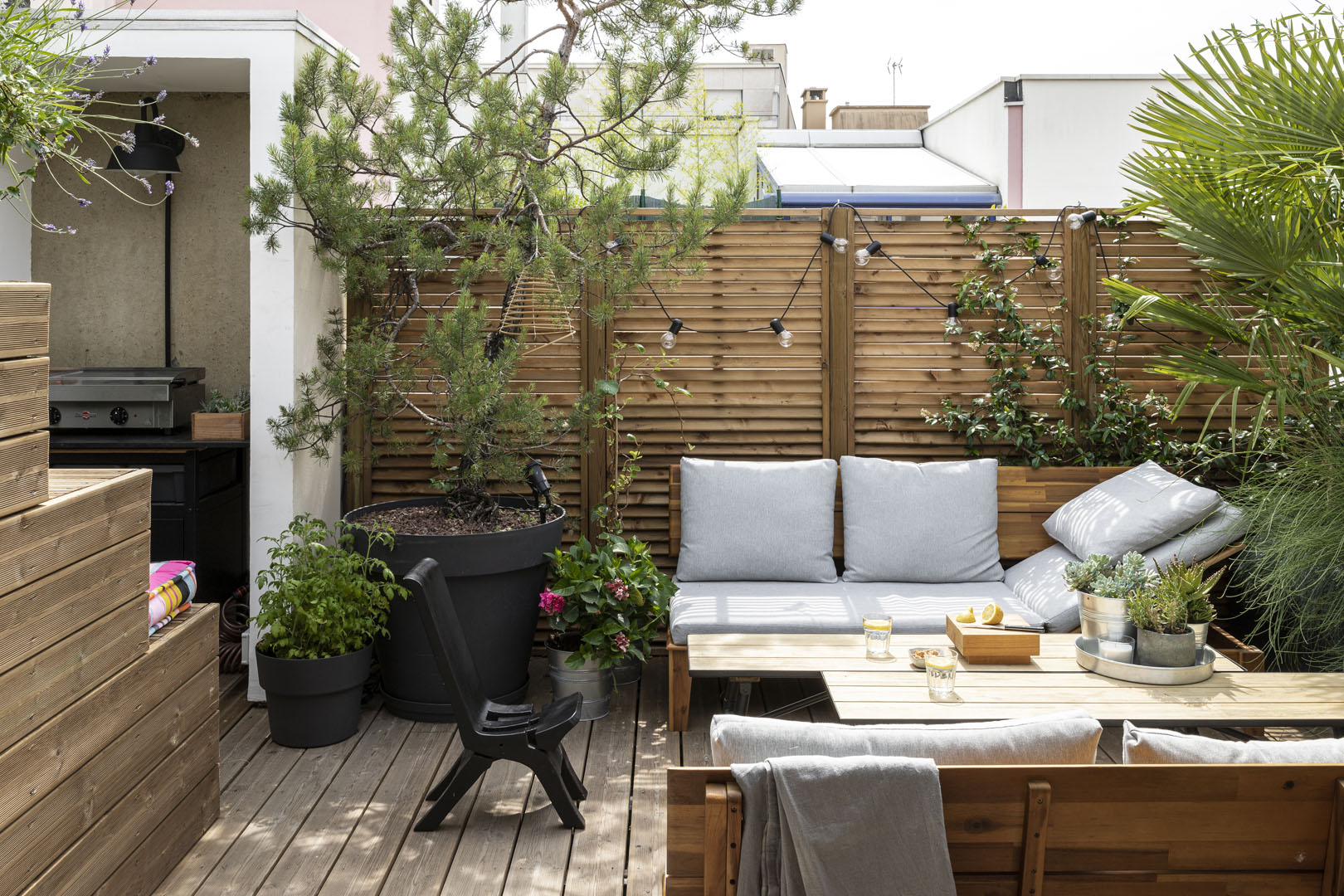 The upper level is home to a veranda, which hosts the open kitchen and dining room. The space is adorned with Costanzina lighting and furnished with Eames chairs, complemented by a pommel horse used as a bench, while the heavy, solid wood table was designed by Abou Jaoude. Last but not least, adjacent to this space is the terrace surrounded by greenery, where the interior architect recharges and recovers from the stress of the city. "It is pure happiness," he says. Although Abou Jaoude loves the cosiness and functionality of his current home, he is already thinking about what's next. "I've never stayed more than three years in the same apartment. It's so exciting to discover a new environment and neighbourhood, to have new habits. I don't feel attached to places, I am a nomad who gets bored easily!"