For Nader Gammas, designing with light is about performance and narrative. "I'm looking at pure light performance and how the narrative morphs into something more sculptural – so that, when the light is off, the piece stands alone and is beautiful," he explains. The Syrian-American designer's handmade lighting collections combine his training as an architect with his love of conceptual sculpture. "It's not a light bulb for the sake of a light bulb," he adds.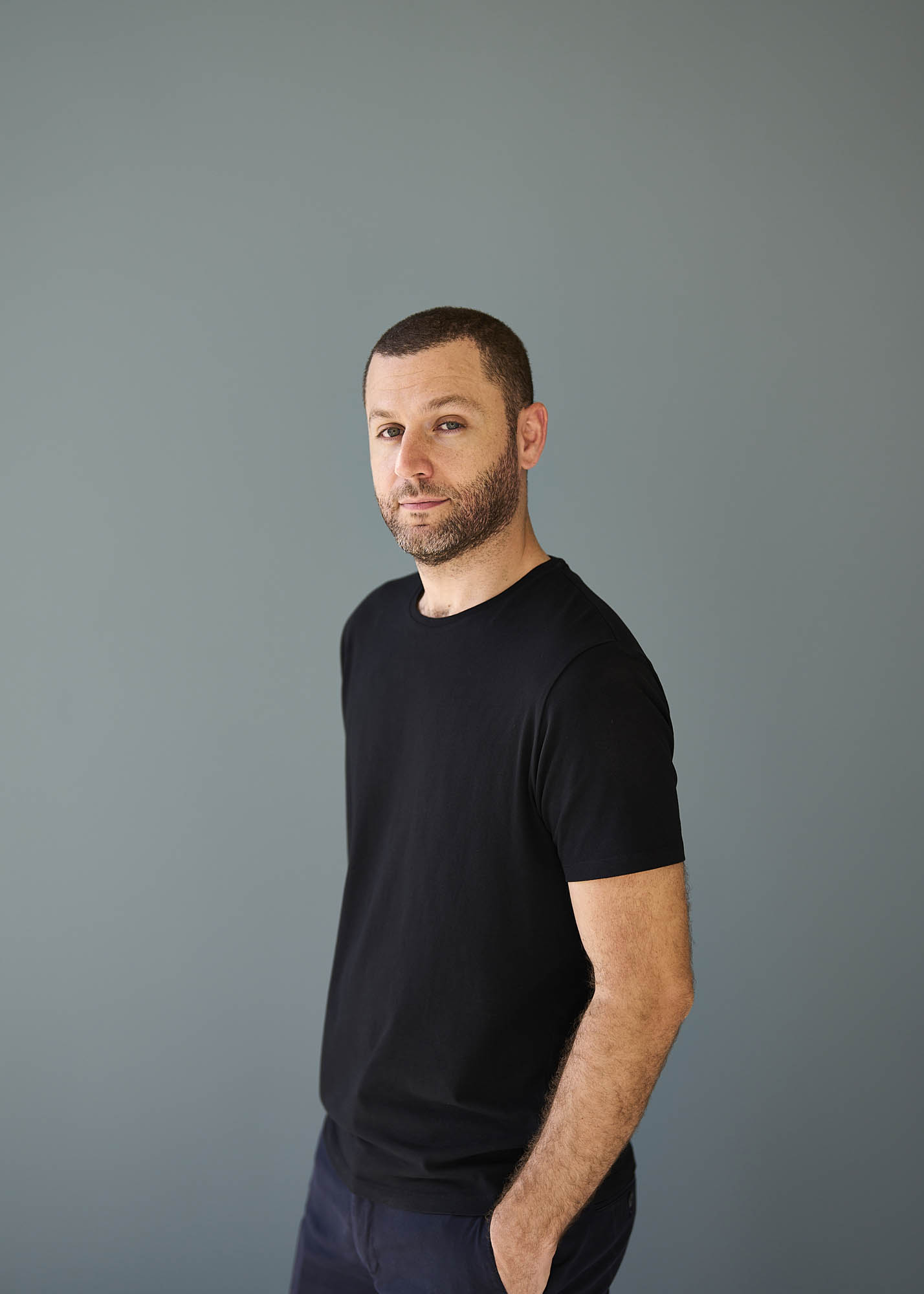 His latest floor lamp, Shard (2022), features a series of clear-cut, shard-like bulbs that appear to be dispersed at the tip of a stainless steel arc. The ensuing light and shade distribution recalls organic forms, like the entrance to a cave or the silhouette of a crystal. For this, Gammas explains that he was inspired by the sculptor Alexander Calder's floor mobiles, and by mineralogy. "The bundle of light comes from a term known as prismatic crystalline growth, where light comes from a centre and looks like a quartz," he describes.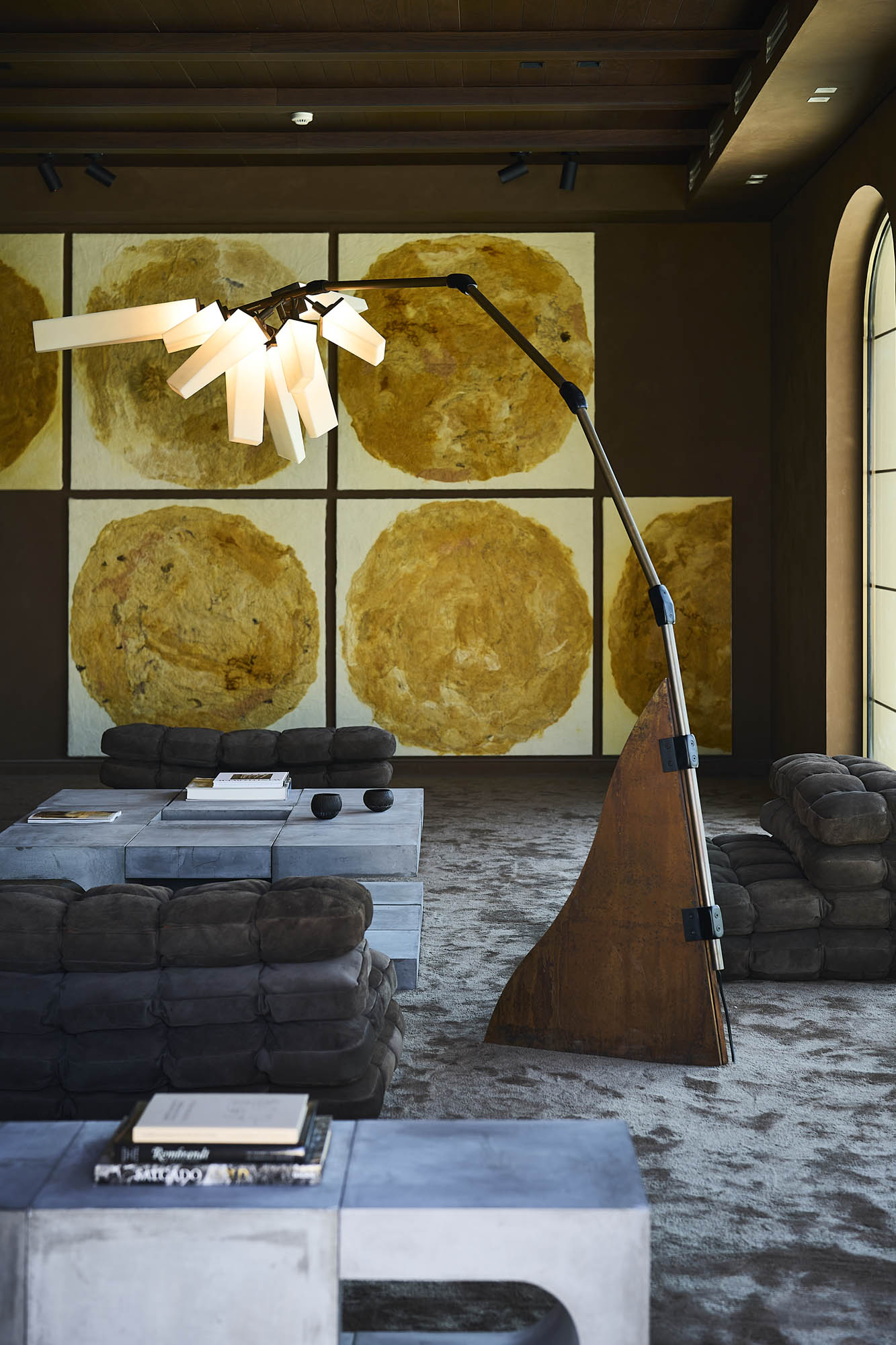 Gammas began designing lighting objects in 2017 while working as an architectural consultant in Dubai. He was overseeing the design for a private home and looking for ways to integrate a centrepiece chandelier within the dining room's lighting design. His first piece, the Fin chandelier (2017), developed from this project. "I took the structure of a modern, mid-century chandelier [and] redesigned the shades to create a rhythmic and repetitive radial effect."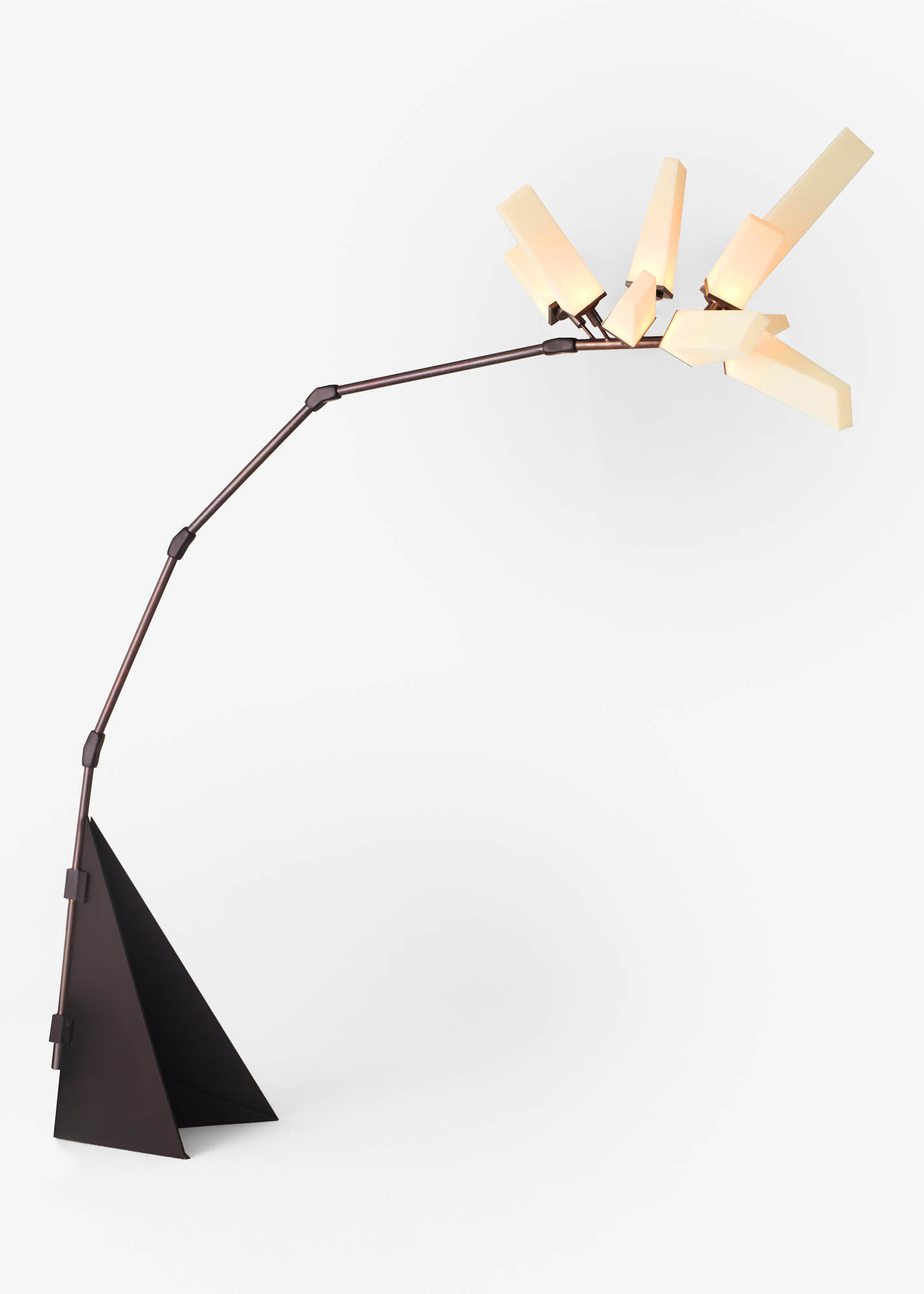 Gammas was born in Illinois, which is home to one of his favourite buildings: Frank Lloyd Wright's 'Falling Water' house in Chicago. "It was such a departure from how homes in Chicago are [typically] situated. Usually, it's on a plain or a development, but here it's above a waterfall in nature," he says. "I guess I like the horizontality that comes with Frank Lloyd Wright, and the flat plains of Illinois."  
His favourite artist, he adds, is sculptor Donald Judd, who was known for his minimalist, geometric approach. Such influences are present in Gammas' series Wind (2018), which echoes the wind towers found in traditional Emirati architecture. Gammas re-imagines these vernacular structures as vertical rectangles made of blackened brass, with small specks of light protruding from the top and bottom ends.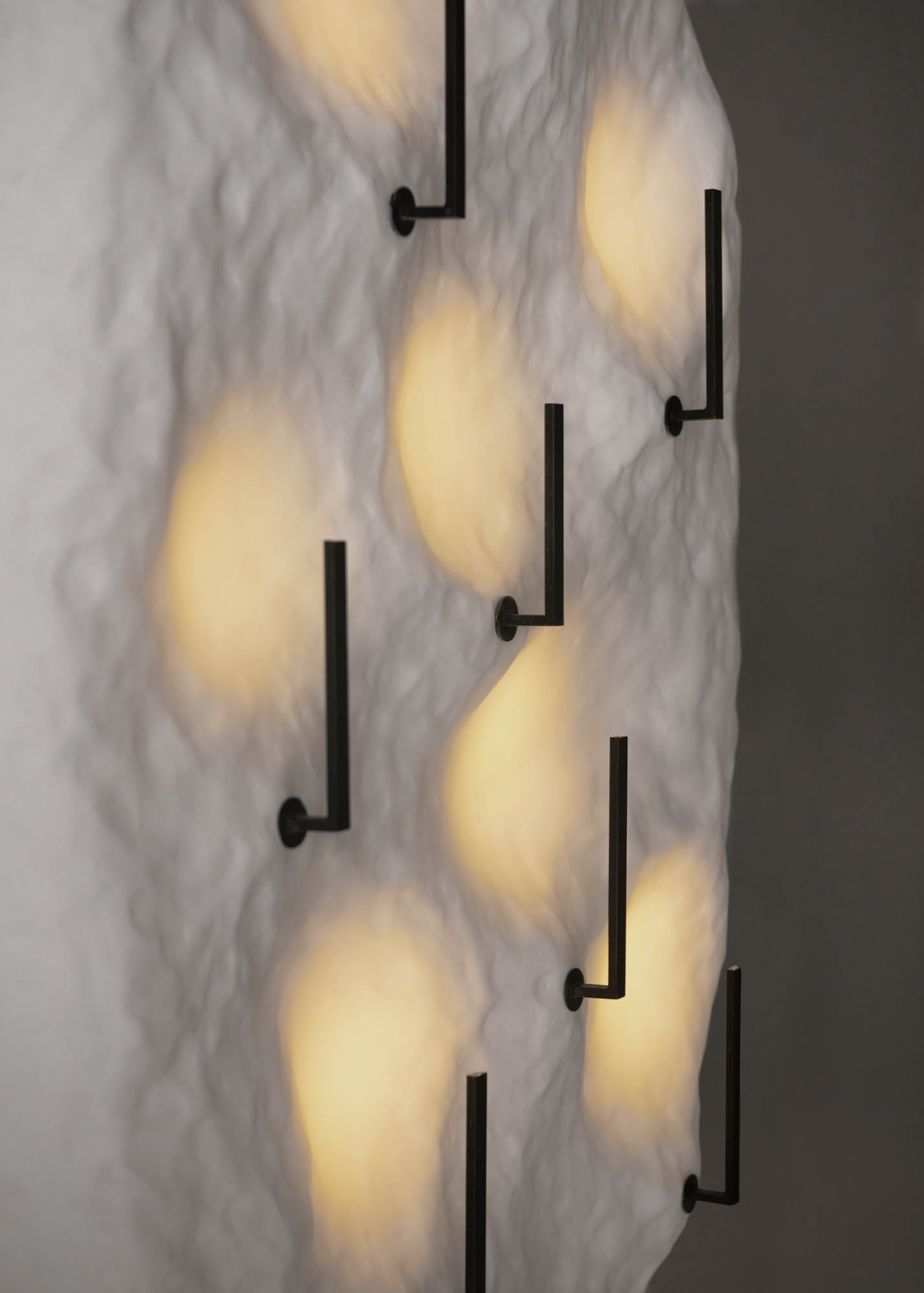 Today, Gammas splits his time between the USA, where he lives, and the UAE, where he works and produces his collections. His work has now evolved with a focus on more organic inspirations. "I want to explore the symbiosis between geometric and organic forms," he says. One of his most recent pieces, Wall of Light (2021), is a hand-shaped gypsum panel which echoes the surface of the moon or a crater. It is marked with a series of straight, jet-black brass light fittings. "The design doesn't rely on noble materials – it's pure gypsum," he explains.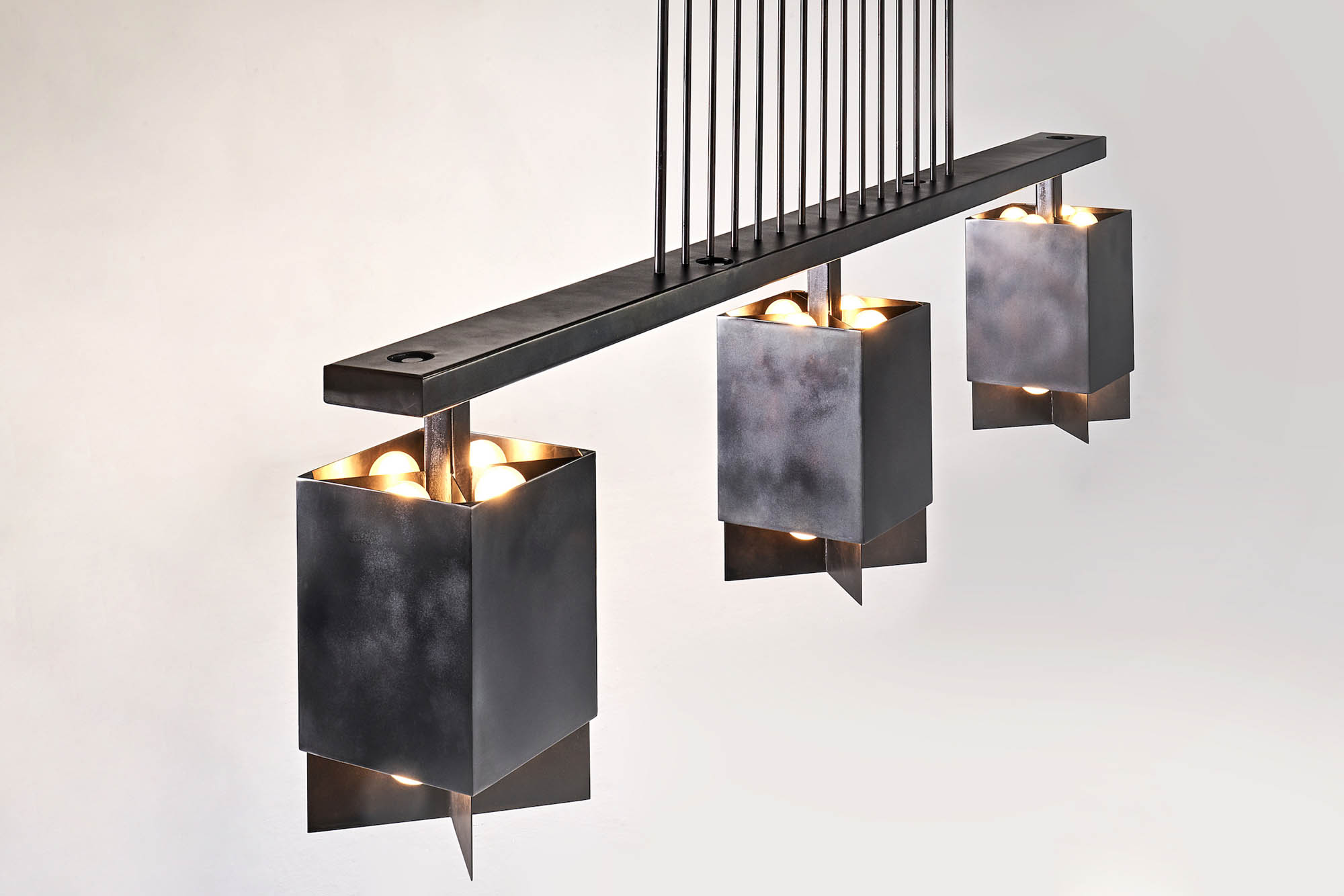 For the initial iterations, Gammas worked with Boston-based sculptor Evan Morse. "He made the prototypes, looking at the topography and types of gypsum, finishes and texture. Once we settled on one, he made a larger panel," Gammas says. However, the Shard floor lamp was made by the designer himself. 
Since the pandemic, he has partnered with a team of Indian craftsmen who run a metal workshop in Dubai. The setup, he explains, is unusual for the city. "Dubai is all large scale, it's all big factories. Nobody is going there to open a clay studio as an artisan. It's not like Barcelona, or Beirut, or Brooklyn," he says.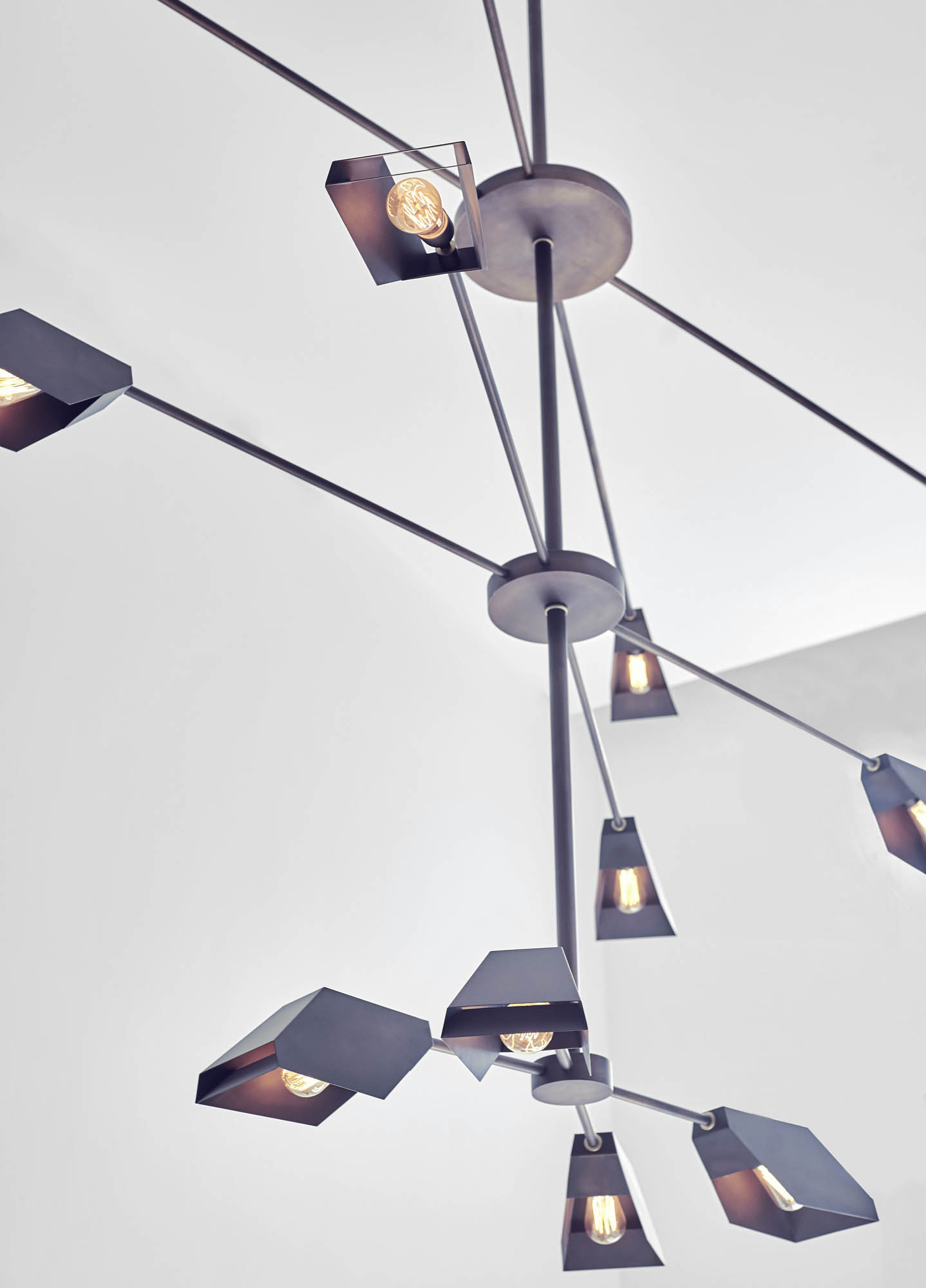 He hopes this collaboration will give him more room to develop his ideas. "I was able to work closely with the makers, and I could get re-designs without any fuss. It allowed more freedom to put thoughts to paper and [move] from paper to prototyping."