Houston-based chair stacking artist and photographer Cary Fagan shares the concept behind his first chair design, exclusively with identity
---
Stackable chairs are a common notion among designers and manufacturers, a feature created for flexibility and portability. Some of the world's most famous chairs feature a stackable design, from Eames' Molded Plastic Stacking Side Chair and Kartell's Master Chair to Alvar Aalto's iconic Stool 60 for Artek. For Houston-based chair stacking artist and photographer, Cary Fagan, the process of stacking chairs is less functional, and more about the practice and exploration.
"Stacking chairs is more about the sculptural performance and the thoughts leading up to the creation – the end piece. It isn't meant to showcase design, though it accomplishes that notion. It is merely to show that it is possible to create in this form," Fagan explains.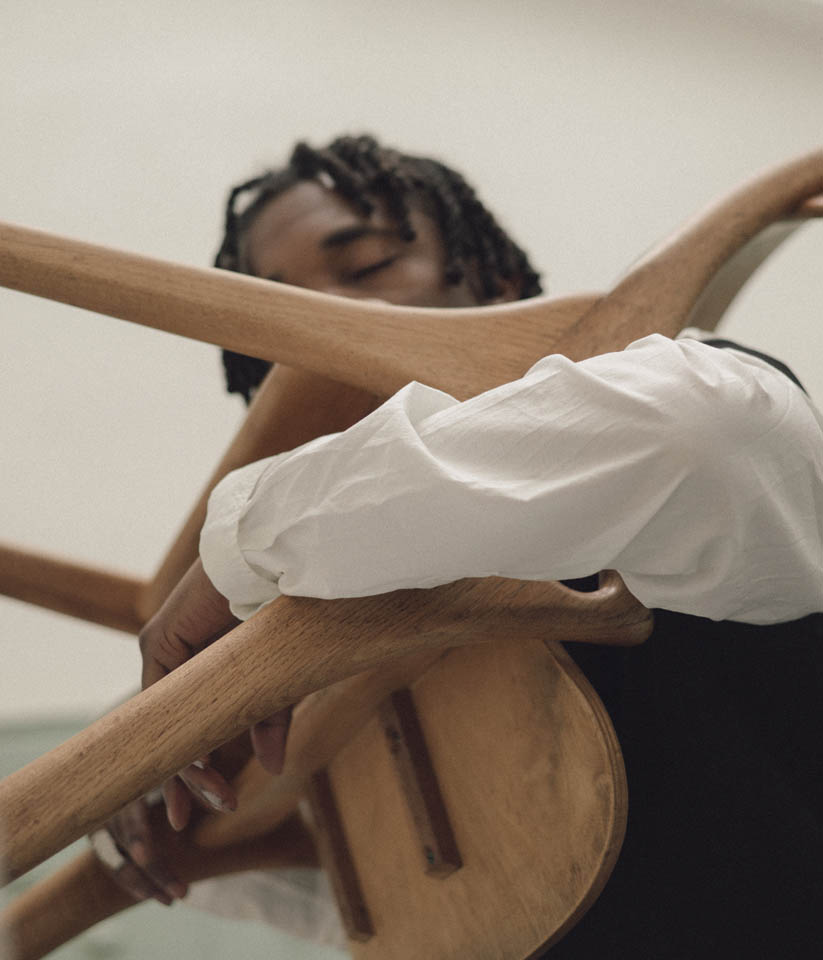 Beginning his creative journey as a photographer and filmmaker and working with well-known names in the music and fashion industries including Solange, Kanye West and A$AP Rocky, Fagan became interested in chairs when he was invited to Japan for an artist's residency in 2018. There he experimented outside of his usual medium and instead, discovered a love and appreciation for chairs, which he compares to people in their balance of complexity and simplicity.
"If you think about it, the kanji for chair in Japanese means 'strange wood child'," he says.
This discovery later led to the creation of a community-based platform called 'Chairs are People', where people from across the globe share their recent finds and cultivate one another's appreciation for chairs – be it on its website, on Reddit or on Instagram.
A year after his residency in Japan, Fagan was invited to Florence by Numeroventi, an artist and design residency, where he was commissioned to further explore chair stacking as an art form, which he says opened his eyes to the artistry of stacking. In Italy, Fagan also had the opportunity to explore chairs from a more design-focused perspective.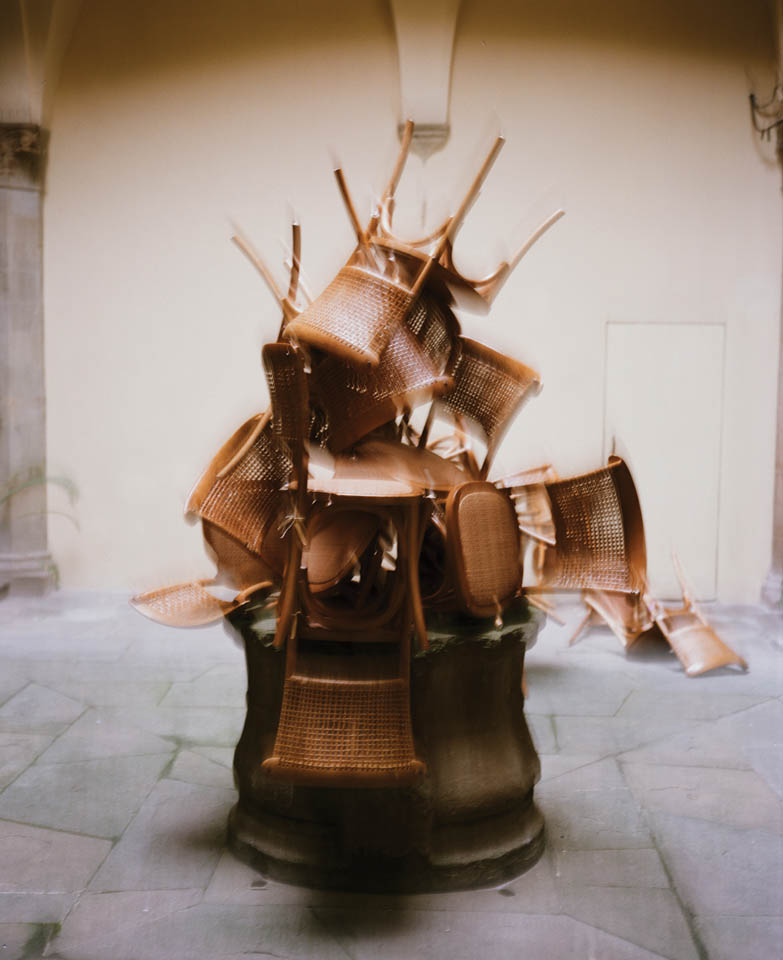 "In January, I was in Milan visiting the Triennale Milano and ironically, they had an exhibition called 'Italian Radical Designs'. I got to study some of the most prolific works from the 1940s to the 90s, with the Pratone being one of my favourites," he shares.
Earlier this year, Fagan designed his first chair, which is currently under production. The unnamed piece will be launched under his newly established and trademarked brand, Chairs are People – an extension of his existing online community.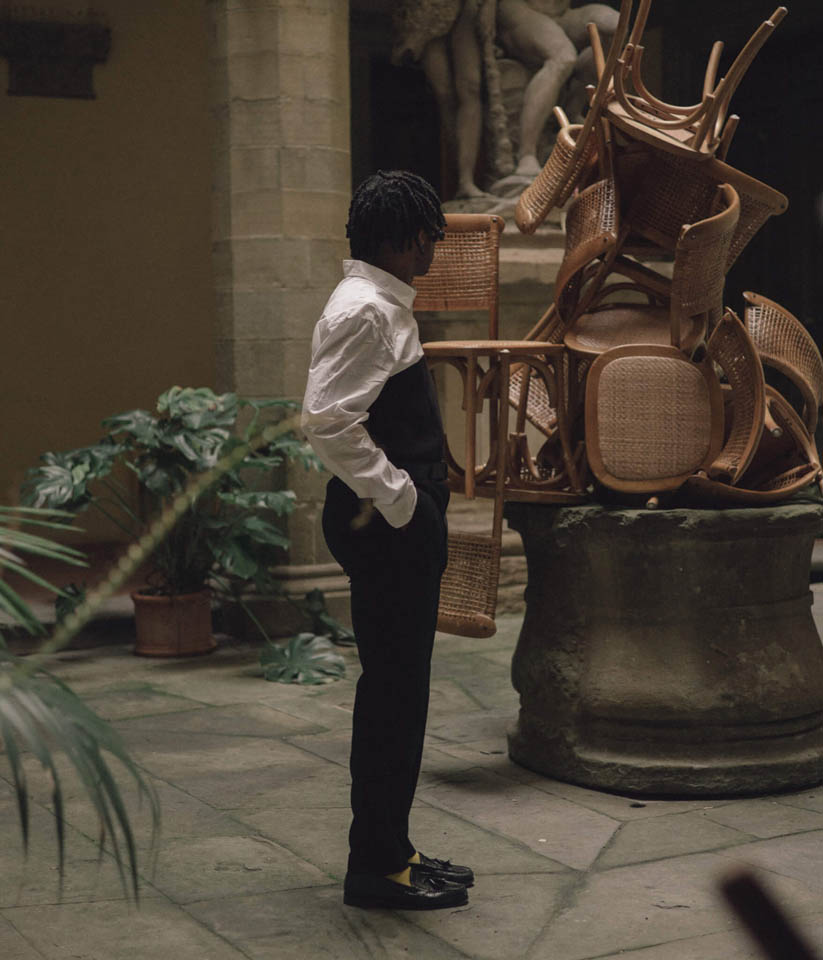 The steel-framed chair will feature leather upholstery and curved legs that appear to be floating, with an acrylic form connecting the legs and seat to establish support, inspired by the shapes found across the Memphis style which Fagan greatly admires for its bold forms.
"I've been very inspired by the Memphis Group and Memphis style. I love their shapes," he shares. "The idea is to give the viewer clean lines that are then interrupted by this object in the middle."
The soon-to-launch chair, which he describes as an "original design that is imperfect", is also inspired by designs from Natuzzi and Herman Miller.
"I fused my favourite chair designers with my favourite features from their designs," he says. "I've recently come to the consensus that this chair is meant to serve as a temporary experience – maybe as a dinner or luncheon chair. I'm sure the idea will evolve once it's in front of me," he adds, explaining his plans to introduce a family of chairs based on his first design that will serve different scenarios – from lounge to work, and even a stool version.
"I have a few other ideas for chairs in the future but this aspiration is an investment and a risky one," he confides. "As I approach my first prototype, I keep in mind that there is, in fact, no such thing as a perfect chair."