This is the fifth property in 17 years that the duo's firm – Antonio Citterio Patricia Viel – has created for Bulgari, a leading luxury brand.
Once again Citterio and Viel have worked in sync to design a resort that, like Bulgari jewellery, is low-key and sophisticated.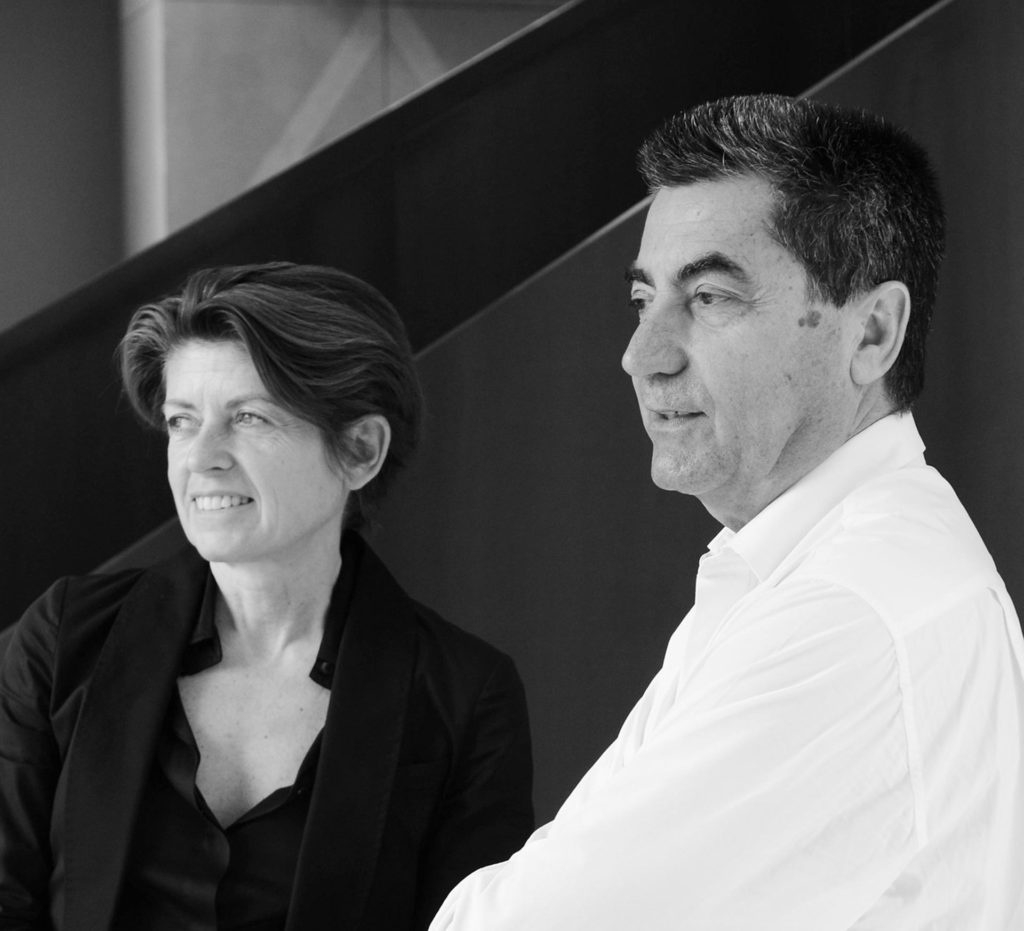 Patricia Viel and Antonio Citterio
There is nothing bling about the low-rise development that houses some 101 rooms, 20 beach villas and the first Bulgari Marina and Yacht Club. The exclusive 165 serviced apartments that will also enjoy unrivalled views of Jumeirah Bay and the city skyline will be released later.
The opening of the first Bulgari Hotel in the region came hot on the heels of the opening of the Bulgari Beijing Hotel.
Speaking at the inauguration, Bulgari Group Executive Vice President Bulgari Hotels and Resorts Worldwide, Silvio Ursini explained that the hotel strives to bring some of the best of Italian design and craftsmanship to the region – though not all the materials and fittings are from Italy, as they include some Iranian green onyx and Chinese stone.
For more than seven years Citterio and Viel have been working hand in hand with developers Meraas to create a unique property that is poised to become one of Dubai's architectural icons alongside Burj Al Arab and Burj Khalifa.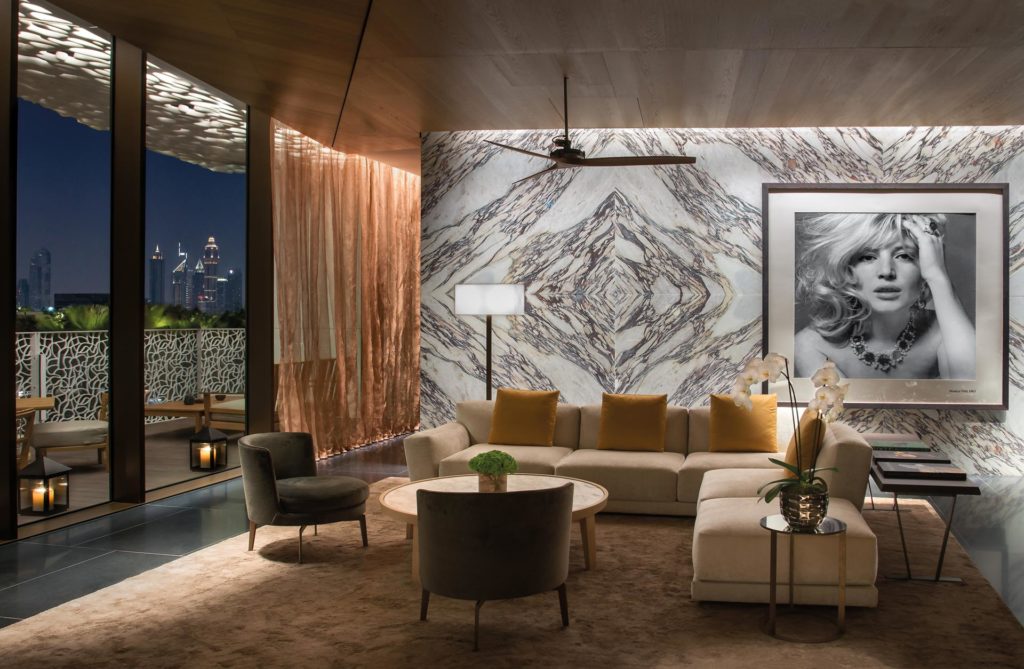 Design and finish-wise the Bulgari Resort is infinitely different: from the entrance with its exotic and rare baobab trees, and the coral inspired shading mashrabiya that fringes the façade, to the oak- and leather-panelled walls and pillars, there is nothing brash or jarring as can be the case in nouveau riche environments.
The project oozes class and sophistication, and the attention to detail is incredible.
Soft beiges, natural woods (especially Citterio's signature oak), natural fibres abound, complemented by rare, perfectly book-cut marble, stones and mosaics create a cosy and relaxed mood.
"The idea was to create a resort that, like an Italian's way of dressing, is informal yet simultaneously sophisticated and chic," Ursini says.
The fact that the same architects designed the exterior and interior, and that Citterio and Viel also design most of the furnishings, has created a seamless vision where all the design elements speak the same design language and in fact have the same design DNA.
The design team created a number of unique elements throughout the spaces – the most attractive of which are the bespoke coral-like filigree panels that filter the light and create discreet shading.
The coral shading is inspired by the increasing number of coral reefs surrounding the man-made islands along the Dubai coastline, including that of the seahorse-shaped Jumeirah Bay on which the five-star property sits.
According to Citterio the coral element and the marble at the entrance of the hotel are the most iconic elements of the building, and give it a distinguished identity.
Another unique feature is the mosaic wall in the vitality pool at the bottom of the 25-metre long signature indoor lap-pool. Here artisans have created a luxurious work of art inspired by mosaics of ancient Rome, designs from Rome's Pantheon and the iconic shape of the Divas' Dream Bulgari collection.
Inside the entrance lobby to the hotel an inlaid marble 8-point star  enjoys centre place, again taking reference from the house of Bulgari  and Michelangelo's famous star pavement in Rome's historic Piazza  del Campidoglio.
Throughout the 158,000-square metre development, a special mashrabiya – inspired by the symbols of the 130-plus year-old jewellery house of squares and stars – was designed, similar to the one in Bulgari jewellery stores.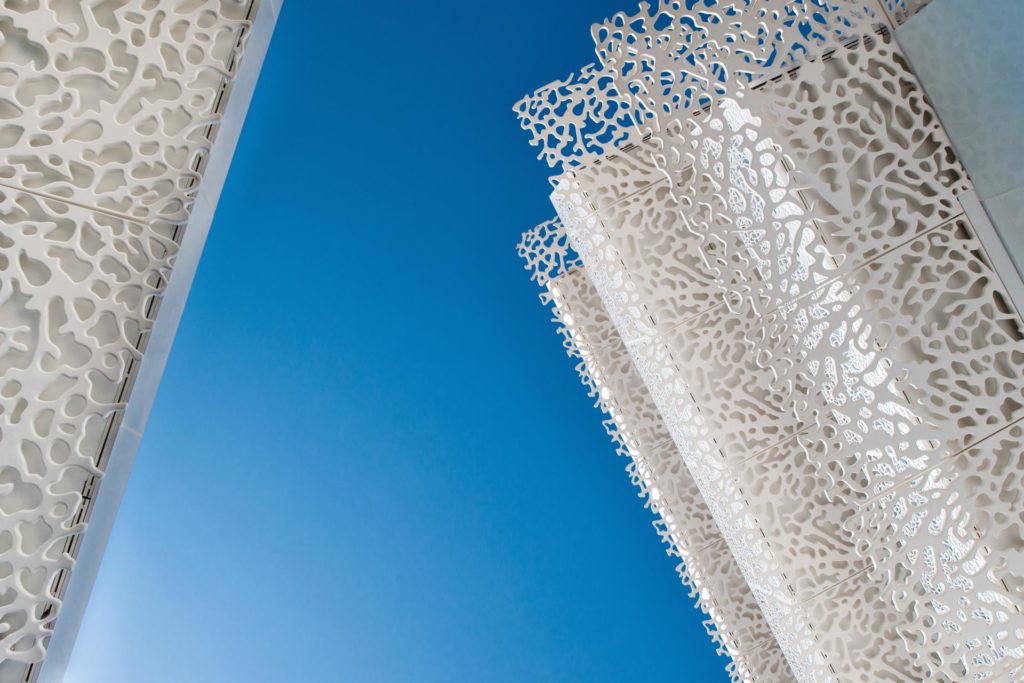 Ursini reveals: "We wanted this to be a unique mashrabiya, reflecting the style of the region, but which is unique to us and our design philosophy."
Citterio and Viel sought to recreate a typical Mediterranean village, inspired in part by Portofino, one of Citterio's favourite places. As a result, Il Café, the wood-panelled all-day dining restaurant, overlooks the private 50-berth mega-yacht marina.
Eventually the whole area around the marina will be a hub of cafés and restaurants with indoor-outdoor dining, and retail opportunities, to recreate the village atmosphere.
"We are very proud of this project – we have been working on it for (almost) many many years! There are still some areas that need to be completed but it has been rewarding and we believe that we have succeeded in delivering a project unlike any other here." they say in an interview with identity
"Our standards are high and we select our partners and clients carefully. We have enjoyed a long (17-year) relationship with Bulgari and we look forward to completing a number of other hotels. The Bulgari brand has evolved considerably over that period and we believe that, because we know each other, the synergy is perfect," comments Viel.
Speaking about their business relationship: "We really have two different points of view. I'm very much involved in the process and in resolving on-site problems," says Viel.
"We are both involved at the origin of the concept, ensuring that it responds to a demand, creating an identity for the product, etc. Here, we did that in the sense of thinking about the coral theme, the idea of the different textures, the colour palette, the idea of a low-rise building [that is] closer to those in our Italian culture. But then, after that, you go into the process, which is very demanding in terms of technical solutions, documentation, co-ordination, etc. Antonio is not so involved in this part. But he assists with the problems, looking at the design again with a fresh eye, and often suggests another way to approach it. In some ways, he's like a client for us!" she says, smiling.
"There are some projects that I'm more involved in and vice versa. We have 95 architects in our office; we're doing six high-rise buildings, offices, a piazza,three hotels, houses and lot of other projects in Milan. We can't do everything and so when you have a partnership like ours we divide the responsibilities accordingly," says Citterio.
Over the years the duo has created their own distinct brand, synonymous with pure, clean and functional design that is sought by the world's most prestigious brands.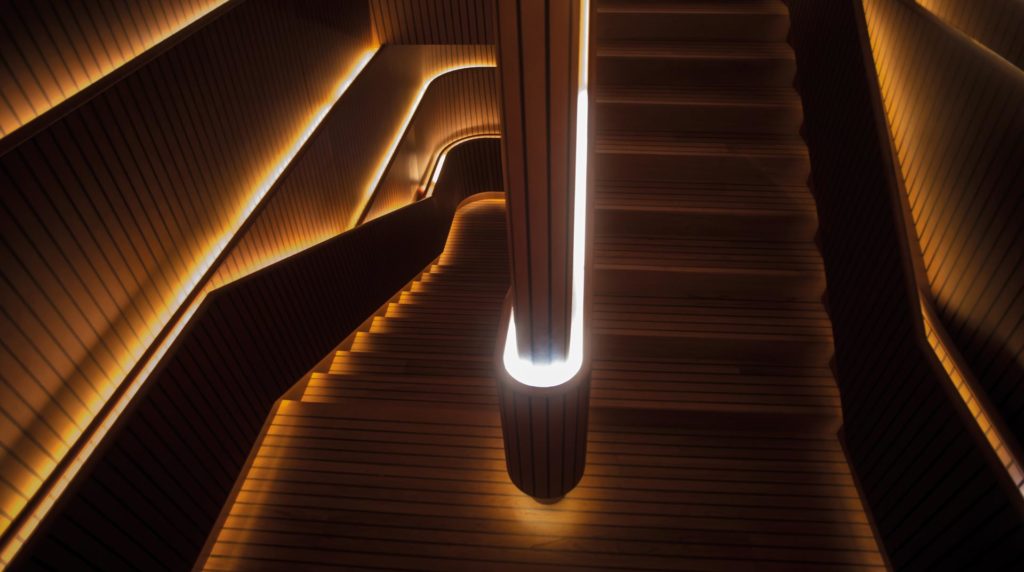 When asked how they have achieved it, they reply in unison that the key is in their choice of clients:
"It's all about clients; you can't build up a very good brand/practice like ours without them. Of course, you have to be careful about your reputation and you have to deliver – and the client is the key. If you work with Bulgari, Vitra, Hansgrohe, etc., you're building your identity with them."
"Selecting quality clients is not always easy. It's a choice and a challenge, but when you work with like-minded clients, who pay attention to the minutiae, and respect and appreciate quality, as we experienced with Meraas, it makes a difference to the outcome and the image of their brand and our studio," explains Citterio, who has maintained most of his top clients for decades.
Sitting in Il Café overlooking the marina, Viel says:
"This is one of my favourite places in the hotel because I know that to have this kind of feeling you have to be outside but in the shade, with the water at a certain level, and this is not achievable without these large glass doors that open onto the decking. I can tell you: to have these doors installed and working in Dubai is not easy! This level of quality is very special to this project and you have to put together so many different elements to achieve this look and ambiance. There is nothing like this here in the UAE and so, in a way, there is no competition."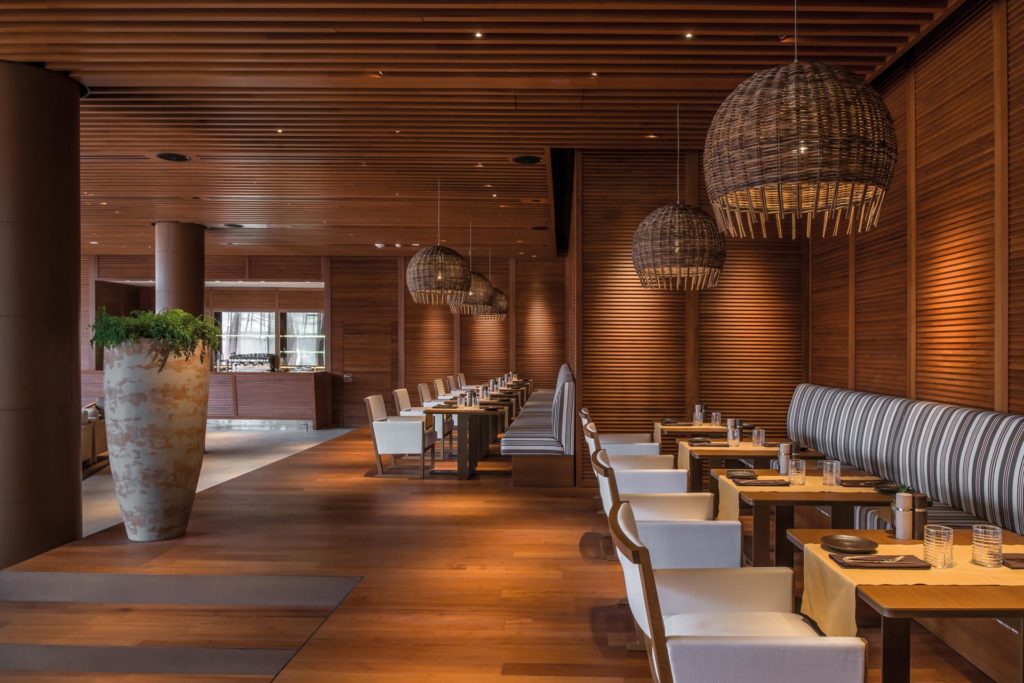 The dynamic duo stress that point: that the use of quality materials, and working with clients that have the same attention and respect for details, are key both to their clients' success and their own.
They add, "Somehow the relationship that we built with Meraas has helped. We're impressed, as the investment that they made is not just monetary but also in time, energy and dedication manpower. They are totally committed."
"For them [Meraas] this is a small project relative to what they normally develop; for us it's a big one and we really appreciate their commitment to this."
Referring to the wood panel stairway in the exclusive Yacht and Marine Club
that will be reserved for the hotel residents and marina members is exquisite.
Viel explains that the staircase was actually derived from a study that they
did for a boat, and that they were delighted to be able to develop it for the
Dubai resort.
Artwork from Monica Dengo, the Italian-American artist who won the Sharjah Calligraphy Biennial Prize in 2016, has also been selected, while fine china from Dubai industrial designer Aljoud Lootah is available in the Hotel's exquisite concept store, La Galleria.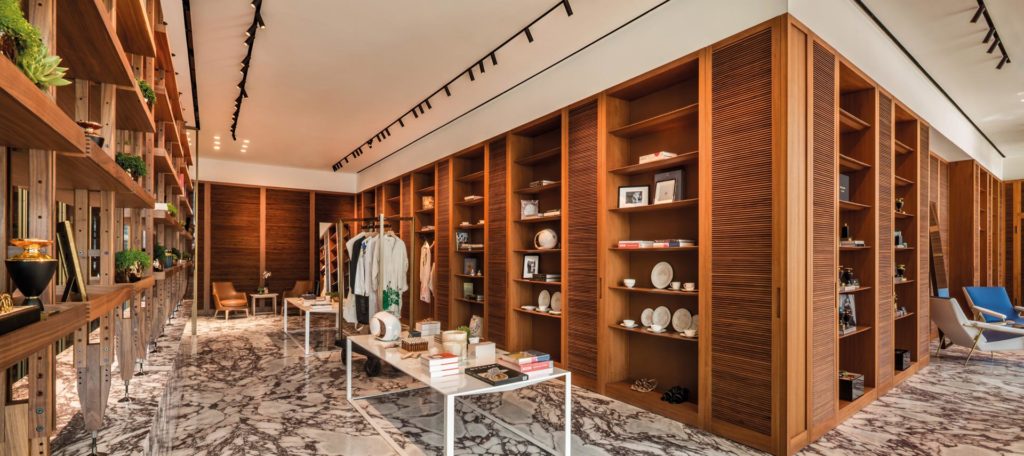 Unlike most hotels, the Bulgari is furnished with luxury high-quality furniture, rather than contract hotel furniture. Citterio and Viel selected many items from B&B's  collection, among others, to ensure that the quality is consistent throughout. The rooms are also furnished with luxurious custom-designed Goyard mini-bars and speakers from Devialet.
There is no doubt that this luxurious new architectural jewel on Dubai's coastline will be a brilliant addition to the hospitality scene, while offering inspiration to the design community-at-large.