Kuwait-and Porto-based Studio Toggle, run by architects Hend Almatrouk and Gijo Paul George, is one of the young practices currently developing a fresh architectural language for the Middle East. In an exclusive interview with identity, the duo discusses how the practice interweaves architecture, urbanism and activism, while staying true to context and the vernacular.
---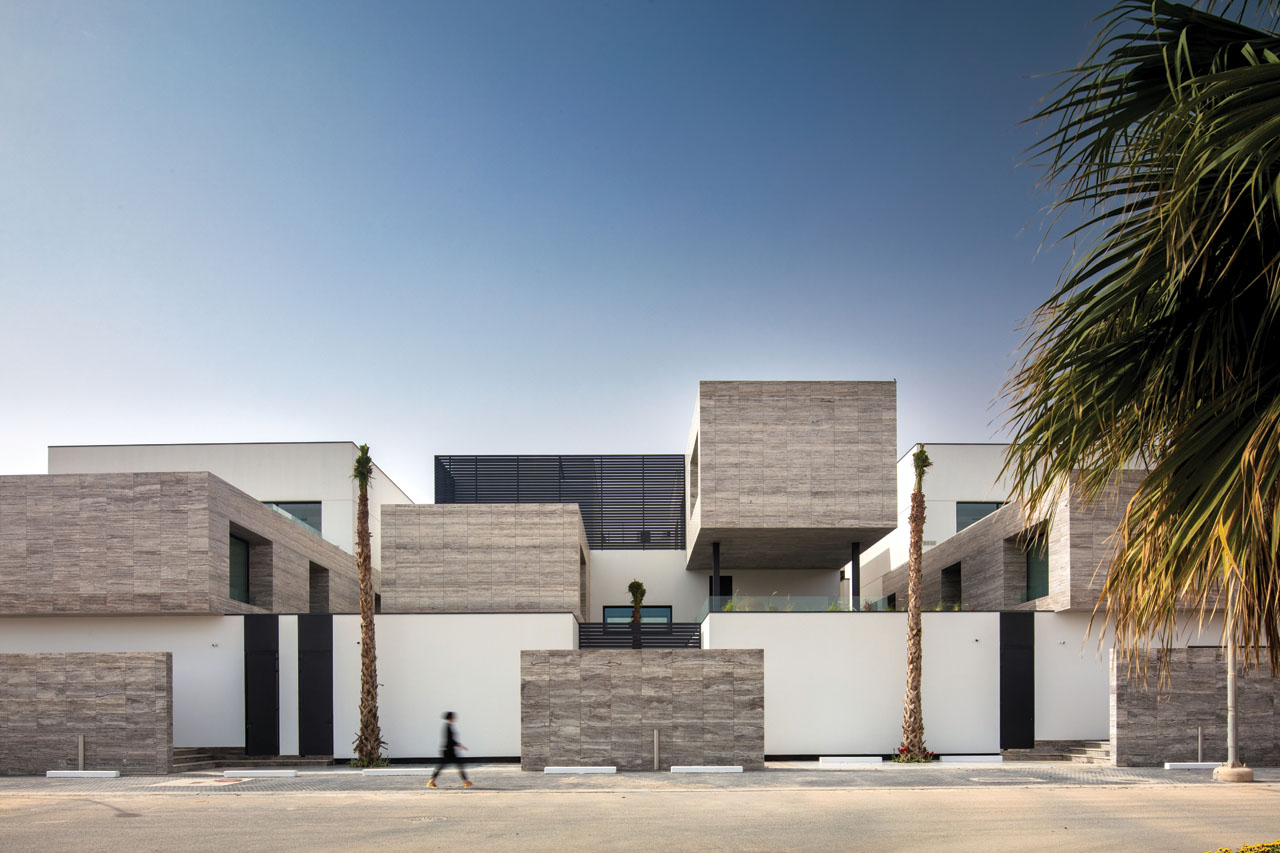 How was Studio Toggle formed? What did the two of you want to bring to the region and the architectural sphere when starting your firm?
Gijo Paul George (GPG): Back in 2011, during our graduate studies at the University of Applied Arts, Vienna, I had an opportunity to collaborate with Hend on a competition that called for the redesign of the façade of the Pushkinsky cinema in Moscow. Our proposal, 'Rossiya's Flourish', made the shortlist and was published widely on the internet. This made us realise that we work well together and that the results of our collaborations always ended up being more than the sum of their parts. We started Studio Toggle in 2011, while we were still students in Vienna, and in 2012 we moved to Kuwait to work on our first residential project. In 2016, we expanded by opening another studio in Porto.
Hend Almatrouk (HA: Like Gijo said, the effortless ease of working with each other and the fact that our architectural and ethical visions aligned perfectly, gave us the reassurance that collaborating with each other was a no-brainer. Our agenda was always simple. We established Studio Toggle to focus on logical design and problem-solving techniques. We wanted to bridge the gap between architecture and urban design, creating spaces that are accessible as much as they are beautiful. With my specialisation in experimental architecture and Gijo's focus on public urban planning, we believed we were equipped to do just that.
What is Studio Toggle's design ethos? What do you feel you have contributed to the region in terms of elevating the built environment?
HA: The three pillars of Studio Toggle are architecture, urbanism and activism. I would like to describe it as architecture rooted in urbanistic activism. While challenging norms and standard practices, we avoid stylistic trends and non-functional ornamentation. While not overtly subversive, our work definitely goes against the grain.
We believe that through our sense of activism towards positive and responsible design, Studio Toggle has been instrumental in raising awareness of the importance of design thinking in the region. We believe that design thinking should go hand in hand with the construction process. We have demonstrated that theoretical research translates into tangible improvements in the energy efficiency and user-friendliness of buildings. To that effect, we have also championed the deployment of Building Informational Modelling (BIM) and digital fabrication techniques to improve architectural design quality and construction processes.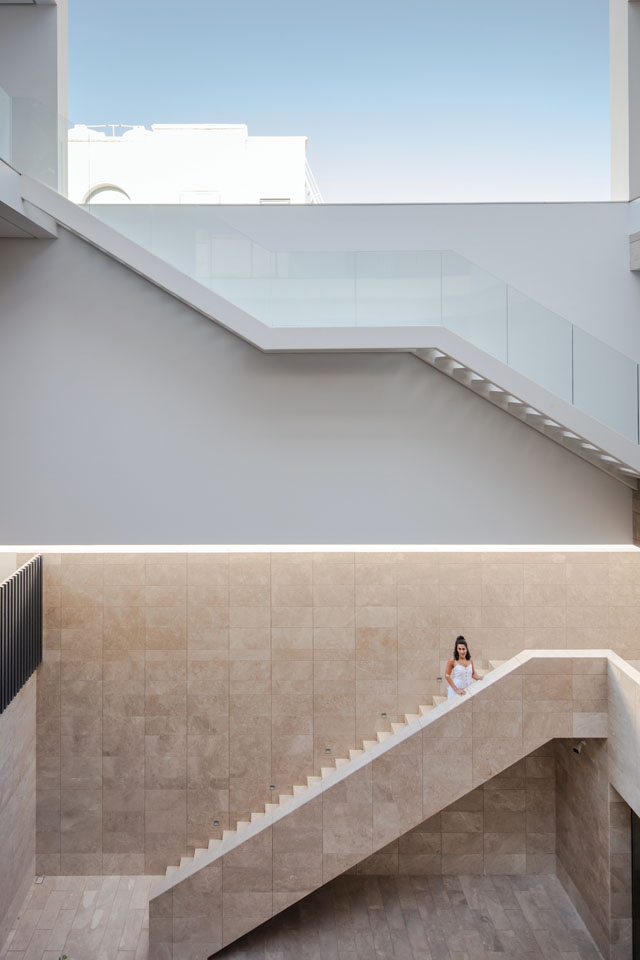 How do you feel your projects challenge the architectural and urban norms of the region?
GPG: Rejecting the regional trend of buildings becoming antisocial islands, our projects contribute towards the contextual harmony of streetscapes by paying close attention to the street-interface of each building. An example is the harmonious integration of projects F.LOT and Ternion Villas in Al Bidaá, Kuwait, which became a catalyst or seed for the regeneration of an entire residential block.
Another example of our design activism can be found in the way we have approached the expat housing typology in Kuwait. By avoiding the cookie-cutter anonymity of expat housing blocks, we seek to instil a sense of community and pride in such neighbourhoods through design and by the mandatory integration of social interaction. An example of this can be found in the 'multi-unit' housing block in Abu Alhassaniya, Kuwait, which includes a public roof garden accessible to all floors above the multiple independent housing units. Another project that demonstrates this is the 'Twins' residential tower block, in which two multi-storey residential towers rise up from a podium that serves as a public plaza, giving the project a sense of urbanity.
What does a contemporary language for the Middle East look like?
HA: While it is hard to define what a responsible contemporary language for Middle Eastern architecture should look like, we can say with confidence that it should involve learning from the rich vernacular that the region affords. Aesthetics are completely subjective but our studio bases its language on clean, geometrical forms abstracted from the vernacular and traditional design solutions. An honest palette of materiality, along with architectural elements such as cantilevers, overhangs, courtyards and vaults, forms the language that gives our buildings their identity.
How does Studio Toggle reinterpret traditional building methods of the region?
GPG: An example of how we incorporate traditional planning strategies of the region is exemplified by our project Ternion – a residential development comprising three courtyard houses in Kuwait. In Ternion, we sought to minimise the use of active climate control by employing passive cooling techniques, traditionally part of the vernacular. Combining these with self-shading massing strategies gave the project the direction it needed, both spatially and aesthetically.
Each villa is centred around a private courtyard featuring a swimming pool as a modern functional interpretation of a traditional 'hosh' (or courtyard) with a water feature. The social spaces are grouped around this pool and feature longitudinal full-height glazed windows, facilitating cross-ventilation and evaporative cooling when open. The glazed internal walls afford panoramic views to the garden and pools, while shaded from the scorching sun by cantilevered volumes mitigates the heat gain. What resulted was a composition of variably stacked prismatic volumes, creating a pixelated massing that projected modern clean lines, clearly abstracted from the vernacular.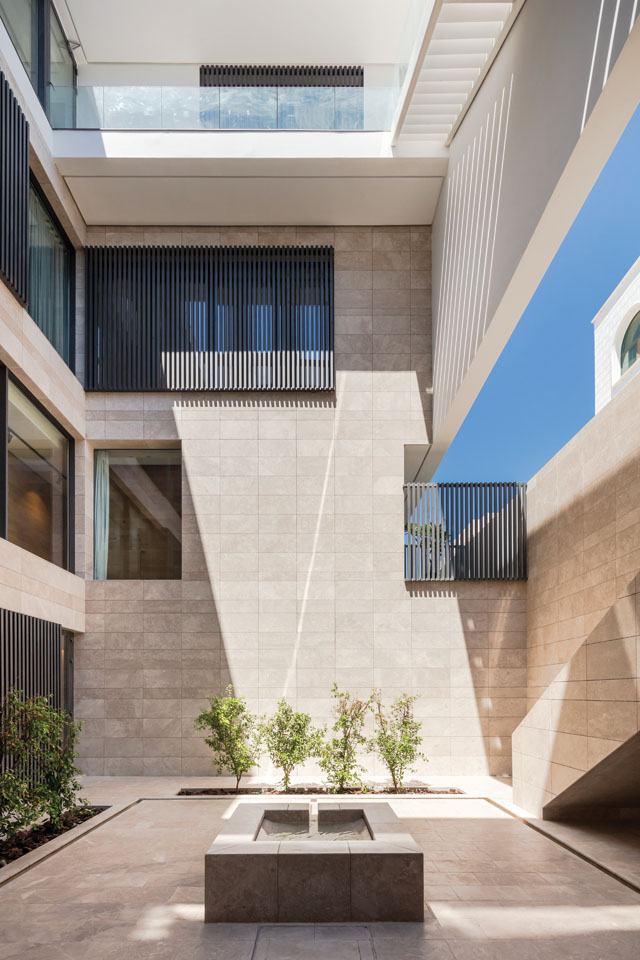 Is sustainability an important consideration for your studio? How do you ensure sustainable practices and decisions within your projects?
GPG: It is simply a given to incorporate sustainable strategies when the context is temperate or mild. But in a 50 degrees celsius summer, in the middle of a blinding dust-storm, priorities differ and sustainable strategies, unfortunately, become one of the first casualties. The primary focus becomes survival and protection. The exterior becomes inaccessible, and the norm is to design for as much indoor comfort as one's situation allows. Even in such situations, we endeavour to stay true to our principles of responsible architecture by incorporating passive climate control strategies learned from the vernacular – without succumbing to the orientalist stylisms that usually accompany such attempts.
In such extreme climates, it's almost impossible to avoid active climate control systems, which by definition are not very sustainable. At Studio Toggle we try to minimise the impact of these systems by employing multiple strategies such as climate analysis and thermal studies, strategic placement of building apertures, self-shaded spaces, investing in high-performance window systems, making use of smart systems that reduce energy consumption and designing the surrounding landscape to mitigate the heat gain.
How do you think the Middle East can become a stronger contender on the architectural map? Do you feel there is enough regional representation within the global architectural discourse?
HA: I think the whole MENA region is currently going through an exciting phase in the fields of architecture and design. A proliferation of young and enthusiastic design firms competing with the established players makes the design scene quite dynamic and that is a very good development. The focus of such practices is not in the scale of the projects but the enriched user experience and being at the forefront of international design trends. We believe that the international perception of the architecture of the Middle East is moving away from glitzy visions of skyscrapers and mega malls to that of architecture rooted in context, sustainability and vernacular. Maybe this is the beginning of a new chapter of Desert Modernism? I guess time will tell.
GPG: I believe things are definitely changing for the better. Contrary to the usual practice of international architects being commissioned to design landmark architectural projects in the region, there is a strong representation of successful Middle Eastern practices being represented on an international level and winning important competitions and awards. Kuwait-and-Spain-based AGi Architects and Dubai-based X Architects have been a constant source of inspiration for us in that regard. If I may say so myself, Studio Toggle also has been slowly garnering its share of international attention. This year alone we won an Architizer A+ Award, were longlisted for the Dezeen Awards and have had our work published in multiple international publications. It is my opinion that the Middle East has already become a very strong contender on the international architectural map.