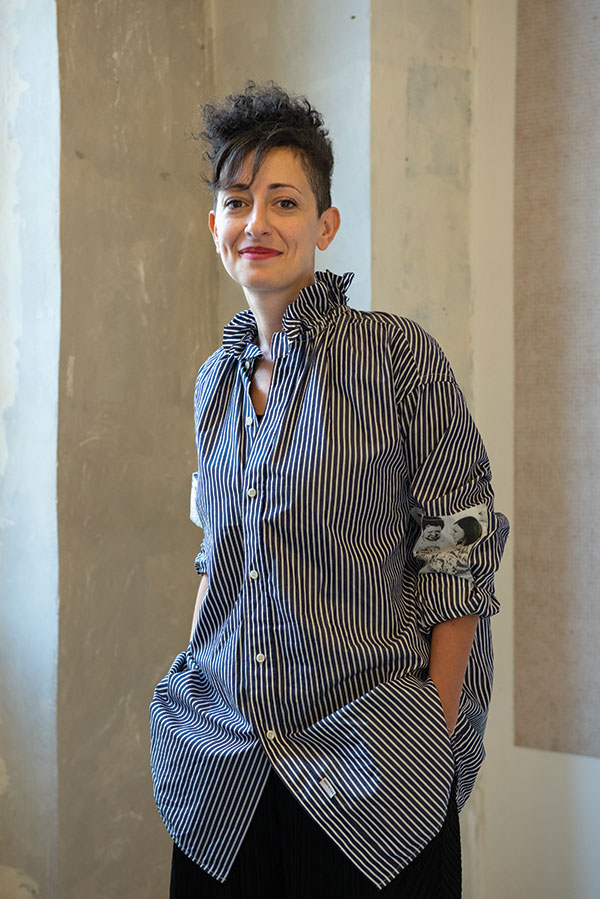 Can you describe what happened that day on August 4? Where were you during the blast? I arrived in Beirut from Paris on the 3rd of August. I come to Beirut every 2-3 months to follow up the projects I am designing in the country, but also to see the family as they live in Beirut. Barely a day after my arrival, the explosion happened. I was at a seaside café when the blast occurred. It was totally surreal. I grew up in a Lebanon that was at war, but that explosion was nothing like what we had lived through. Every single person in Beirut felt as if it has happened in his or her own household. I was with my family: my husband and my son and I specifically worried about my son. Living in Paris, he had never experienced any event of this sort and I never wanted him to. It is very difficult to explain to a child why conflicts occur between humans, how such a massive explosion could still happen during our times, why there would be such a large amount of ammonium nitrate stocked almost at the heart of our city.
How are you currently feeling after the incident? It is strange, but time seems to have stopped after that event. I cannot but think of all the people, the extended family, that were injured, lost their lives, lost their homes. The strength of the blast still resonates in one's heart. This suspension of time holds within it, at the same time, a great deal of will, of energy, of drive to change, to continue to act and contribute to transforming our world into a much better one. I feel like my creative energy as well as responsibility had doubled.
Were there any damages made to your Stone Garden building? Just a day after the explosion, I went to the site.  I wanted to understand what truly happened. I went to the port area where I had nearly completed the Stone Garden tower. Although I designed a resilient structure, I did expect to see it on the ground from the sheer strength of the blast. But there it was, still standing, its sizzled façade intact, its trees and vegetation growing within each of its openings still attached to the earth. It was surprising, as it stood amidst the dismantled buildings around. Walking into the tower, I then saw that the little glazing within was destroyed, the interiors completely suffered. The blast was so strong that it generated a vortex that warped all of the metal doors and elevators within the edifice.
How did you feel when you saw that your 'love letter' to Lebanon was still standing? It was a message of hope, of resilience, despite this very sad and enraging event. It emphasised the importance to keep on writing this love letter to this city that reflects on diversity, that had been a historic crossroad of cultures.
"I went to the port area where I had nearly completed the Stone Garden tower. Although I designed a resilient structure, I did expect to see it on the ground from the sheer strength of the blast. But there it was, still standing."
Can you tell me a bit about the project and its significance for you? This is my first project in Beirut. The building is an expression of my lived experience of the city, both formally and geopolitically. Stone Garden is not a building per se for me, it is an emergence, it claims a strong and visceral belonging to the ground from which it appears. It is a sort of creature; it wants to talk to Beirut. I chose to embrace the whole site of this project instead of making a stand-alone tower. Stone Garden embraces its neighbouring buildings. I then sculpted the massing, trying to challenge preconceptions of how architecture 'should' dogmatically be done. The project, dedicated to housing and Mina Image Center Galleries, whispers the story of its urban context through its windows. These are generous spaces, subtractions, havens for a new life. As it appears, Stone Garden pays an ode to the scars of Beirut. It is a contemporary ruin, invaded by nature. The edifice allows nature to be part of our built environment, part of the city's skyline. It also emphasises the importance of the hand in the making of our buildings, its capacity to generate a whole new emotional realm to architecture. I have designed the façade to be all hand chiselled. It was a healing process.
How do you think the design and architecture community in Lebanon and outside can come together to rebuild the city? Beirut has always been a cross-cultural city. It is diverse, bringing both the East and the West together among the same geography. Beirut needs all the know-how at the moment, as well as solidarity and contributions.
Designers, thinkers, urbanists, architects shall initiate both a mental debate, brainstorming the future of the city, as well as organised actions on the ground, where forces could be combined.
What do you think everyone's responsibility is in this situation? We should remember that we are dwellers of this world. Events are not isolated phenomena and crises are not limited to geographies; they impact the balance of the world. It is the responsibility of each one of us to act in times of catastrophe, defending social and human justice. It is the right of our children to live a better world in all territories of this world.